Autumn Garden
One of the most delightful things about having an outside space of any kind is watching it change along with the seasons. It can be easier to find ways to ensure that your garden looks stunning during the spring and summer months. For example, it is a joy to watch the garden burst into life during the spring, as the bulbs you planted last winter start to thrive and bloom. Similarly, when everything starts to flourish throughout the summer, you can stand back and admire your hard work whilst also introducing some new plants into your design scheme for added colour and texture.
How to Have a Stunning Garden in Autumn
One of the most delightful things about having an outside space of any kind is watching it change along with the seasons. It can be easier to find ways to ensure that your garden looks stunning during the spring and summer months. For example, it is a joy to watch the garden burst into life during the spring, as the bulbs you planted last winter start to thrive and bloom. Similarly, when everything starts to flourish throughout the summer, you can stand back and admire your hard work whilst also introducing some new plants into your design scheme for added colour and texture.
Whether you have a sprawling lawned outside space or a petite courtyard, our gardens go through significant changes between the end of summer and the start of the winter season. Importantly, however, this doesn't mean that you can't ensure that your outside space continues to capture attention for all the right reasons right the way through the autumn season.
In fact, autumn can be one of the most exciting seasons in which to get outside and marvel at the beauty of the natural world all around us. There are, however, a few things you might want to keep in mind and a handful of additions you might like to incorporate to give each area of your garden a brand new focal point alongside some additional colour and texture.
Here are a few ideas that we hope will give you some inspiration for your own garden this autumn season and perhaps prompt you to infuse your outside space with a sense of your personal style and your personality.
Introduce an Enchanted Ambiance into your Autumnal Garden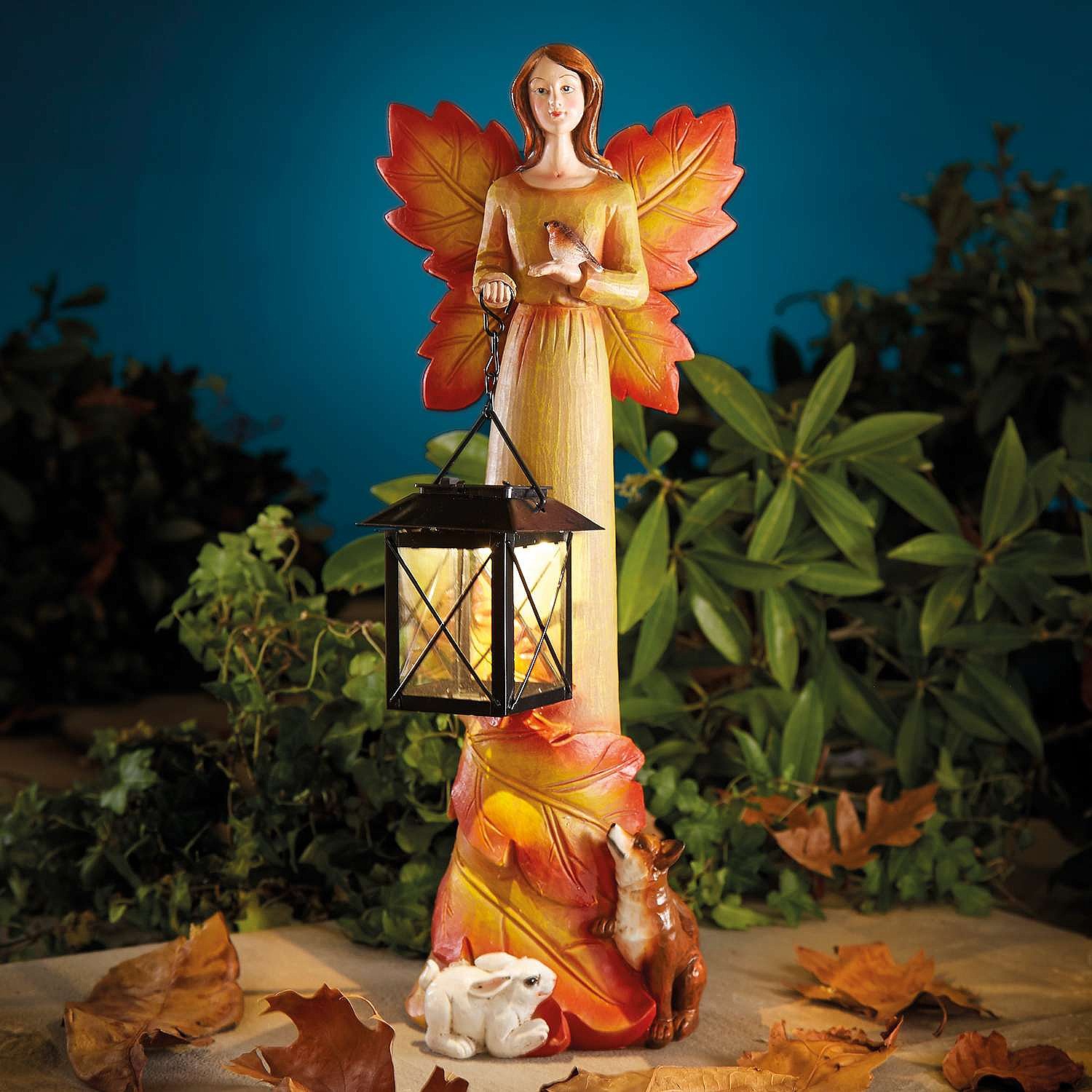 Expertly crafted from weather-resistant, highly durable polyresin and designed to look as though she has been carefully carved from solid wood, this exquisite Solar Autumn Fairy is an ideal way to introduce some serenity and whimsy into your autumnal garden.
The fairy's warm yellow and orange dress are complemented by the rich orange leaves that swirl around her feet and act as her wings. Additionally, a red-breasted robin perches delicately on her hand, while a fluffy white rabbit and elegant rust-hued fox sit at her feet and gaze adoringly up at her. Position her in a tucked-away area of your garden surrounded by evergreen foliage and late-blooming flowers for a subtle flash of magic and charm. Alternatively, place her alongside a collection of other whimsical and animal-based ornaments to create an enchanted display that is certain to delight both you and your guests. She will also look particularly eye-catching when placed in front of a background of textured grasses that will sway elegantly in the autumn breeze.
Additionally, as she holds a traditional-style solar powered lantern in her other hand, a gentle light will softly illuminate your garden when darkness falls which will allow you to continue to enjoy the sights, scents and sounds of your outside space in the evenings.
Celebrate Life and Joy and Playfulness with a New Furry Companion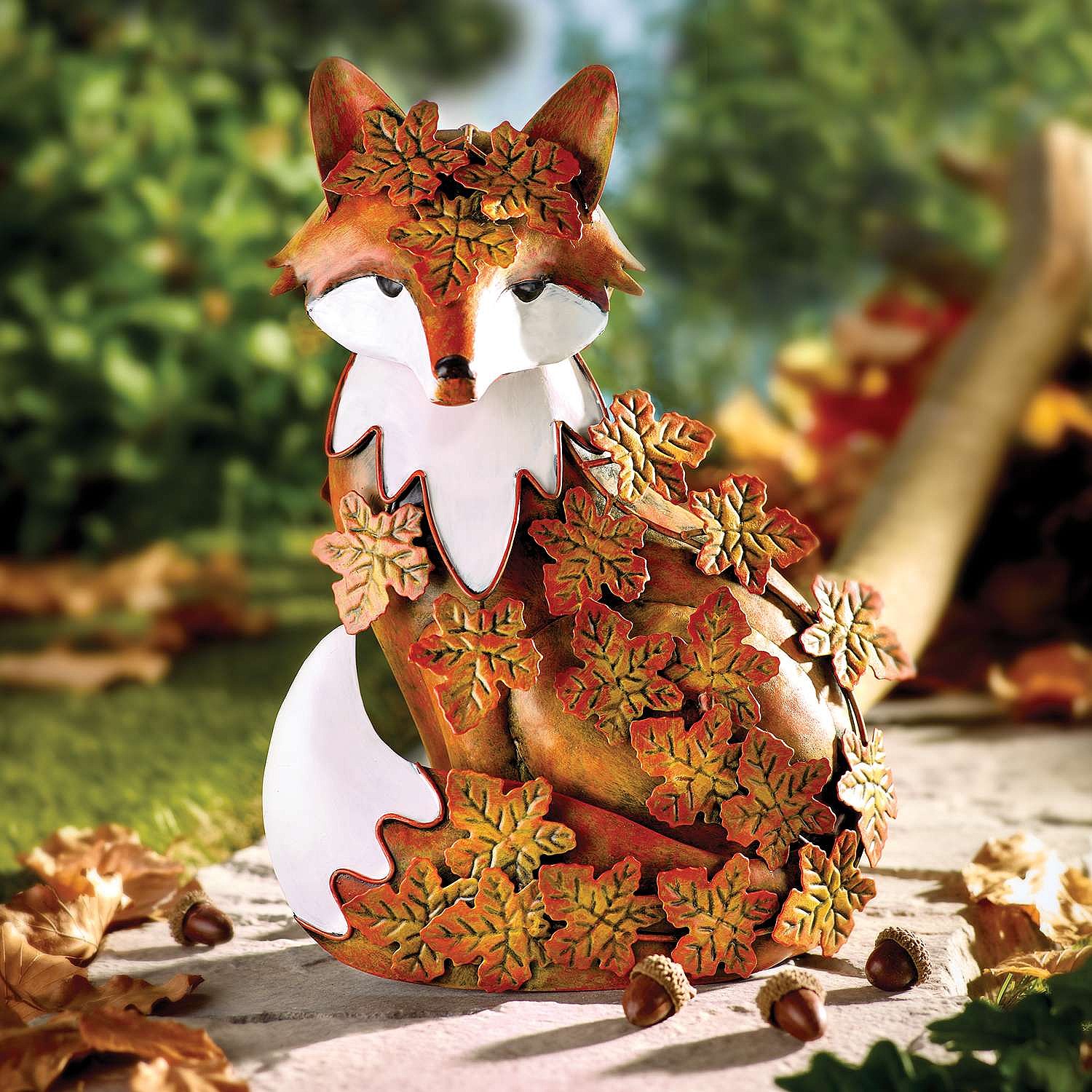 Introduce a sense of playfulness into your autumnal garden with this Ornamental Fox which has been intricately hand painted in dappled orange hues and finished with crisp white accents across his face, tail and chest. This charming fellow has a cheeky expression and looks as though he is playing in a pile of autumnal leaves that have fallen from nearby trees. The leaves have been expertly hammered and engraved to give them a realistic texture that will create beautiful shadows and effects as the sun moves slowly across your garden. Position him in a place where he will receive the soft autumnal sunlight, ideally surrounded by a few autumnal hued trees, and he will continue to surprise and delight every time you catch sight of him keeping a watchful eye over your outside space. At 28 cm tall, he has enough presence to really make an impact in even the largest of outside spaces but he will come into his own when placed beneath a charming tree or amidst some lush foliage.
Introduce Texture with a Few New Feathered Friends

There are few creatures that have as much presence as owls, which makes this solar Wood-Look Owl an excellent addition to an outside space that would benefit from some additional character and charm. His durable polyresin construction means that your new feathered friend will stand the test of time, regardless as to what the autumn season has to throw at him. He has been given a gorgeous grained effect, which is so realistic that you might initially think he has been carved from a solid piece of oak wood.
He is a highly tactile little fellow, with plenty of texture stretching from his magnificent eyebrows all the way down to his taloned feet. He is also holding a little secret in his belly, which will become apparent as soon as the sun starts to set. A warm glow will radiate from his feathered breast, sending a soft stream of light across your garden and creating an inviting, cosy and cheery ambiance. His rich amber eyes are mesmerising and he is certain to quickly become one of the most beloved features in your garden space.
Autumn Birds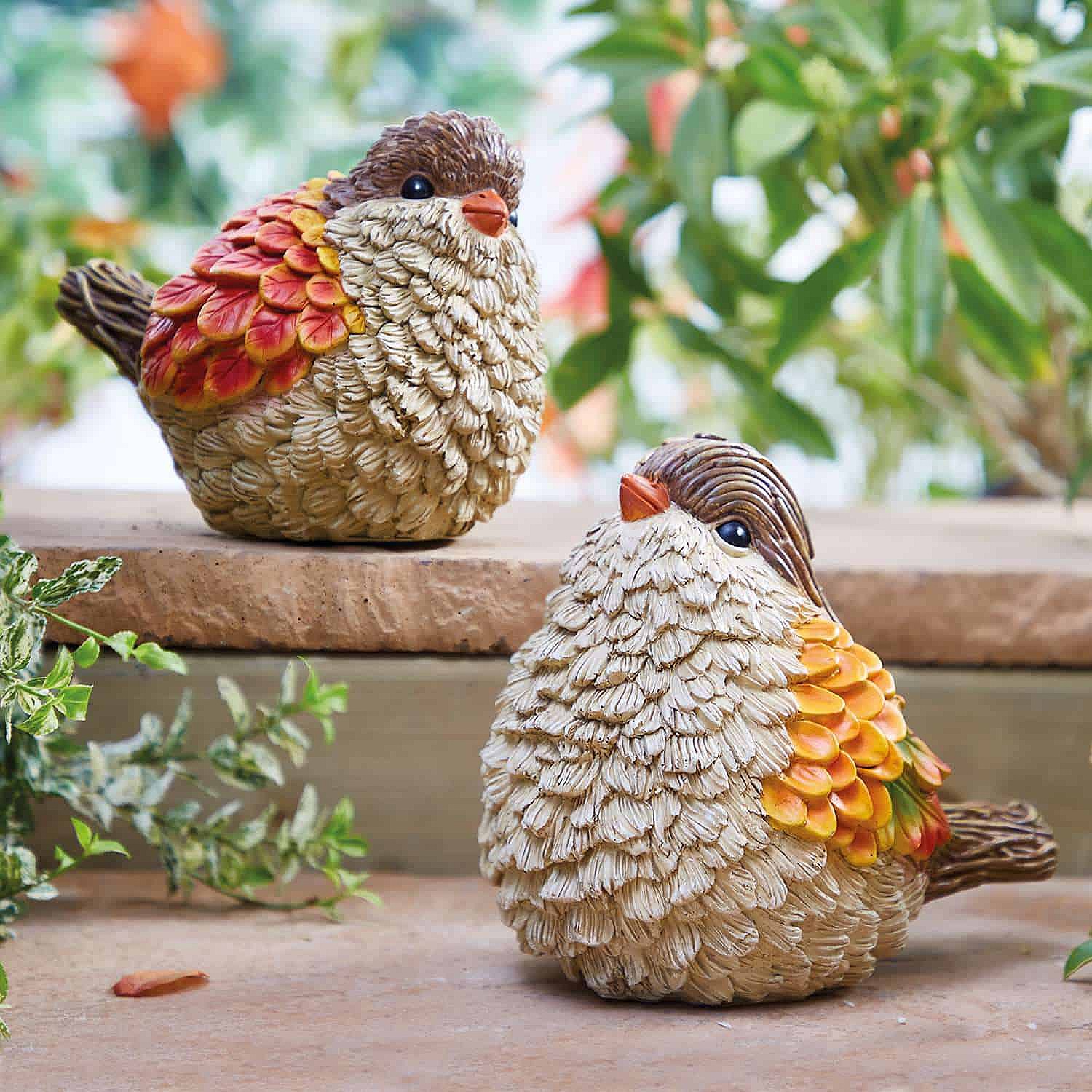 If you're keen to add some more feathered friends to your garden and are looking for a little variety, this duo of Autumn Birds bring with them plenty of personality and an extraordinary level of detail. They are also made from weatherproof polyresin that will stand the test of time and each bird ornament has been lovingly hand-painted in a combination of russet, red and orange tones. Their hand-painted nature means that each bird will be unique and has their own original sense of character, which makes them all the more special.
They can be positioned together or individually, depending on your space and the effect you would like to achieve. If you want to keep them together, position them side by side on a garden table, patio or wall and marvel at the amount of texture and life this pair will instantly introduce into your outside space. Alternatively, separate them slightly and use to create a sense of symmetry in your garden that will lead the eye throughout your design scheme. They may also make wonderful additions to autumnal container displays, giving flashes of colour to an evergreen, bronze or neutral planting scheme.
Enjoy Year-Round Colour with Zero Maintenance - Yes, Really!

Beautiful blooms are one of the best ways to give your garden life, movement, texture and colour. The thing is however, autumn temperatures and changeable weather conditions aren't the best environment for flowers to thrive within. But all is not lost because it is incredibly easy to replace a traditional floral display with this Light-Up Autumn Hanging Basket.
A gorgeous combination of pinecones, leaves, berries and gilded sunflowers have been arranged inside a rattan-effect basket with a stunning red-brown finish that deftly allows the rich orange, yellow, bronze and red hues within the flowers to pop and capture the eye's attention even from far away. But that's not all because when darkness starts to fall, you also have the option of turning on the integrated warm white LED lights, which softly illuminate the display and mimic the golden hues that are only present in autumnal sunshine. Plus, with no maintenance or watering required, you can simply sit back and admire this eye-catching display all season long as it will endure a variety of weather conditions whilst continuing to be one of the stars of the show within your autumn garden.
Add Charm and Style to your Space AND Look After Our Wildlife at the Same Time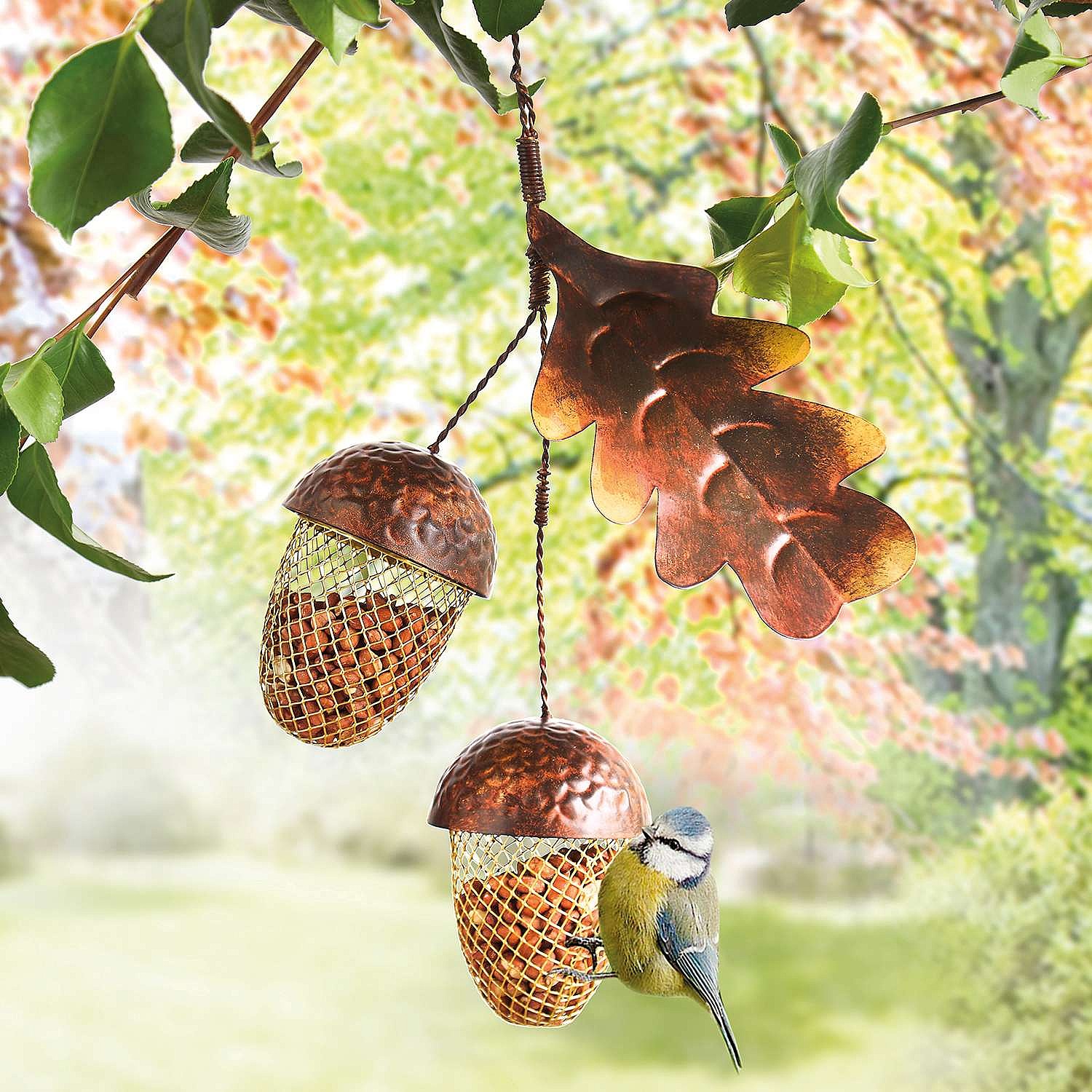 As the temperatures start to fall and it becomes difficult for our wildlife to find the food that will sustain them through the very depths of winter, it is important for us to give them a little helping hand and say a little thank you for the joy they bring us all year round. So, when the berries start to disappear and the chill in the air starts to become more apparent, it's time to start thinking about how we can support them in ways that suit our gardens and reflect our personal styles.
This Duo Acorn and Leaf Bird Feeder will make a supremely stylish and elegant addition to your garden, as well as being a fitting way in which to provide a variety of birds with the seeds and nuts they need to thrive. This ornamental bird feeder is comprised of two feeders shaped like acorns, which have been constructed using a metal mesh that tiny feet will find easy to clutch on to while your feathered friends gleefully tuck into some tasty treats. Ideally suited to holding shelled nuts and larger seeds, this wonderful adornment will ensure that your garden continues to attract valuable, beautiful wildlife season after season.
In addition to two acorn shaped bird feeders, this beautifully crafted piece has been finished with a hammered metal oak leaf that has been expertly formed with the same copper and aged bronze patina effect afforded to the acorns. This gives a cohesive finish and ensures that wherever you position it, this is a functional and beautiful feeder that will look as though it has always been a part of your outside space.
Making the Most Out of your Outside Space All Year Long
So, although the autumn season is when our outside spaces can start to look a little on the scruffy side, there are ways in which you can prevent that from happening or even take opportunities to make features out of fallen leaves. Even something as simple as placing a characterful ornament within a pile of crisp orange-red leaves can highlight the beauty of our natural world in a playful and perhaps unexpected way.
Incorporating autumnal tones throughout your outside space will instantly create the warmth that is lacking in the air, whilst also celebrating the very things that make the autumn season so special. Additionally, as the days start to shorten and the nights start to fall earlier and earlier, incorporating some solar powered lights and ornaments is an ideal way to maximise the time you can spend outside as well as the time admiring your garden from the warmth and comfort of your home.
Our gardens can be a great source of joy and calm. This is something that is becoming increasingly important as there are more and more demands on our time and our schedules start to become busier and busier. It is crucial that we have time to wind down in a relaxing and calming space, particularly one in which we are able to interact in meaningful ways with nature. Just because the burst of life that occurs with spring and the warm temperatures of summer are behind us, this certainly doesn't mean that we need to wait for March and April to roll around again. Not only is it possible to create a beautiful outside space that will shine during the autumn, but it is also possible to create one that will allow us to continue to get outside even as the temperatures start to fall.
We hope this has given you plenty of inspiration and ideas to work with in your own garden throughout this upcoming season. Autumn is one of our most treasured times of the year, as we look forward to spending quality time with our loved ones and giving ourselves time to slow down and recharge after the heat and excitement of the summer.
So, happy gardening and don't be afraid to use this time to experiment with different design features and find new ways to introduce a sense of your own personality into your garden. After all, a well-designed outside space can - and should - feel like an extra room in your home that you have the opportunity to appreciate and enjoy all year round.