/
Blog

/
Christmas Decoration Ideas
Christmas Decoration Ideas
Christmas is an occasion that many of us look forward to. It is a time for family and friends, for love and kindness, and it can offer some welcome respite from the ups and downs of everyday life. Christmas also provides us with the opportunity to pause and reflect, to be grateful for what we have, to check in with our loved ones and neighbours, and to take a small amount of time to rest and decompress from all the hustle and bustle that modern life brings.
Christmas Decoration Ideas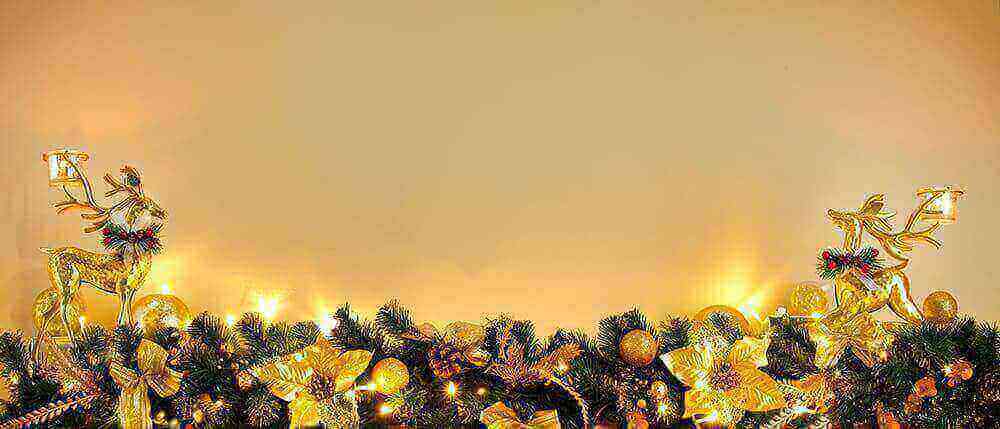 Whether you are planning an intimate Christmas celebration or a larger gathering of extended family, it can be all too easy to fall into the trap of thinking you need to spend a fortune to create the festivities of your dreams. However, this simply isn't the case, and we are eager to share some of the many ways you can have a stylish and elegant Christmas regardless of the size of your budget. Covering everything from Christmas decorations to festive serveware and fun games for all the family, we hope this article will give you some joy and inspiration to create your own dream Christmas this year.
Christmas decoration ideas to bring magic into your home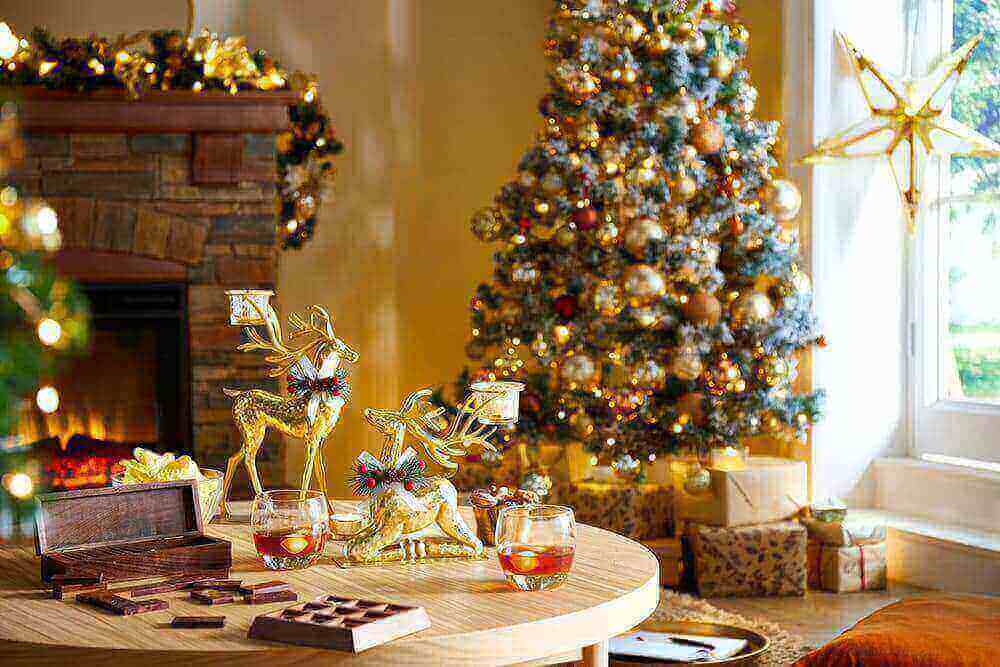 Snuggling up at home in comfortable loungewear hiding from the chilly weather winter brings is one of life's purest joys. From cosying up in front of the TV to getting dressed up to host an at-home cocktail evening for close friends and putting your favourite vinyl on the record player, creating a warm and welcoming ambience helps us to transform our house into a home. If you find yourself longing for a traditional open fire as the cold weather starts to set in, you're far from alone. Log fires have a unique sense of magic about them and can help to create a wonderful atmosphere that is ideally suited to all manner of festive celebrations.
Excitingly, there is still time to infuse your Christmas decorations with the wonder of an open fire in a way that will allow you to avoid all the work, mess and expense that comes with the real deal. When positioned against a flat wall in your home, our Stone-Effect Fireplace will look as though it has always been there, helping to create a warm and welcoming atmosphere that is perfect for snuggling up in front of during cold winter nights. Its beautiful hearth and expertly carved mantel complement the seamless Polystone surround, which cleverly conceals the inner workings of the advanced technology that provides a realistic flickering flame effect.
Our stone-effect fireplace also benefits from two heat settings as well as five levels of brightness, all of which can be controlled with the accompanying remote control. So, there will be no need to get up from your comfortable armchair to poke the fire or throw on another log to keep the temperature up. It is even possible to enjoy the charm of the atmospheric flickering flames without turning on the heating element, making this a wonderfully versatile addition to your home that can be enjoyed all year round.
The carved mantel is the perfect place to position our stunning pre-lit garland, which benefits from an abundance of faux fur branch foliage that has been peppered with gorgeous golden berries, perfect pine cones, shimmering baubles and glittery gold bows. The garland is finished with warm white twinkling LED fairy lights that are battery powered, meaning you won't need to come up with any creative ways to conceal the power supply cord. Just imagine positioning your immaculately decorated Christmas tree beside the fire, with stacks of wonderfully wrapped presents underneath waiting to be opened by excited recipients on Christmas day. Sounds magical, doesn't it?

Show off decorative stars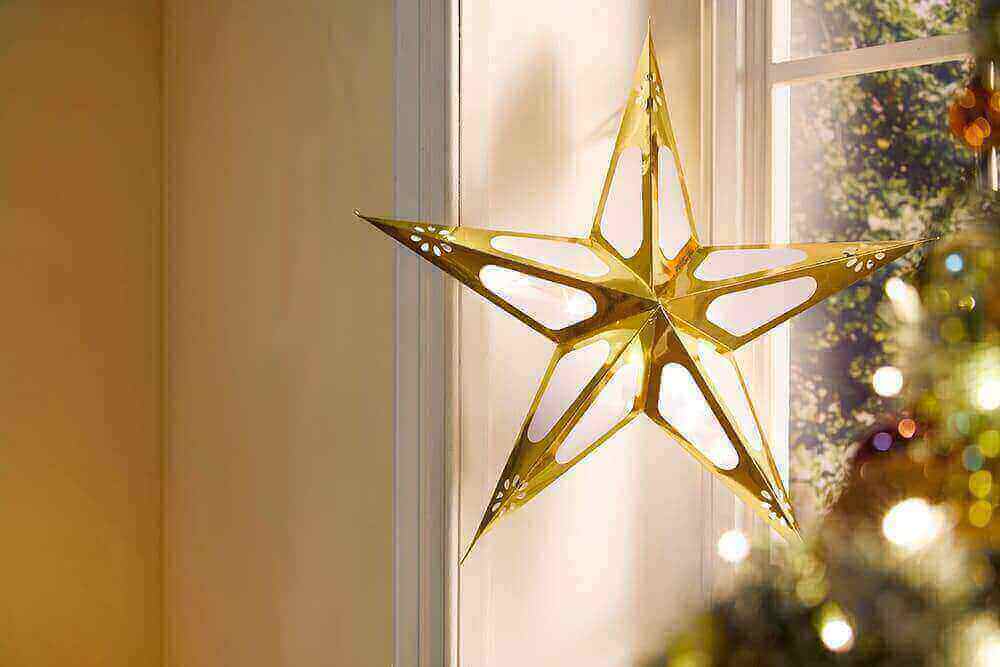 Illuminated Star of Bethlehem
But our décor ideas don't stop there. If you would like to add a splash of vintage-inspired design to your festive family celebrations this year, our eye-catching Illuminated Star of Bethlehem is the perfect addition to a window or front porch display. The star itself looks as though it has been expertly shaped from old parchment and the gorgeous cut-outs in the design are softly illuminated by 20 LED microlights, which are also battery operated for maximum convenience. This beautifully versatile decorative piece can be positioned absolutely anywhere. Simply prop it up in your front window or hang it from a picture hook or wreath hanger in a place where it will make the maximum impact.
Don't have time to decorate your Chrismas Tree? Don't have enough space?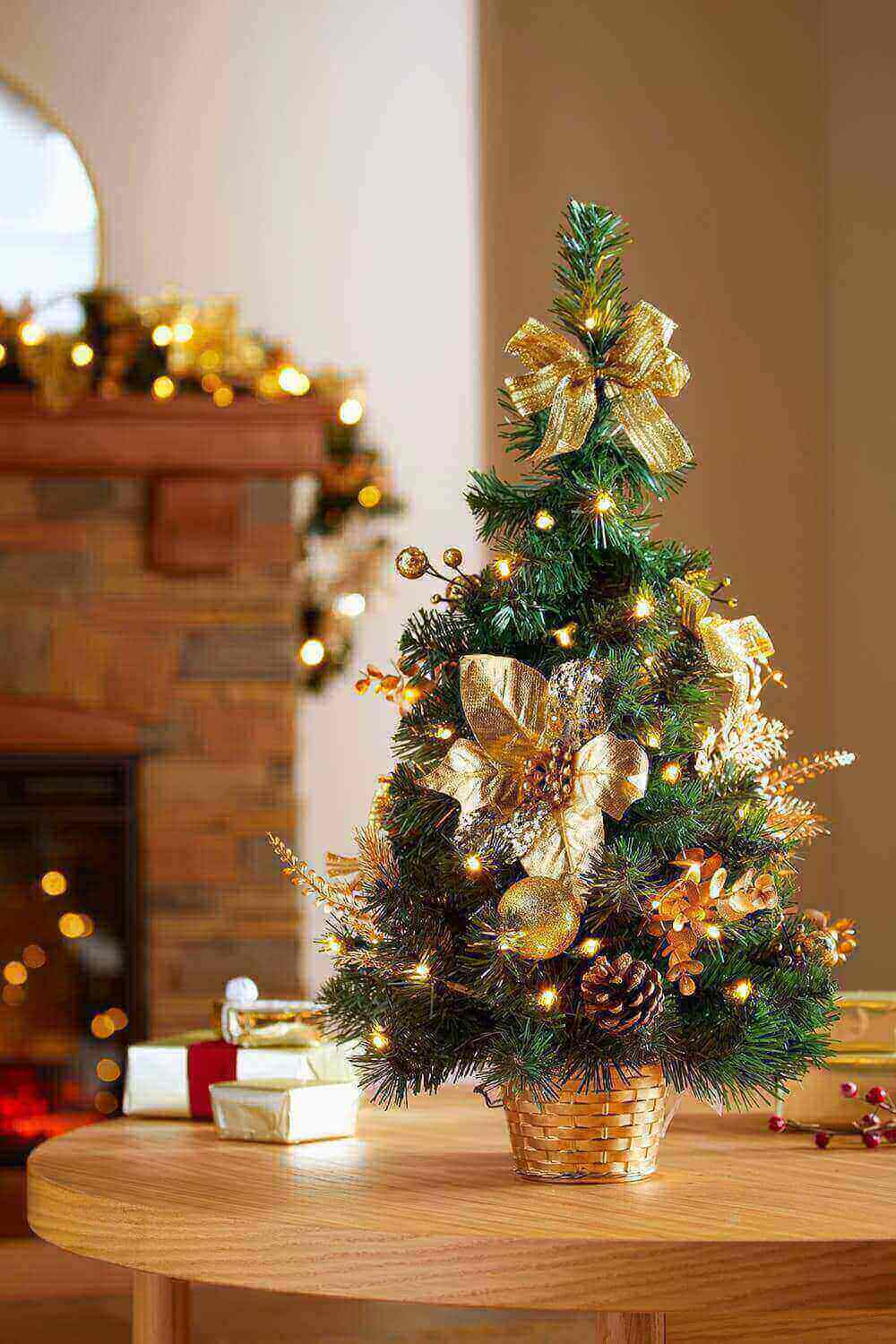 Pre Lit LED Christmas Tree
Our pre-lit LED Christmas tree makes for a wonderful tabletop centrepiece and is guaranteed to bring some extra brightness into your home this Christmas. In addition to being illuminated by gleaming warm white LED lights, we've also done all the decorative work for you. The bushy faux fir tree branches are decorated with everything from chic golden berries to pretty pinecones, shimmery baubles, and sparkly golden-hued bows, which complement our festive garland and myriad other accessories in our festive collection. The tree sits in a matching golden woven basket, which means that all you need to do is insert a couple of batteries to create an instant display that is certain to capture attention for all the right reasons. Position on a console or coffee table and accessorise with small, wrapped gifts. Alternatively, place on a windowsill to create a festive display that can be enjoyed both inside and out.
Other Christmas decoration ideas to extend the festive magic outside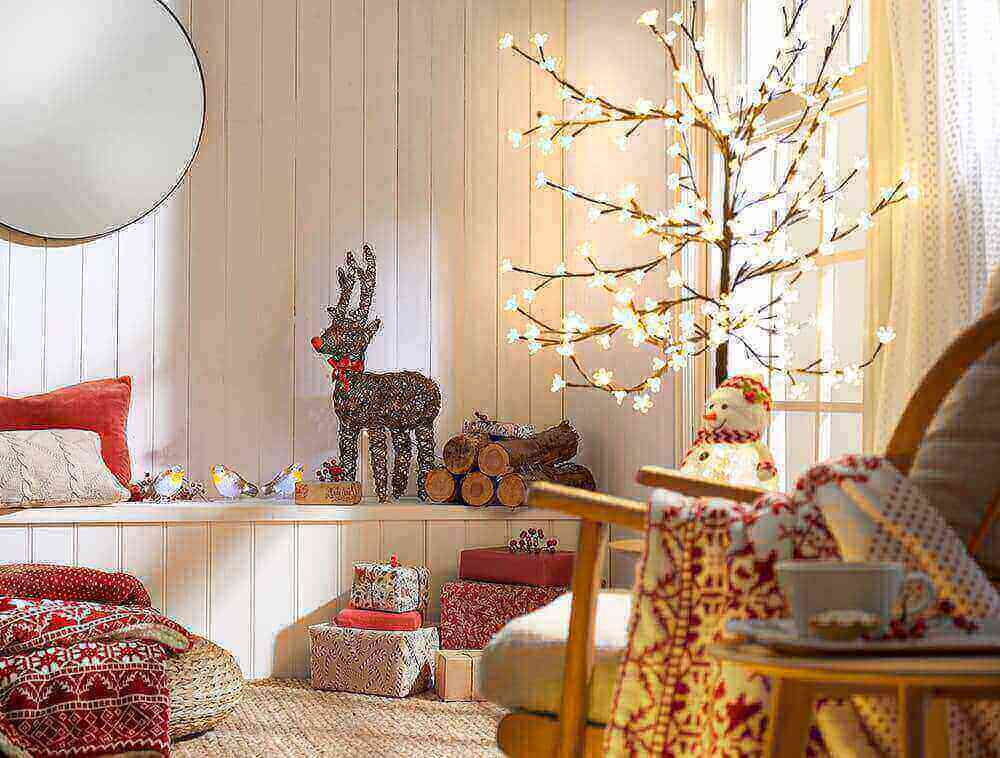 To really lean into the festive spirit, why not take your chirstmas decorations outside too and create a charming winter scene for all to enjoy? Our Light Up Rudolph the Red-Nosed Reindeer has been expertly crafted from a completely weatherproof faux rattan material, so he is equipped to withstand all conditions. Standing tall at over half a meter in height, Rudolph will bring some sparkle to your exterior as darkness falls. 60 warm white battery-operated LED lights illuminate his silhouette, and you can choose from eight different light settings, including steady, slow glow, and twinkle modes. Rudolph also looks charming in the daytime as well, as his wonderful red bow complements his shiny red nose perfectly. Of course, he can also be positioned anywhere inside your home too if you want to enjoy his charming character as you're cosying up to enjoy an evening in.
Now, Christmas just wouldn't be Christmas without a few robin redbreasts, would it? These charming birds are utterly delightful and our Robin Lights allow you to marvel at their beauty all season long every single time you look outside. Comprised of five individual lights, you can choose to perch them everywhere from fences to hedgerows as the battery box is fully weatherproof. They even come with a timer functionality, which will ensure they light up automatically as darkness falls. But if, like Rudolph, you also want to enjoy these festive lights inside, they also look equally as charming when positioned on windowsills, bookshelves, and mantelpieces. You could even place them in the centre of your festive dining table for you all to enjoy as you sit down to tuck into your Christmas Day dinner.

If you would like to add some subtle festive style to your home this Christmas, our Cherry Blossom Tree Floor Lamp has just the right amount of sparkle to brighten every space without ever looking too visually overwhelming. Although Japan's cherry blossom season is notoriously short, lasting just two weeks in the springtime, our inspired floor lamp can be enjoyed all year round. Simply arrange the wired branches in a way that suits your space and marvel as the 200 LED lights send a steady stream of soft illumination around your room. As the holiday season approaches, you could even choose to hang some lightweight baubles from the branches to make an already much-loved piece a real festive feature. We also offer a matching table lamp in the same charming cherry blossom design, just made miniature to suit a variety of side and console tables. This super sweet and delicate table lamp can be a perfect addition to a welcoming entryway or festive window display that is certain to bring instant joy to both visitors and passers-by.
Illuminating the exterior of your home without spending a fortune has never been simpler. In fact, we made it our mission this year to stock a variety of Spiral Light Chains in different festive hues that can be used to illuminate fences, porches, hedges, trees and so much more. Choose from green, red, white or multi-coloured spiral chains, or mix and match a few different colours to create a unique eye-catching illuminated display. Each light chain contains 100 sparkling LED lights that have been encased within five meters of waterproof plastic casing, making them ideally suited to outdoor use. We wanted to make it possible for your creativity to really run away here as our light chains are battery-operated, which means you don't need to factor in the location of plug sockets to your design.
When decorating for Christmas, give these a special place on your festive table
Reindeer with LED Candles


Often it is the smallest details that can make the biggest impact, particularly at Christmas time. A small selection of well-chosen accessories can really bring a décor scheme together, giving a cohesive look with lots of visual interest and charm. So, if you're looking for some extra special chirstmas decoration ideas to add to your theme this year, here are a few of our favourites from our festive collection.
Our Reindeer with LED Candles hold a very special place in our hearts this year because they can instantly add a touch of extra magic and joy to your festive table. Each reindeer has been carefully crafted from resin and proudly wears a silver bow adorned with miniature pinecones and rich red berries around their neck. This special duo is comprised of one seated and one standing reindeer, both of which hold a speckled golden tea light holder in their antlers. We have also included two LED tea lights with include batteries, which means all you need to do is find the perfect place in your home for this charismatic pair.
We're sure you will agree that no cosy interior is ever truly complete without a beautiful fleece blanket to snuggle under on long, snowy nights. From wearable fleece cosy robes to luxuriously thick blankets adorned with chic, festive designs, there are super soft finishing touches to suit all styles and tastes in our comfy collection. Imagine cosying up on your favourite armchair underneath a gorgeous blanket marvelling at your log fire and stunning Christmas décor display. Throw in a steaming mug of hot chocolate with marshmallows and you will be living the holiday dream all season long.
Who doesn't love a mug with a bit of personality?!
Personalised Mugs


We all want to create a welcoming and comfortable atmosphere for our guests during the holiday season. To make your visitors really feel at home, why not present them with their very own personalised mug when they arrive? Our range of mugs includes a collection dedicated to popular hobbies, which make wonderfully thoughtful gifts for your loved ones. They are the perfect size for holding a generous serving of hot chocolate, with plenty of room for cream and marshmallows too. They can also be used if you're partial to a hot toddy to keep the cold at bay in the depths of winter.
Thinking about Christmas table decoration? Think about a cheese board set


When you think about Christmas, we're sure your mind instantly goes to the food. We know ours does because from mince pies to Christmas pudding, the rich flavours of this time of year are mouth-wateringly wonderful. Plus, the smell of ginger, star anise, cinnamon and other warming spices makes this time of year even more incredible.
But we also think that cheese will probably feature quite highly on your list of must-have Christmas foods and if that is the case, our Cheese Board Set provides you with an elegant way to serve your ideal selection. An elegant white marble cutting board sits snugly on top of an eco-friendly serving tray made from bamboo, which also houses a trio of stainless-steel cheese knives designed to be used with an array of both soft and hard kinds of cheese. An impressive way to serve some after-dinner treats, this display is certain to receive plenty of compliments from each and every one of your guests. So, be prepared to field more than a few questions about where you got it!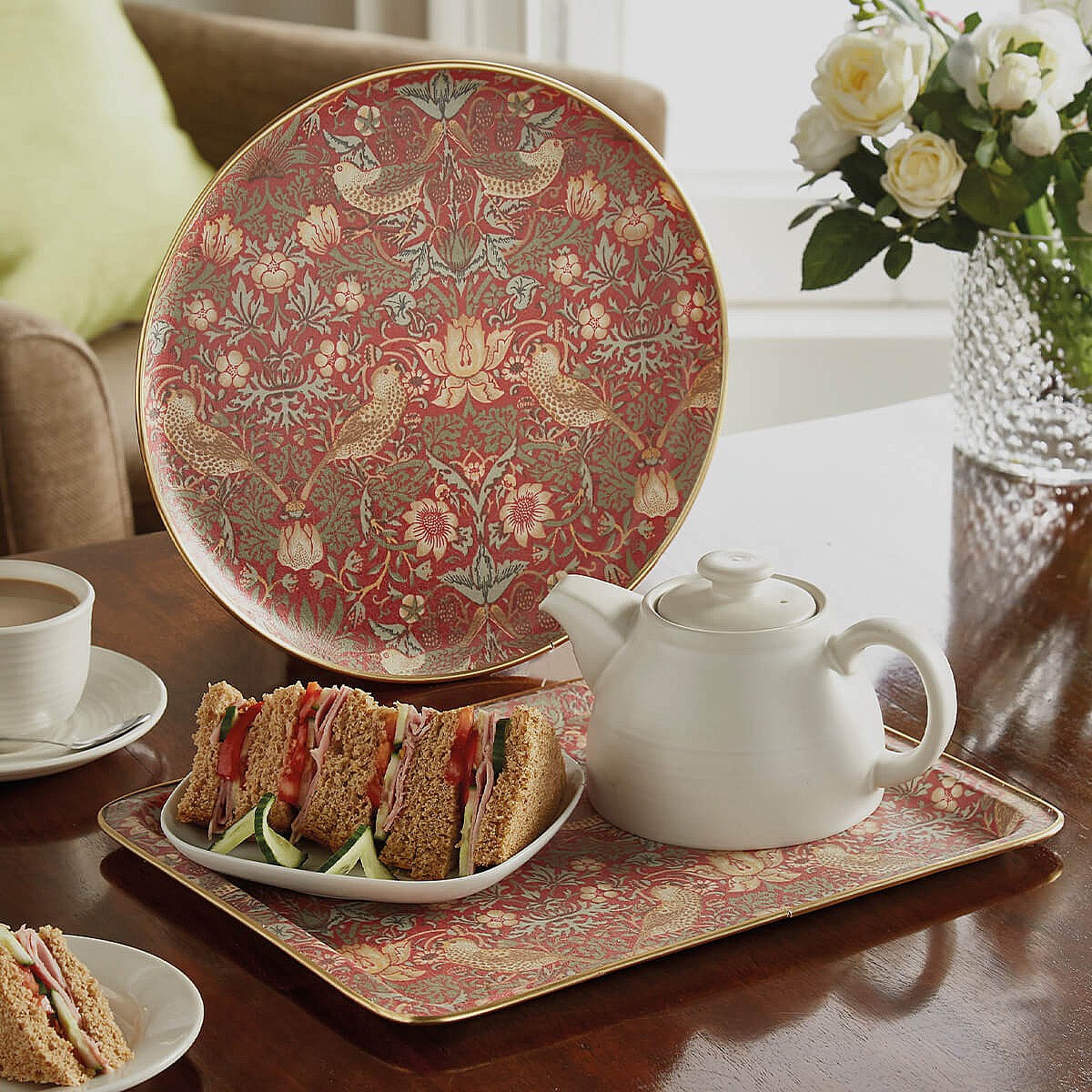 Staying on the serve wear theme, our William Morris trays are ideally suited to serving everything from small festive nibbles to warming hot drinks. Showcasing a William Morris' iconic 'Strawberry Theif' design, these matching trays are light-weight, scratch proof and heat resistant. Choose from a round or rectangular tray, these beautiful trays are guaranteed to be an extremely useful addition to your festive serve wear collection. You could even use them as part of your table display, positioning them in the centre of a coffee table to house some freshly baked sweet treats or a morning coffee set that will allow you all to enjoy a moment of calm before the festivities really get going.
Don't forget fun and games for all the family
Dominoes Set


Christmas is a time for reconnecting with family and friends because our busy lives so often make catching up properly incredibly difficult. We don't think there is a better way to do just that than with the help of some traditional games that have delighted people of all ages for decades. We simply adore games that everyone can get involved in and have a particular soft spot for those that have simple rules that are easy to pick up for those who are playing for the very first time.
When we think of classic Christmas games, we immediately think about all the games of dominoes we have enjoyed over the years. Our Dominoes Set has been handcrafted from beautifully polished rosewood and expertly inlaid brass, making it a work of art in its own right. The set of dominoes fit inside a beautifully crafted wooden box, also created from rosewood, which makes the entire piece a wonderful decorative object that can be proudly displayed on a side or console table for easy access in a cosy living area.
In the same collection, we also have beautifully crafted games of both Shut-the-Box and Noughts and Crosses, each of which offers hours of fun for all the family. Whether you want to play for fun or perhaps offer a special prize for the winner of each game, there are so many ways to incorporate family games into your Christmas celebration. So, put together a collection of fun games, gather a selection of nibbles and drinks before sitting down to enjoy quality time with your nearest and dearest. That is, after all, what Christmas is all about.
We hope we have gone some way to show you that you really don't need an endless budget to create a memorable Christmas that you and your loved ones will reminisce over for many years to come. From thoughtful gifts to family games, unique serve wear and beautiful decorations that will charm and delight people of all ages, it is perfectly possible to enjoy your dream holiday season on a budget without compromising on quality or style.
Offering affordability and quality is our primary motivation, especially for our Christmas collection this year. We hope that as you're browsing our festive collection, you find something that will bring a little extra bit of magic to your Christmas. Stay safe, and happy shopping.