/
Blog

/
Garden decoration Ideas
Garden Decoration Ideas
If you're looking for Garden decoration ideas for small or big gardens, then you've come to the right place. Whether you have a small but perfectly formed yard or a sprawling multi-level garden, we have a variety of garden décor ideas and tips to help you make the most out of your outdoor space. Not only will a beautifully designed and decorated garden boost the value of your property, but spending time curating this often-overlooked outside room can also improve your health and wellbeing.
Garden decoration ideas
1-
Use Outdoor Solar Lighting When Decorating your Garden

It's important not to underestimate the power of outdoor lighting. Approach lighting your garden in the same way as you would position lighting solutions within your interior space. It's often best to layer different light sources to create a welcoming, authentic and agreeable atmosphere.
- Garden solar stake lights

Solar stake lights are an excellent way to add flashes of illumination to your outdoor space. As the internal battery is charged by the sunlight, you don't need to worry about concealing unsightly wires, which makes this lighting solution incredibly versatile. As dusk falls, stake lights will use their stored energy to shine brightly and set a warm and inviting ambiance that is perfect for both relaxing and entertaining.
Make a bold statement by lining your garden path with eye-catching
Bronze Flame solar stakes
. Alternatively, use these beautiful solar stake lights to showcase your prized flowerbeds or introduce an intimate sense of serenity to your lawn.
- Solar Lanterns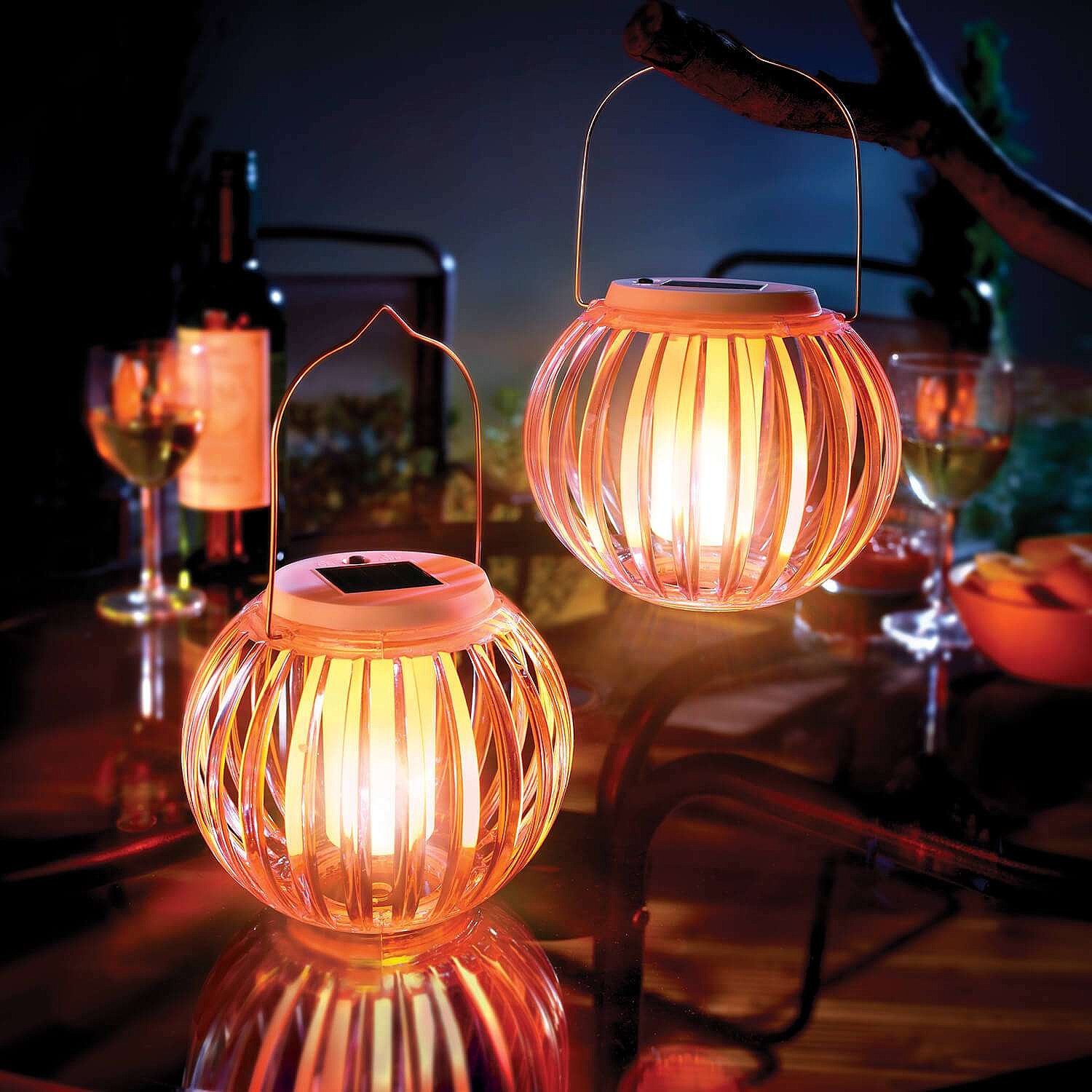 Solar powered lanterns
can be used in a myriad of ways to create an outdoor snug that you will want to spend as much time in as possible enjoying. Choose lanterns that are equipped with lights that give a soft flickering effect that mimics candlelight without any of the associated risks of an open flame. Hang on a fence or balcony or use to decorate an established tree by positioning on branches.
- Twinkling Tea Lights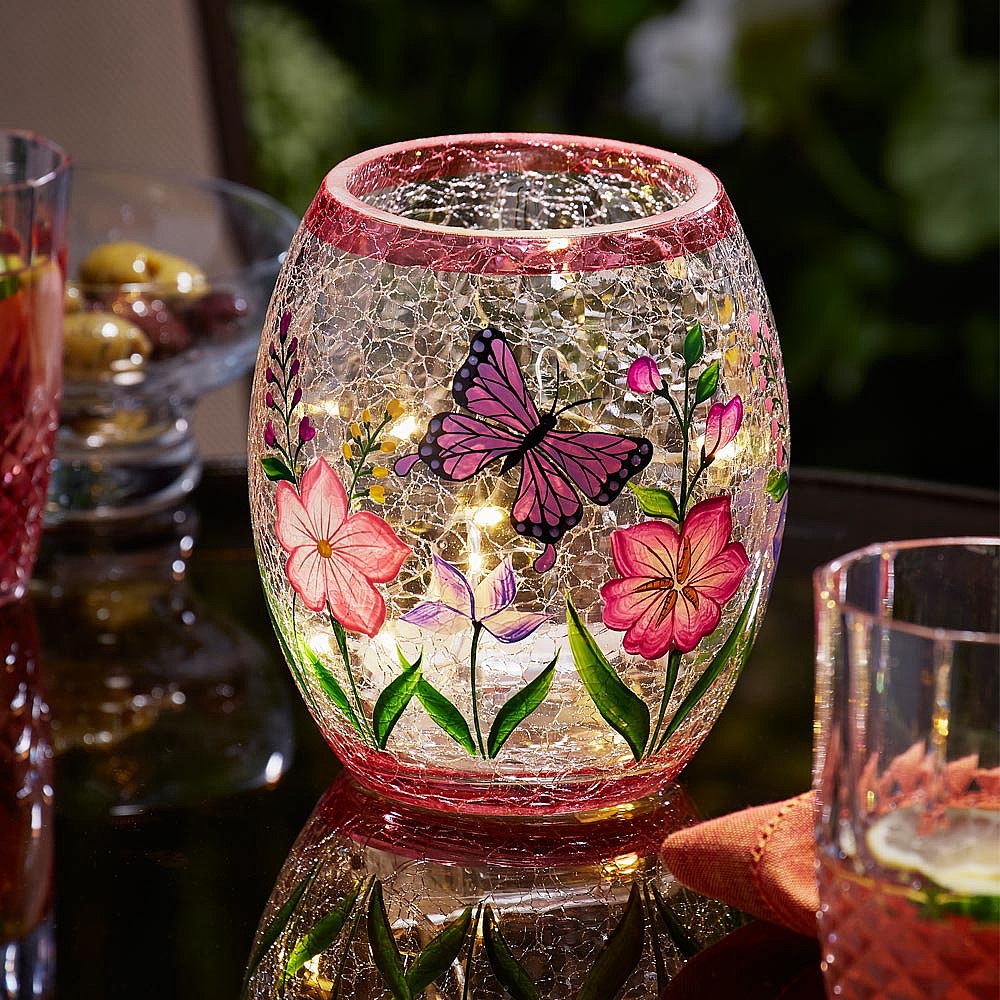 When entertaining outside in the evening, a well-dressed table will always make the right impression and ensure the fun can continue long into the night. Mood lighting is key to establish the perfect celebratory ambiance and
table-top lanterns
can do this with ease. Position these lovely hand-painted lanterns across your table and use them to hold twinkling LED tea lights.
Top tip: choose lanterns with a crackle-glazed finish to further diffuse the light, creating an easy-going and intimate atmosphere.
2-
Create a Charming Wildlife Garden

With mindful planting and considered decorative pieces, we can make a small wildlife garden and our gardens can be a real haven for a wide variety of wildlife.
- The Wonder of a Wild Garden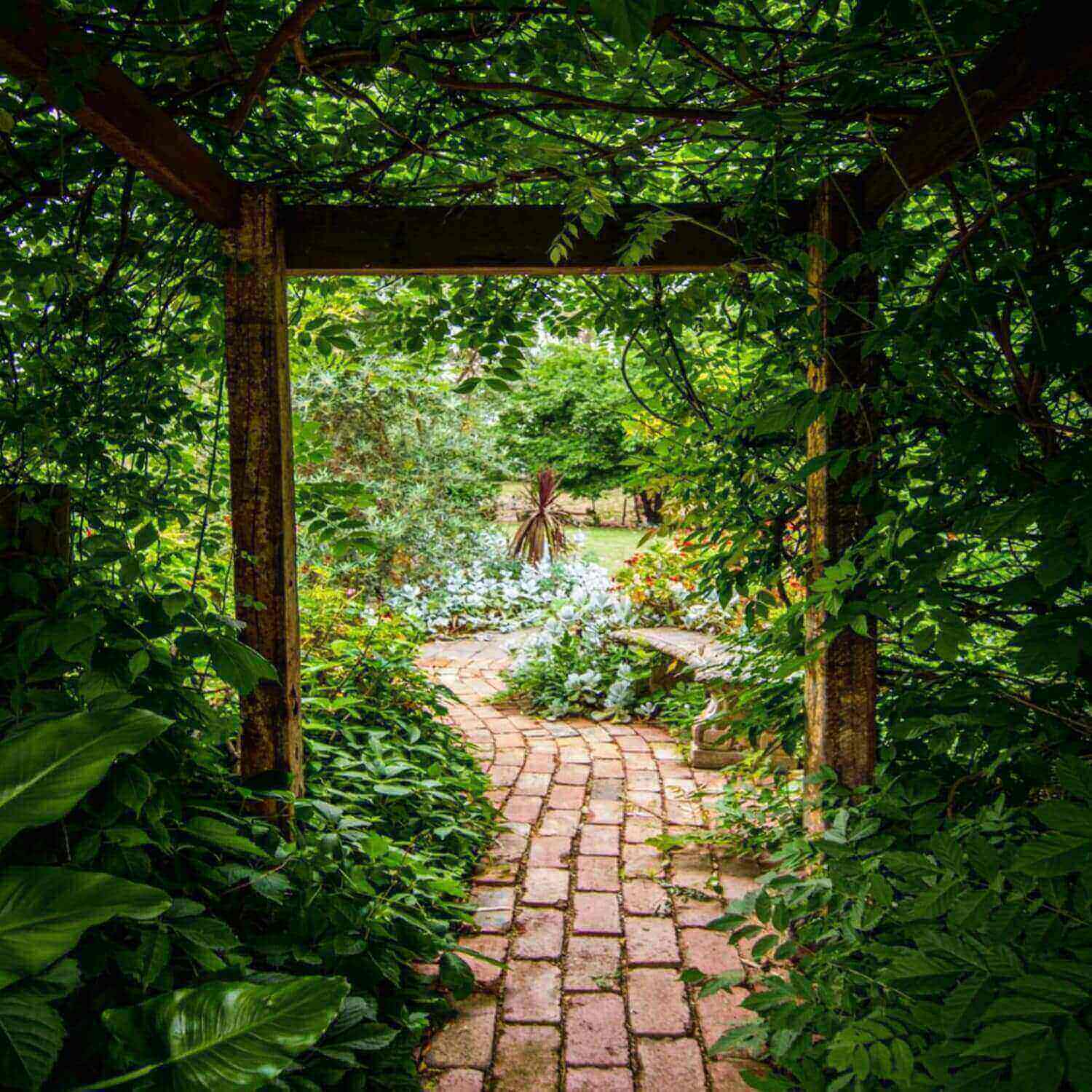 If you're keen to take inspiration from the sprawling British countryside, you could plant a wildflower bed or even allow the edges of your lawn to go untamed and provide much-needed shelter for various insects and pollinators.
To create a wildlife garden, you don't need to let your entire outdoor space grow wild if you don't want to. Even just allowing a small patch of lawn to do its own thing or using a single bed to mimic a wildflower meadow can make a huge difference to the variety of wildlife your garden contains. And if your outdoor space is paved, beautifully decorated
planters
filled with pollinator-friendly plants will become your new best friends.
- Hanging a bird feeder from your fence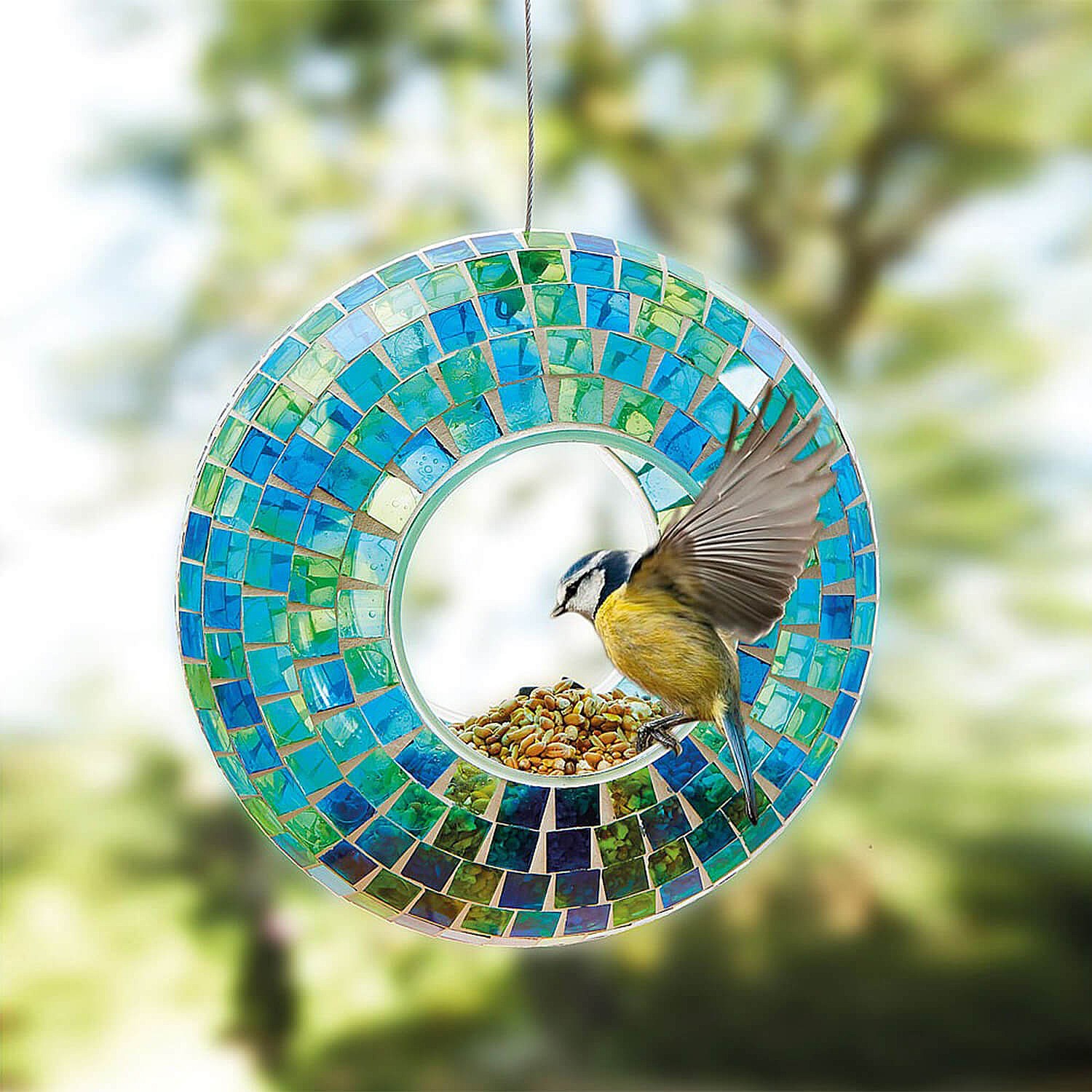 There are a variety of affordable projects you can incorporate into your garden to encourage additional wildlife to make your garden their home. You could, for example, construct a small rockery or wood pile in a concealed area of your garden and arrange plenty of insect-friendly plants all around your space.
Trees can be used to elevate outside spaces. In addition to providing shelter for birds and pollen for insects, trees will also oxygenate your garden, filter harsh sunlight, and capture airborne carbon dioxide. Plus, mature trees can adeptly filter noise and contribute to the tranquil ambience within your garden. Yes, even if you live on a busy road! Multi-stem trees bring a natural architectural element to a garden, which can be used as the star of the show or underplanted to create a woodland effect environment.
Even something as simple as installing a butterfly house or hanging a
bird feeder
from your fence or overhanging tree branch can make all the difference to the amount of activity you're seeing in your garden every single day. This is particularly important in winter when food sources for birds start to become scarcer. And if we all do our bit, collectively we can and will make a significant difference to our environment. Hang this mosaic bird feeder from a fence or overhanging tree branch and see how many feathered friends visit every single day.
- Keep Your Garden Decoration Classical with a Stone Effect Bird bath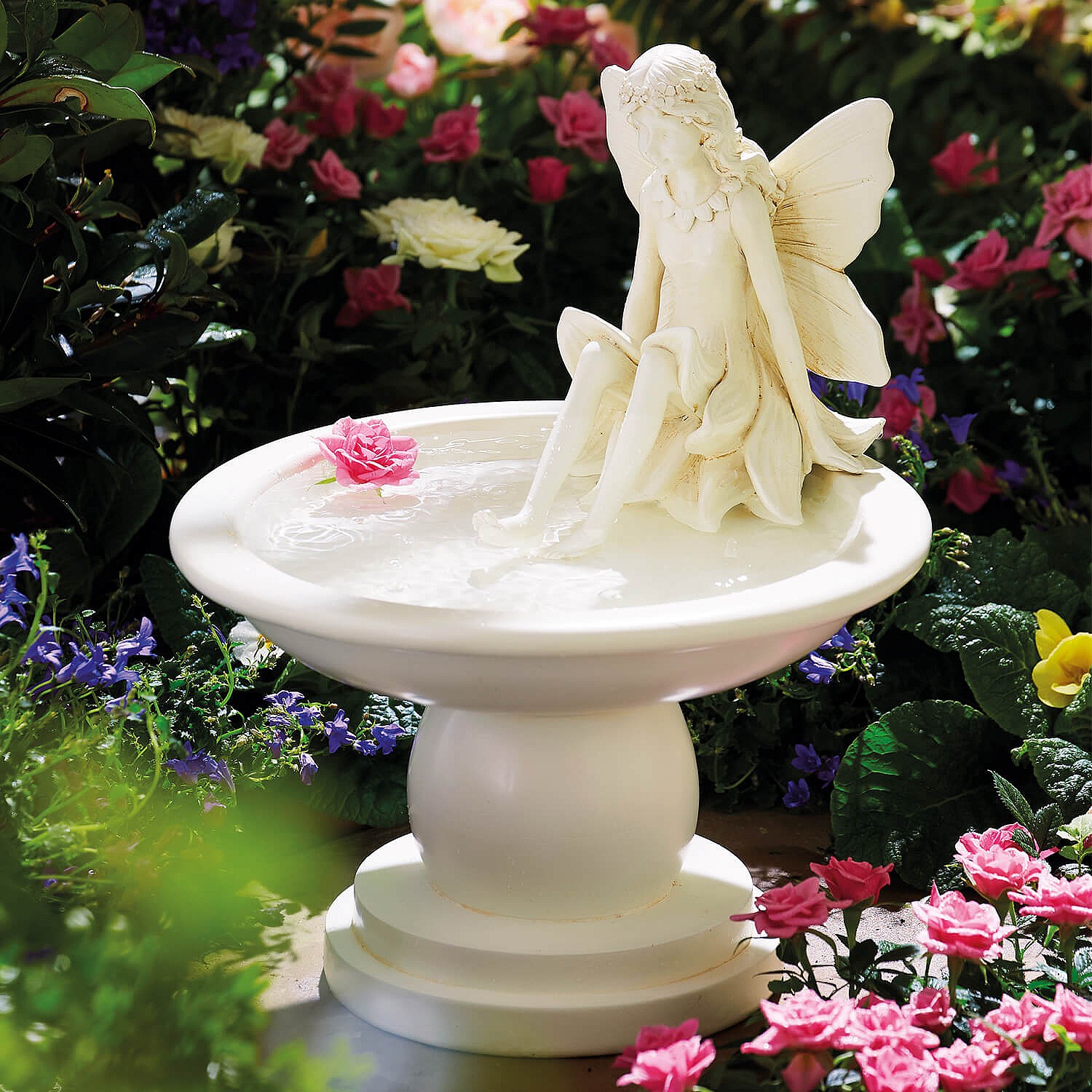 If you prefer to keep a lively garden, there are a variety of decorative features that you can incorporate into your space that will attract many different species of wildlife.
This whimsical
Fairy Bird Bath
, for example, can provide the perfect environment for birds to drink, bathe and play whilst also adding a little touch of magic to your garden. The charming fairy figure playfully dips her toes into the water and the matte stone effect finish gives the bird bath a classical twist.
Top tip: bird baths can be placed on a table or tucked away in a quiet corner of your garden, just make sure you have a good view of all the action that it is guaranteed to encourage from your new feathered visitors.
3-
Give your Garden Decor the Wow Factor with a Solar Powered Water Feature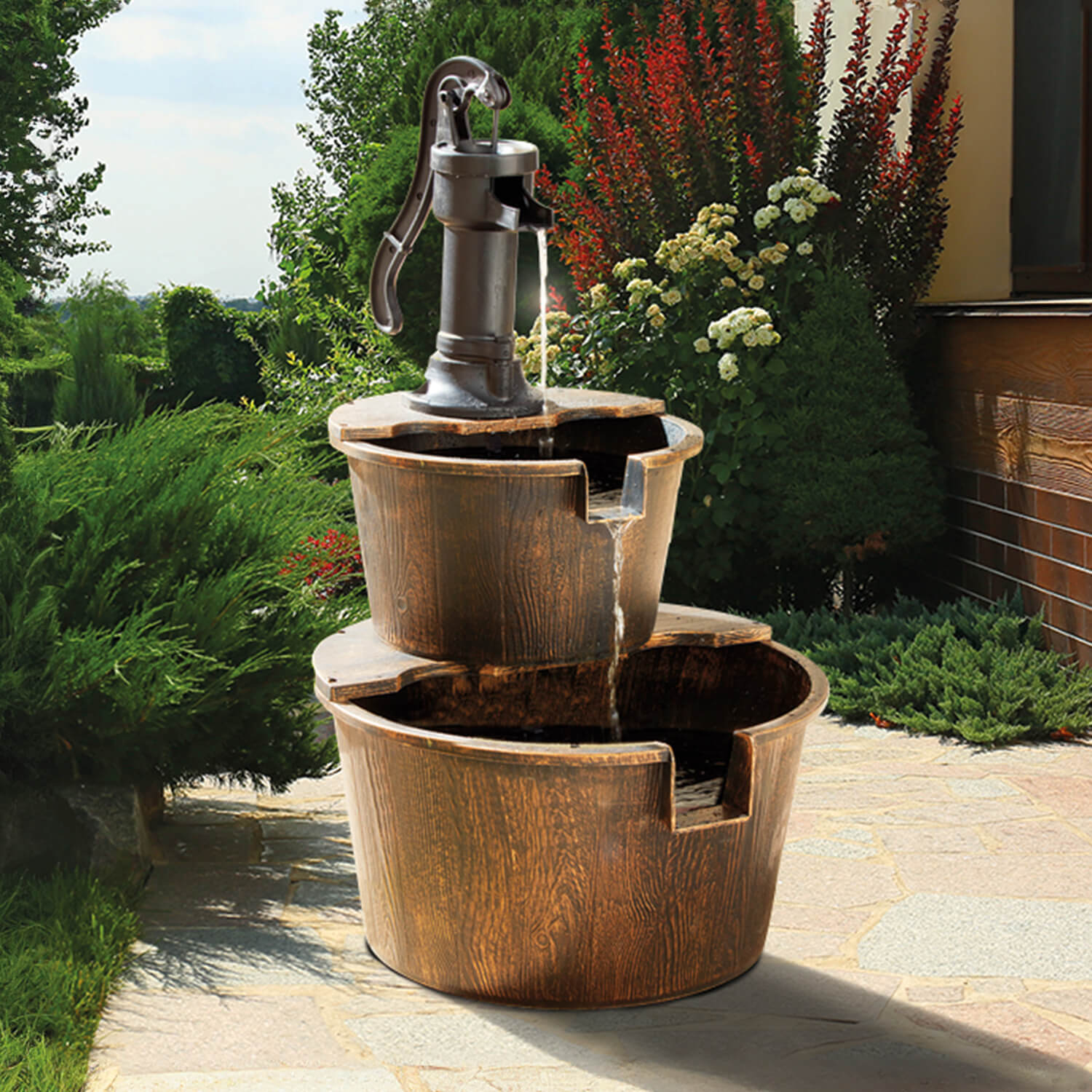 There is something so wonderfully relaxing about listening to the sound of running water. When thinking about garden decoration ideas a water feature can really add the wow factor to your outdoor space. Plus, your water feature will also act as an important water source for wild birds and other wildlife.
The good news is that water features don't need to be complicated to install, particularly when they're solar powered and don't require plumbing in. This
Two Tier Barrel Fountain
solar water feature is designed to resemble a traditional hand pump. The water gently trickles into the smaller barrel before flowing seamlessly into the larger barrel. The solar powered pump means that there won't be any additional running costs and the wooden effect weatherproof plastic won't require any maintenance to keep your feature looking in tip top condition.
However, just because you can place this solar water feature anywhere, that doesn't automatically mean you should. So, don't be tempted to place your water feature in the middle of your patio area with nothing surrounding it. Rather than creating the feature of your dreams, it will ultimately just look odd and out of place. Instead, aim to integrate it with your garden layout when you decorate your garden.
Top tip: position this feature in a nook beneath some young trees or shrubs, which will give the illusion that it's been there for many years. This also has the added advantage of providing some additional shelter for wildlife, which will encourage birds to drink, bathe and play in the delicately trickling water.
4-
Expertly Accessorise your Garden Sanctuary

In addition to bringing layers of interest to your garden, Garden accessories can be used to create your own personal sanctuary and showcase your unique personality in the process. After all, it's important that your home really reflects who you are and gives you a place in which you can truly be yourself.
- Creating Calm with a Garden Buddha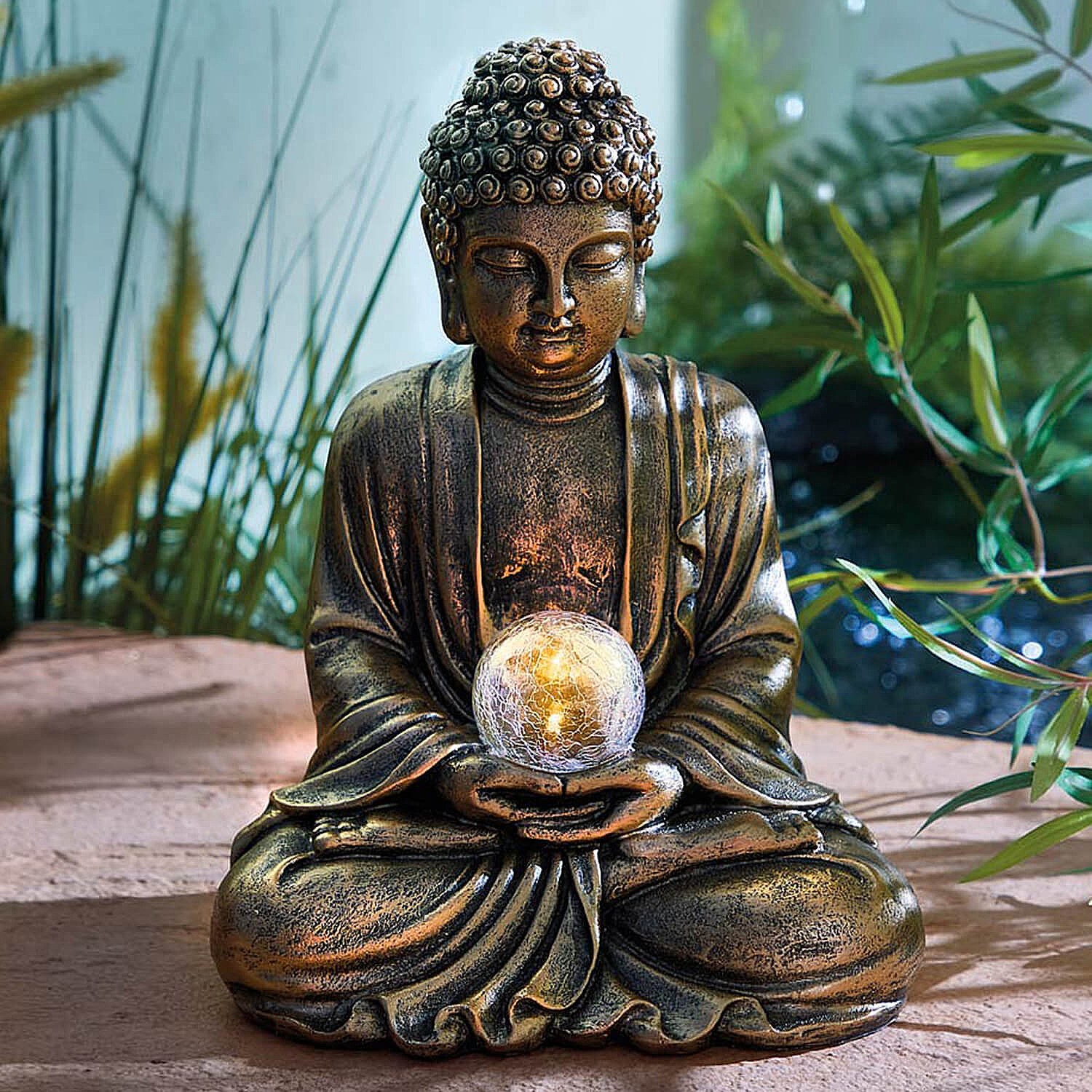 If you want your garden to feel tranquil and serene, this
Bronze-Effect Buddha Solar Light
will provide the final finishing flourish of your dreams. As the sun begins to set, the Buddha's glass globe will start to glow, highlighting the compassionate expression on his face. In addition to bringing some soft illumination to your garden at night, this beautiful piece can help you to create a calming space in which to unwind, practise yoga, or meditate.
- Playing with Colour with some Garden Wall Art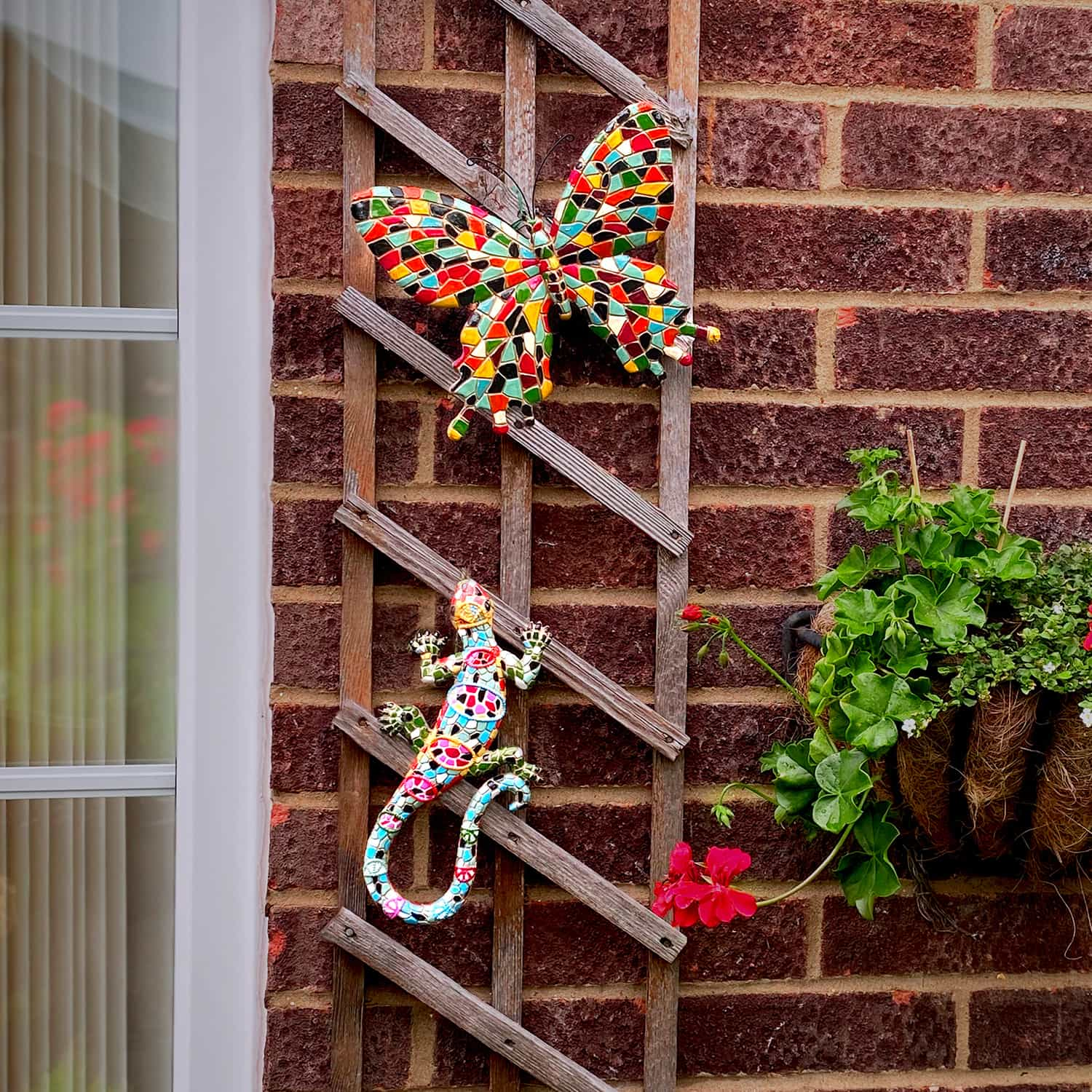 Hanging decorations can be an ideal addition to small spaces, as they don't take up any floor space but will instantly add joy and character. Whether you're working with a compact or sprawling space, these beautiful Mosaic Butterflies and
Mosaic Geckos
can bring some additional colour and brightness to your garden. The artisanal mosaic design is eye-catching and will provide enjoyment all year round, come rain, shine or any other weather the British climate can throw at us. Fix to fences, decking or walls to bathe your garden in colour and really celebrate the intimate beauty of the natural world.
- Create a Cosy Outdoor Seating Area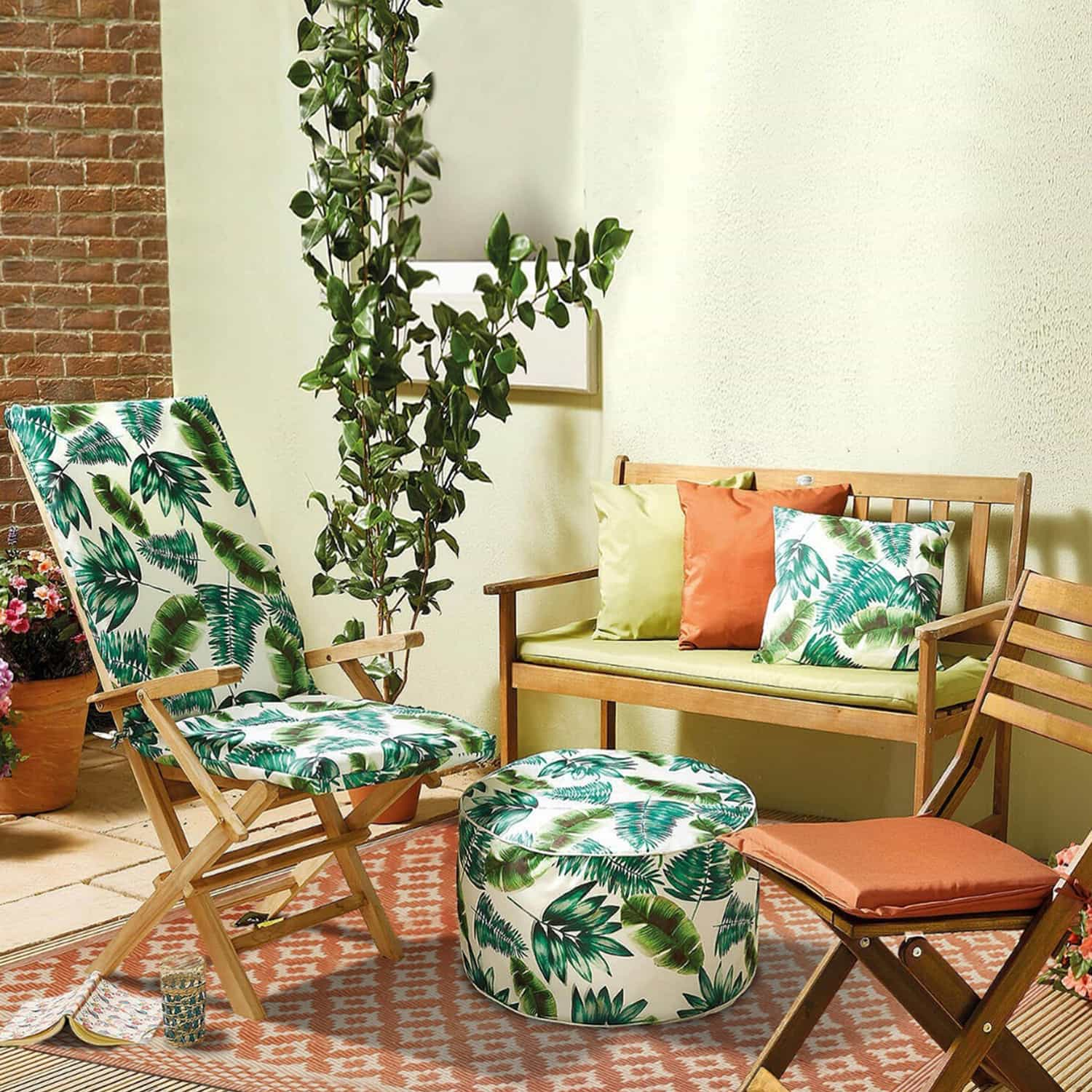 An
outdoor rug
can help you to create a picture-perfect outdoor seating area, which can be further decorated with matching
outdoor cushions
. When decorating your outdoor area choose cushions with a stylish leaf print or opt for block colours in warm green or terracotta hues to complement the verdant beauty of your outside space. Complete your dream seating area by placing differently sized potted plants on and around side tables to both immerse yourself in nature and shelter yourself from the elements.
Top tip: Before diving in and purchasing pieces to create a show-stopping seating area, spend time planning your layout and determining how many accessories will comfortably fit in the space you have allocated for this feature. Remember to consider whether you can properly protect your outdoor accessories during the winter months. This will ensure their longevity and maximise the enjoyment you'll get from your investment.
- Garden Ornaments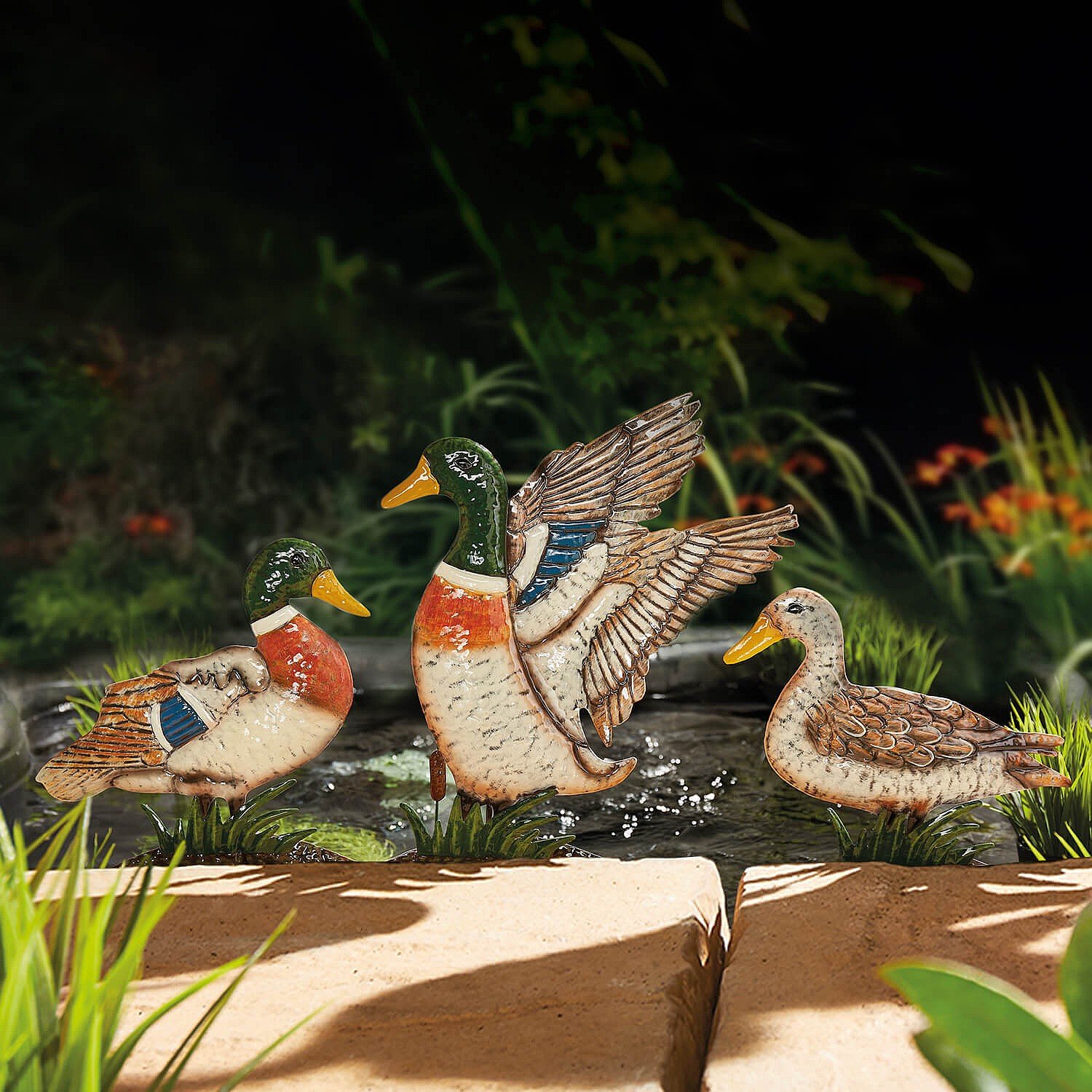 Accessorising your garden can be approached in the same way as you would accessorise any other room in your home. So, if you're working with a small space and you want to bring an additional layer of interest, garden ornaments can be an excellent way to give your garden even more personality. These expertly painted duck stakes can be placed as a group or individually and will instantly add both colour and character.
5-
Decorating Small Gardens With Plant Stand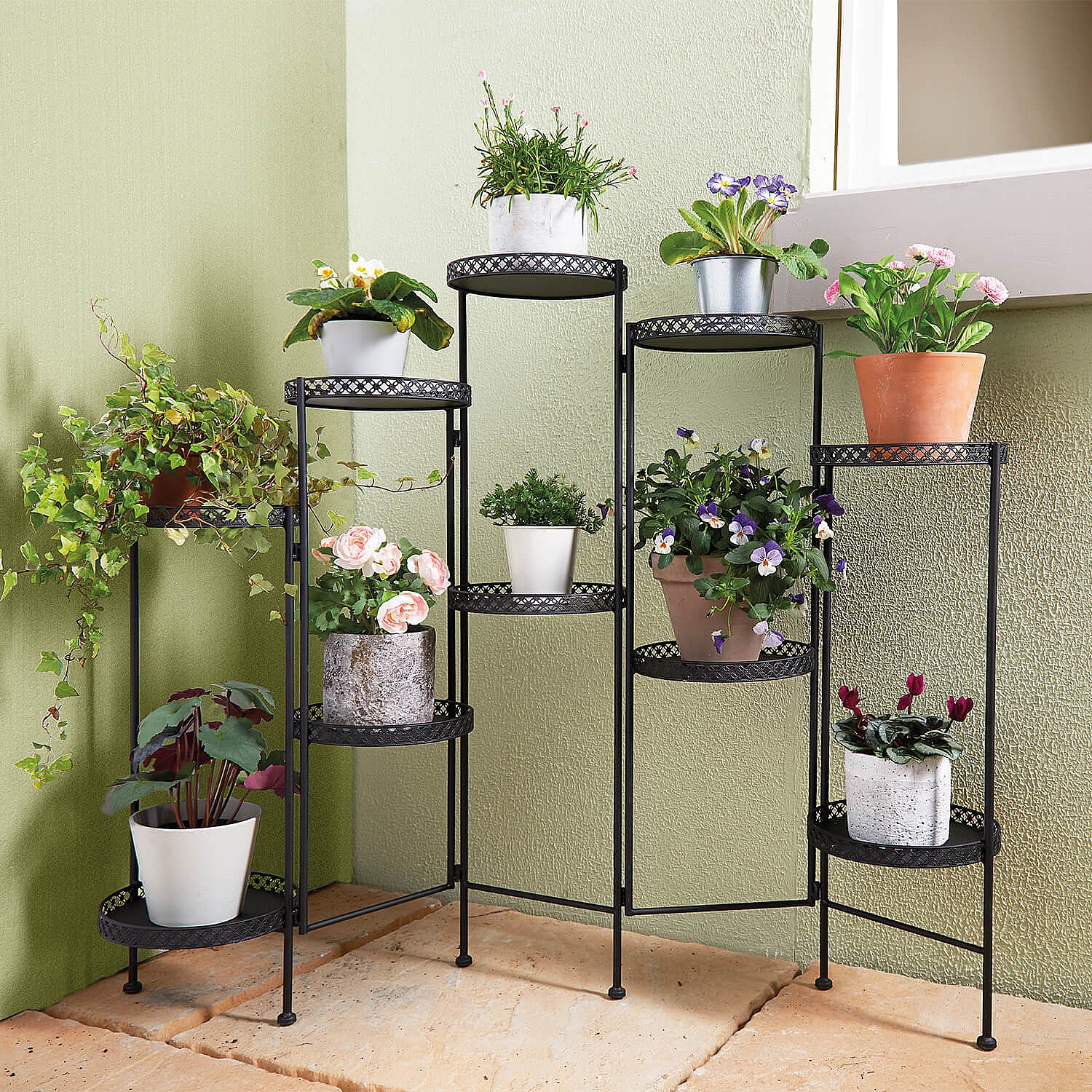 In small gardens, making the most of your vertical space is equally as important as maximising every nook and cranny of your garden's footprint. When decorating a small garden
plant stands
can help you to create a living wall, allowing you to position a variety of potted plants to ensure they make the maximum impact. The different levels are ideal for trailing plants and will guarantee that this feature in your garden is wonderfully easy on the eye.
When decorating your garden you can also use outdoor accessories to zone your garden space, ensuring that it has the versatility to do everything you want it to do. From architectural archways adorned with climbing plants or a carefully positioned rose bush, or tall feathery grasses, screening different areas of your outdoor space can be achieved in a myriad of ways.
Top tip: if you want to maintain maximum versatility, avoid hard landscaping in favour of tall potted plants that can be rearranged to create different zones and atmospheres.
In Conclusion and Getting Started
Our outdoor spaces are incredibly precious and although it can sometimes feel as though we are perhaps expecting too much from our gardens, even the smallest spaces of our gardens can be decorated to contain several different areas to suit our unique lifestyles. And the best part is that you don't need to have an unlimited budget to create a garden that works for you.
We hope that our garden decorating ideas, tips and tricks and have provided you with plenty of inspiration as to how you might like to transform your own garden. Many of these ideas can also be applied to front gardens as well if you're keen to ensure that you're really maximising the full extent of your outside space. For example, solar stake lights can be used to illuminate your driveway and colourful mosaic wall arts can be used to add interest to your exterior boundary walls.
When you're getting started, take time to plan how to decorate your ideal garden after gathering inspiration and pay close attention to the elements that will elevate your lifestyle. Remember, your garden needs to work for you and your family. So, choose accessories and decorations that reflect who you are and what you love. Why not start your journey by exploring some of our delightful garden decorations and accessories (
https://www.coopersofstortford.co.uk/gainsborough/
).