/
Blog

/
Keeping You Warm This Winter
Keeping You Warm This Winter
Inexpensive ways to stay warm this winter
As the temperatures fall during the winter months, staying warm becomes a priority. The rising cost of energy can put a real strain on household finances, however, there are numerous things you can do to keep the cold out without spending more than is necessary on your household's energy bills.
We're on a mission to help everyone to stay warm by offering a carefully selected range of winter warmers at affordable price points, which we hope are accessible to all. From wearable items to home accessories and even DIY home improvements you can make to your property in a matter of minutes, we have put together some of our must-have products that can genuinely make a difference to the cosiness of your home.
So, keep reading for our best pieces of advice and some of our favourite items in our collection, which we hope will provide you with some warming inspiration that you can incorporate into your everyday life in the cold, dark months.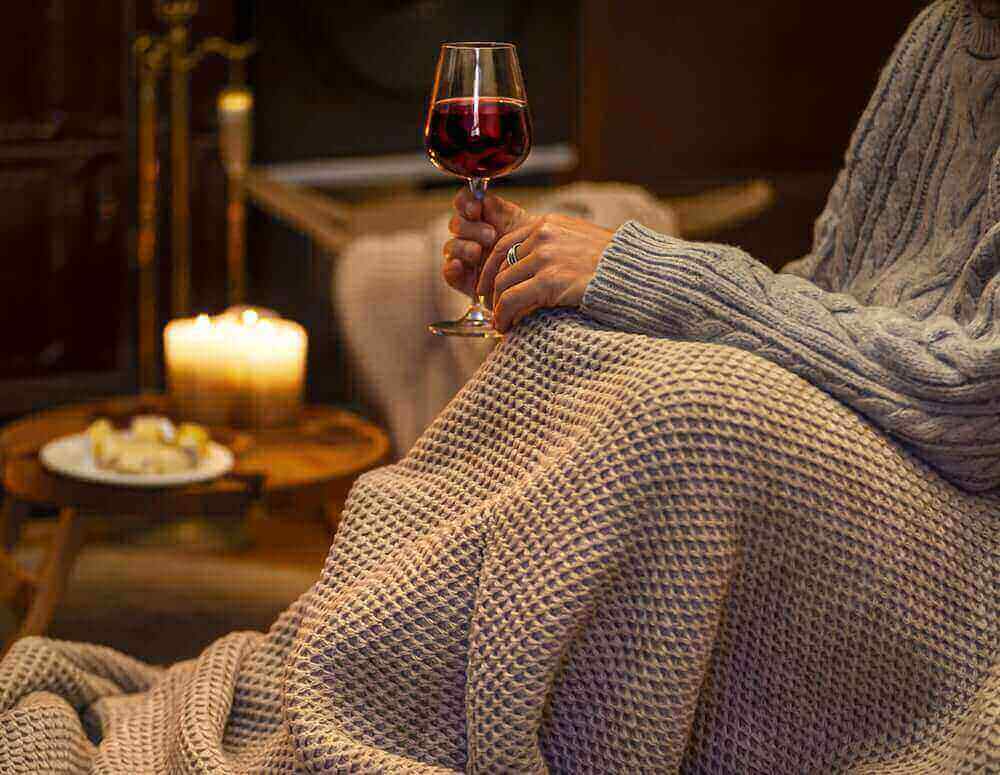 Warming Winter Wearables
When it comes to staying warm, layering your clothing and other wearable accessories is one of the best things you can do. Choosing several thinner layers rather than reaching for one thick item of clothing is a far more effective way of getting and staying warm. Plus, layering gives you the chance to experiment with your style and allows you to remove layers to cool down when moving from one environment to another.
Slipper Boots
If you're looking for some winter wearable inspiration, to be worn inside your home or when braving the cold temperatures outside, here are just a few of our must-have wearable winter warmers that we reach for all the time to keep the cold at bay.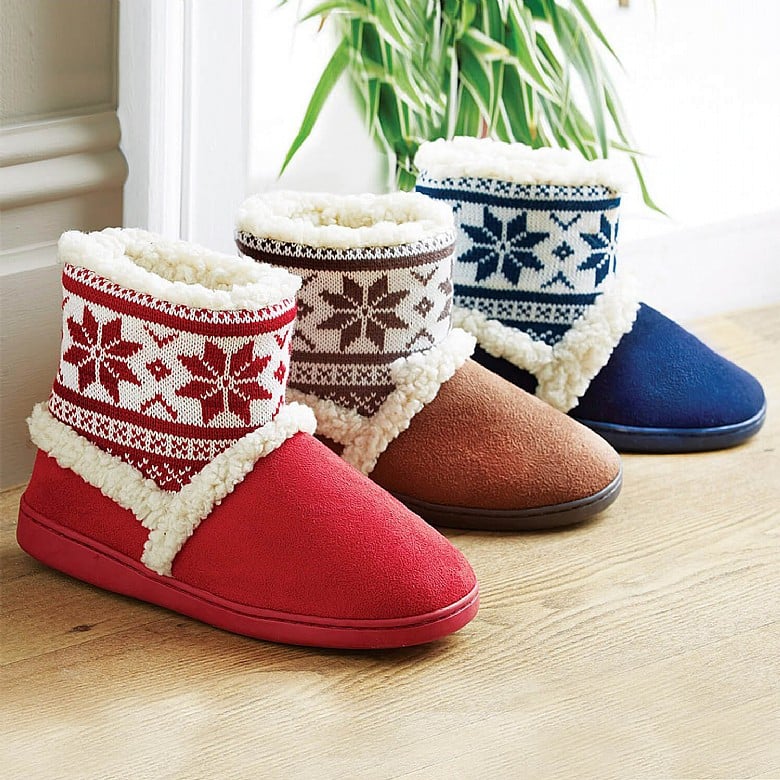 A dressing gown is a winter layering must-have, particularly one that is colourful, stylish and designed to suit all styles. Our zip-up gown has been cut with flattering, figure-skimming lines and finished with a full-length double zipped fastening, which can be opened from both the top and the bottom.
Our light as a feather gown falls to the mid-calf as this length offers maximum warmth and versatility. As well as offering maximum style, comfort and practicality, the stand-up collar has been specially designed to keep out the cold, even in the very depths of winter.
The gorgeous paisley print contains the beautiful blue and pretty pink tones, which can be worn over pyjamas, loungewear and all of your other favourite outfits. Importantly, the polyester fabric washes beautifully and is both easy and quick to dry.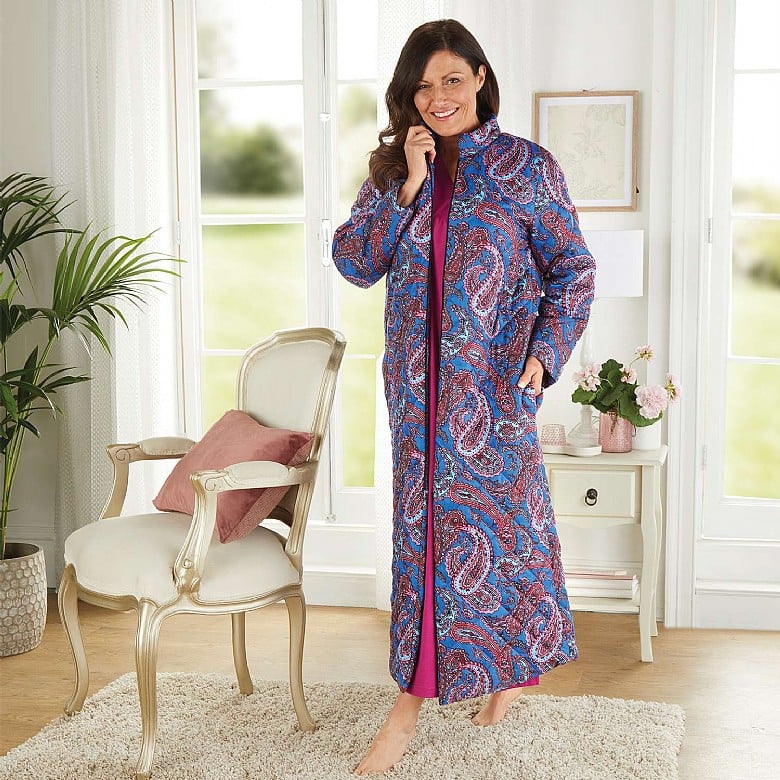 Fleece-lined shirt
If you're looking for the perfect layering piece to complete your everyday casual look, a fleece-lined shirt is certain to become one of the most versatile garments in your seasonal wardrobe.
Wear alone or over a t-shirt with jeans and trainers for a relaxed daytime look that is suitable for those slightly chilly days. As the temperatures start to fall, even more, wear underneath a hooded jacket or thick coat, jeans and boots.
Available in two different colours, red and blue, to suit all styles and complexions, each shirt benefits from smartly cuffed sleeves, a handy chest pocket, and a sleek button fastening. Constructed from a combination of polyester, cotton, viscose and Sherpa fleece, our fleece-lined shirts wash well at 30 degrees and are certain to become a mainstay in your autumn, winter and early spring wardrobe.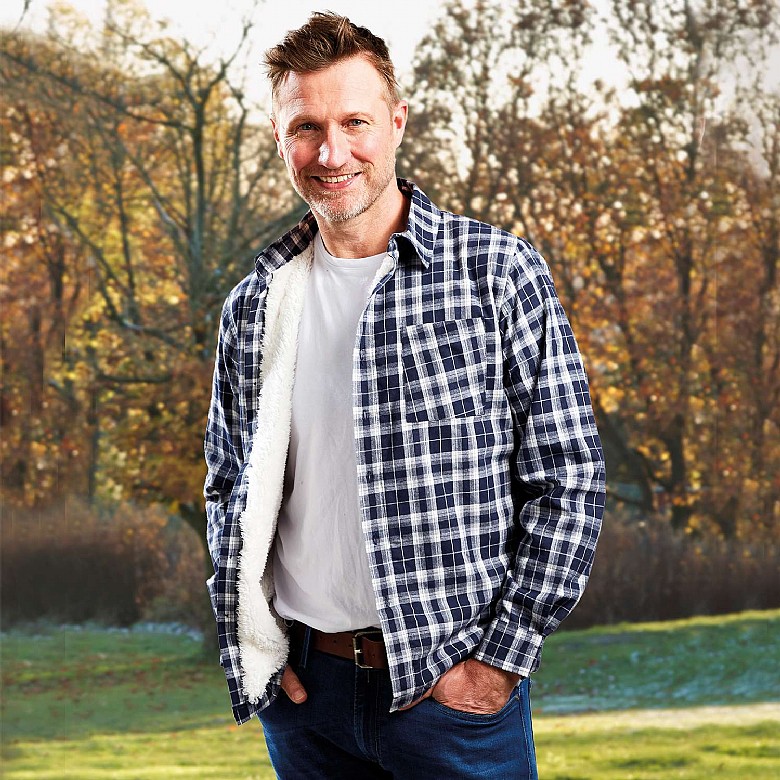 Home Accessories for Added Warmth and Style
Who said that winter warmers can't also be really stylish? Not us, that's for sure because our collection of warming home accessories has been designed to perform well whilst looking great too.
As we all lead busy and increasingly stressful lives, getting enough sleep is important to our overall health and wellbeing. Here are just a few of our favourite products for keeping the cold at bay throughout the night, which will help you to properly recuperate after even the busiest days.
Bounce-back Duvet
Maintaining a comfortable and consistent temperature throughout the night is essential to getting enough high-quality sleep during the winter months. A much-loved part of our Bounce-back bedding collection, our best-selling Bounce back duvet retains its plump, fluffy shape without needing to be shaken every day.
Our Bounce-back duvet is covered with a soft microfibre cover, which makes it ideal for those who have sensitive skin. Additionally, the non-allergenic filling has been chosen for its ability to ease snoring, sneezing and congestion caused by dust mites.
Easy to wash and always good looking, Bounce-back bedding is an easy way to enjoy luxury hotel level bedding in your own home every single night. Available in single, double and king size, simply cover with your favourite bedding set and you are guaranteed to look forward to slipping between the sheets every single night.
Make refreshing your bedding part of your regular self-care routine and incorporate essential oils, soft lighting and zero screen time at least half an hour before going to sleep. Accessorise your bed with a warm blanket for those super chilly nights and pull on a pair of cosy bed socks to keep the cold away from your toes.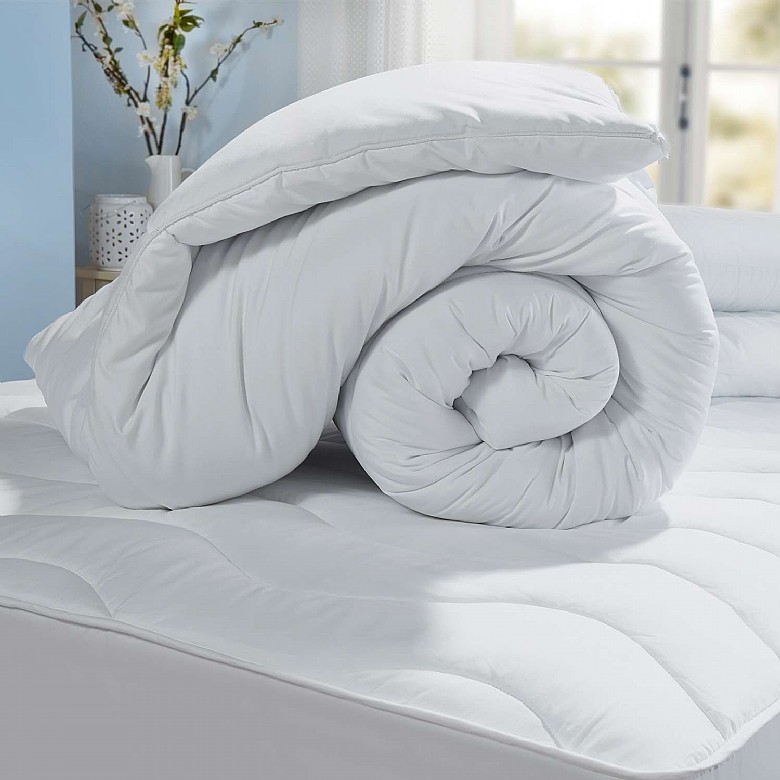 Sherpa Fleece Weighted Blanket
Speaking of warming blankets, they don't get much cosier than our Sherpa fleece weighted blanket in a beautiful warm beige hue. Benefiting from a microfibre fleece outer and a warm polar fleece reverse, this blanket is both super soft and gives the feeling of being embraced by someone you love.
Weighted blankets help many of us to relax and unwind after even the most stressful days, and in some cases can also help to ease the symptoms of anxiety that can lead to a restless night. Weighing 6.8kg, it gently compresses your body which releases so-called happiness hormones that can ease your worries and help you to welcome a full night of deep sleep that will ensure you feel refreshed and renewed the next morning.
Simply cosy up in bed with a warm drink and a good book, welcoming restfulness before turning out the light and snuggling down to enjoy the high-quality sleep you deserve.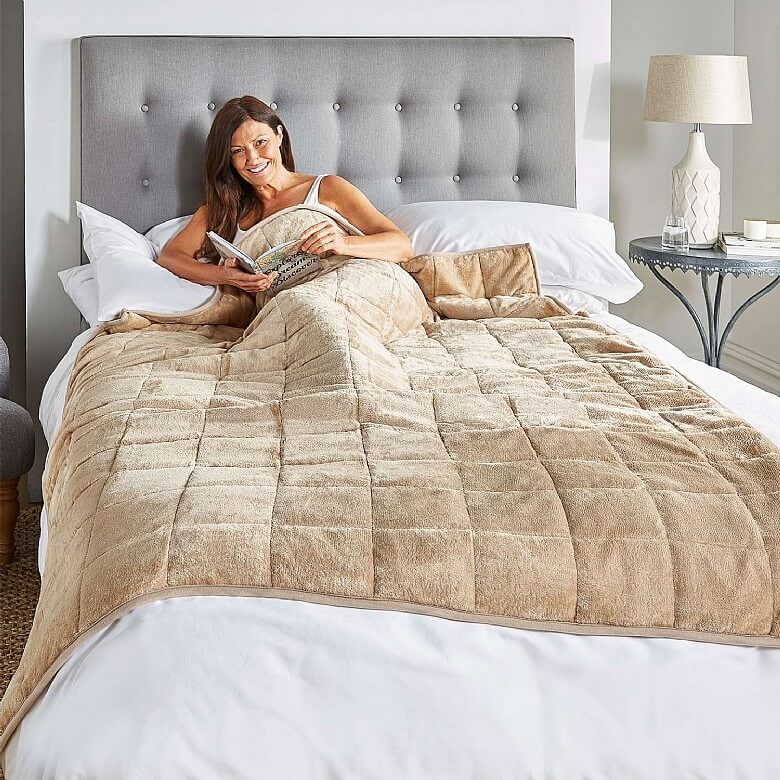 Microwavable Hot Water Bottle
Many of us have experienced the wonderful warming and relaxing sensation a hot water bottle can provide. However, traditional hot water bottles are renowned for being fiddly and require a constant inspection to prevent the chance of leaks. So, filling up a hot water bottle can ironically be quite a stressful experience, which can negatively impact the potential it has to ease anxiety and aid rest.
Our microwave warmer only needs two minutes in the microwave before being slipped into the soft velour outer cover where it will continue to offer the right amount of warmth for up to an hour. As well as being ideal to place on any aches and pains, a microwave warmer can be used as part of your bedtime routine to ensure your sleeping space is as warm and cosy as possible.
Whether you want to hold on to your warmer or place it in your bed as you brush your teeth and get into your favourite pyjamas, this affordable and easy to use accessory is certain to become a must-have every winter. Plus, you'll never need to worry about potentially harmful leaks that can affect traditional hot water bottles.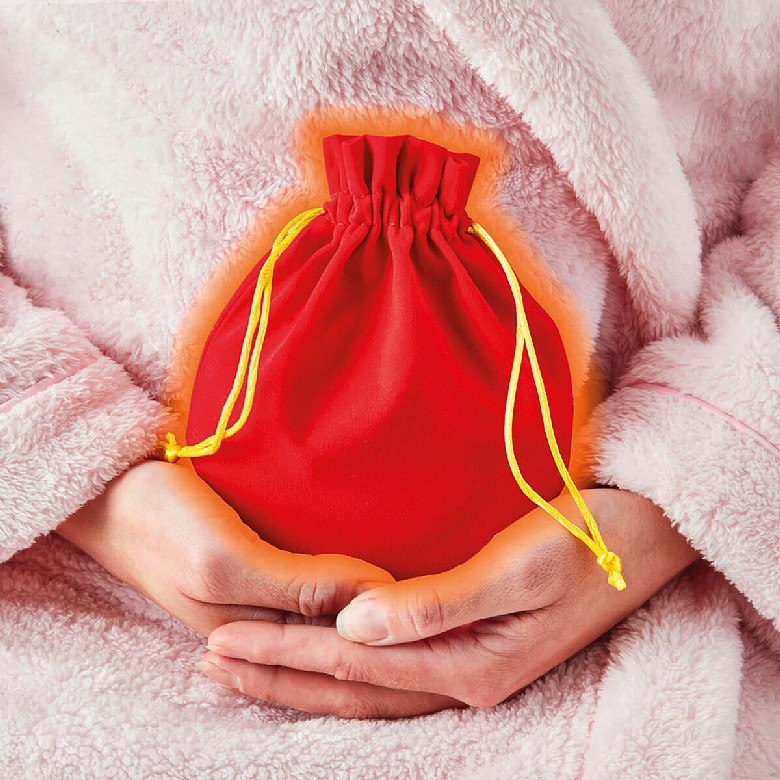 Inexpensive Home Improvements for Added Warmth
Effective insulation and triple glazed, well-fitting windows and doors can make an enormous difference to the cosiness of a property, but did you know that there are also numerous more affordable steps you can take to ensure your home feels warmer this winter?
If you're not in a position to undertake any major home renovations at the moment and you're keen to increase the cosiness of your property without breaking the bank, we have a few easy solutions that can be completed within a matter of minutes.
Radiator Heat Reflectors
It is possible to lose as much as one-third of the heat that your external wall mounted radiators are generating, which means that you aren't experiencing the full benefits from your investment in your heating bills.
The good news is that this common problem is something that can be mitigated with the help of a heat reflector. Constructed from a specially treated heat-reflecting foil material, reflectors can be cut to size and mounted onto the wall behind your chosen radiator in a matter of minutes using the included sticky tabs.
Once in place, heat reflectors are invisible and will immediately start to make your home feel warmer without increasing the cost of your energy bills.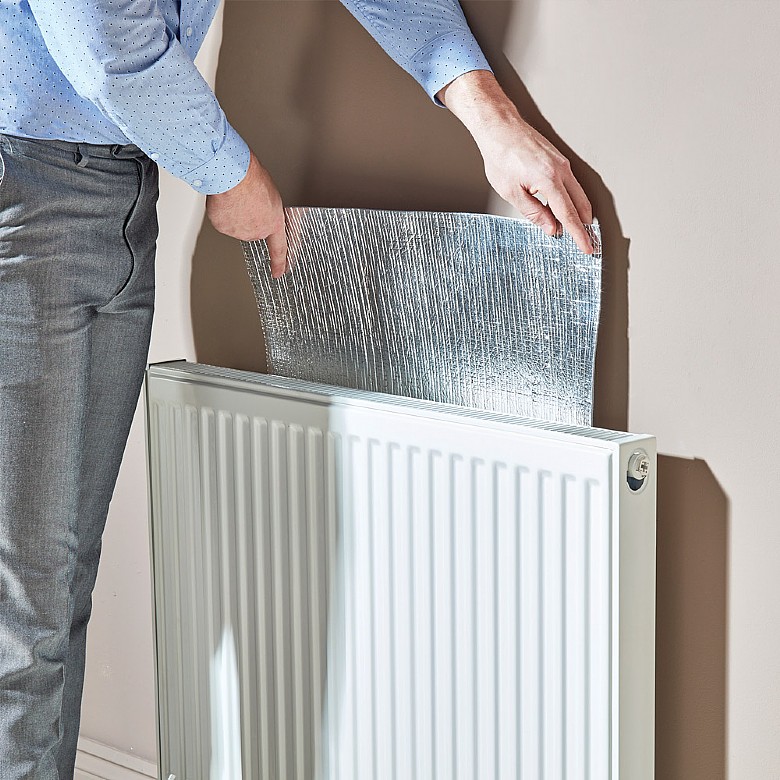 Portable Heating Solutions
Central heating can be expensive and although it offers an excellent way to heat your whole property to prevent condensation and potential issues with your pipework, sometimes you may need a targeted solution that can be used in the rooms you spend the most time in every day.
The versatility of portable heating solutions is unmatched, allowing you to ensure your immediate surroundings are warm, cosy and welcoming. This is why we have ensured our collection contains several portable heating solution options to suit your home and lifestyle.
Fan Heater with Handle
Costing just a few pence per hour, our fan heater with a carrying handle can bring extra warmth to specific rooms within your home without costing a fortune. Small but mighty, it benefits from two heat settings and four power settings, including fan speed.
Its sleek and simple design will complement all décor schemes with ease and its compact size ensures it is easy to store when not in use. Position on a table, on the floor or on a desk to warm up even the most draught-prone areas in your home.
Featuring two intuitive dials, this easy-to-use heater can completely transform the feel of your home in just a few minutes, turning draughty rooms into inviting spaces you want to spend time in. Our fan heater is also equipped with both a safety tip-over switch and protection against overheating to deliver maximum peace of mind.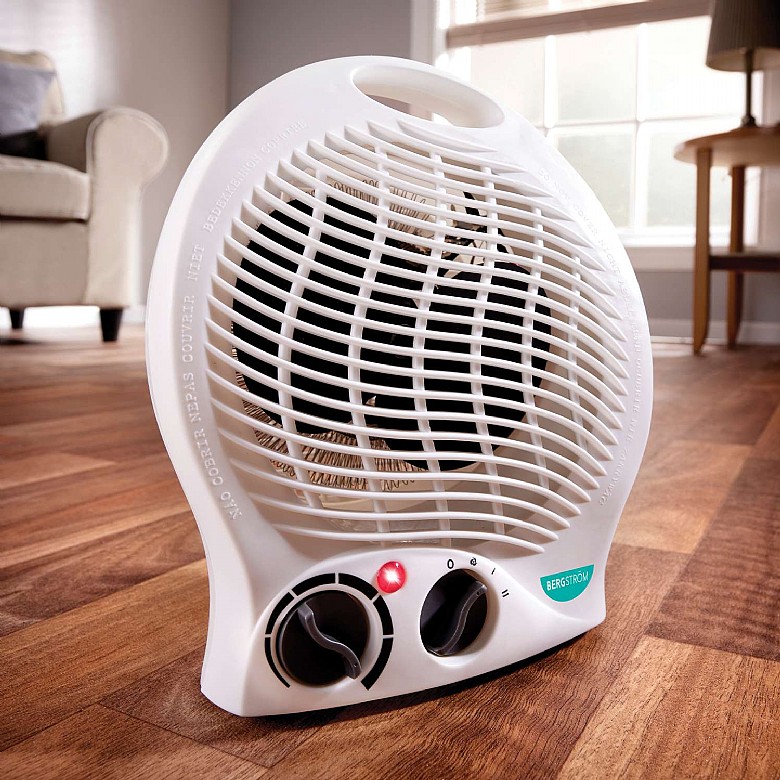 Oil Filled Radiator
Our low level, efficient 600W oil filled radiator offers superb value for money and is certain to keep you warm and toasty each winter. Exclusive to our collection and specifically designed to be positioned in small spaces, including behind the sofa or beneath a window, this radiator is extremely energy efficient and benefits from an adjustable thermostat that will consistently keep your space at your desired temperature. This means that the radiator will automatically switch off when it reaches the set temperature, only turning itself back on again when the temperature starts to fall.
Designed to look like a traditional panelled radiator, it has been finished with a sleek powder coating and benefits from a 135cm (53in) power lead to offer maximum versatility. Easy to use and streamlined enough to suit all interiors, this affordable radiator could completely transform the way you feel about your home in the depths of the winter months.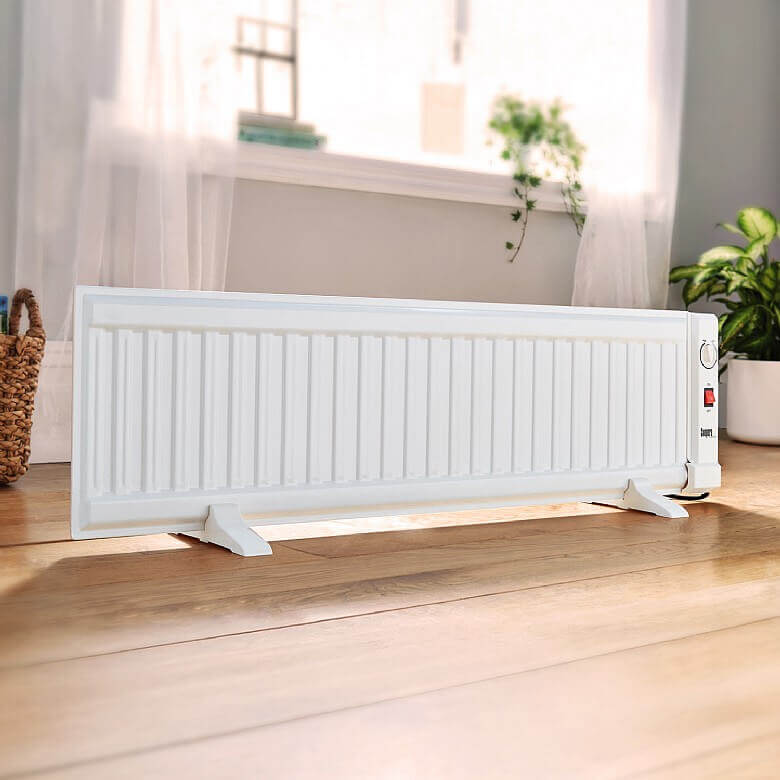 Keeping Warm this Winter
We hope that we have illustrated that keeping warm each winter doesn't need to feel like a never-ending battle or an impossible task. Fuel price increases are affecting us all, but we wholeheartedly believe that no one should ever be forced to endure unacceptably cold temperatures in their own home.
From warming wearables, including dressing gowns, slippers and fleece-lined shirts to portable heaters and easy DIY solutions to minimise uncomfortable draughts, we are proud to offer a wide selection of products designed to make your home a comfortable and cosy space that you want to spend your hard-earned rest time enjoying.