/
Blog

/
Take the strain out of gardening
15 Lightweight Garden tools for the Gardener
Gardening is a favourite pastime for many of us, particularly those who are retired and want to spend more time enjoying their beautiful outdoor space. You will love these lightweight gardening tools offering benefits such as improving dexterity, keeping your mental health in tip-top condition, a sense of relaxation and so much more. If you're looking for some light weight garden tools, then you've come to the right place! We've got everything you need to get started in your garden.
Despite many of us committing to making their outdoor space the garden they've always dreamed of, as we age, tasks we previously thought of as simple (such as bending over to tend our lovely flowerbeds) can become far more difficult.
Thankfully, here at Coopers of Stortford, we list the best lightweight gardening tools you could need to ensure that you're able to maintain your garden with ease. Keep reading to discover our favourite easy to use gardening tools designed to take the heavy work out of gardening.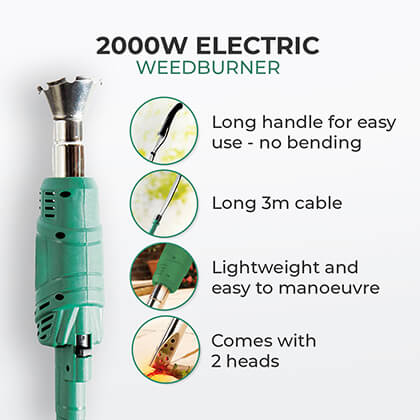 Anyone who loves gardening will understand how frustrating weeds and other debris can be, the effort it takes to keep unwelcome visitors out of your flower beds can get too much. With our ingenious garden tools specially designed to make weed control easy, you can enjoy a clear lawn and tidy garden all year round, without the strain that weeding and clearing can put on your back, legs, arms, and joints.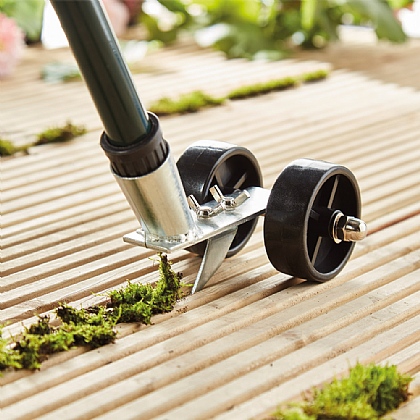 Another useful item of garden equipment is our wheeled paver blade, which is ideal for digging out weeds by the root with minimum effort and even has an adjustable telescopic handle that ranges from 85 - 140cm so you never need to stoop. Perfect for patios, paths, or the pesky gaps in your decking, the narrow and wide interchangeable blades can get in every size gap to ensure the only things growing in your garden are the plants you want.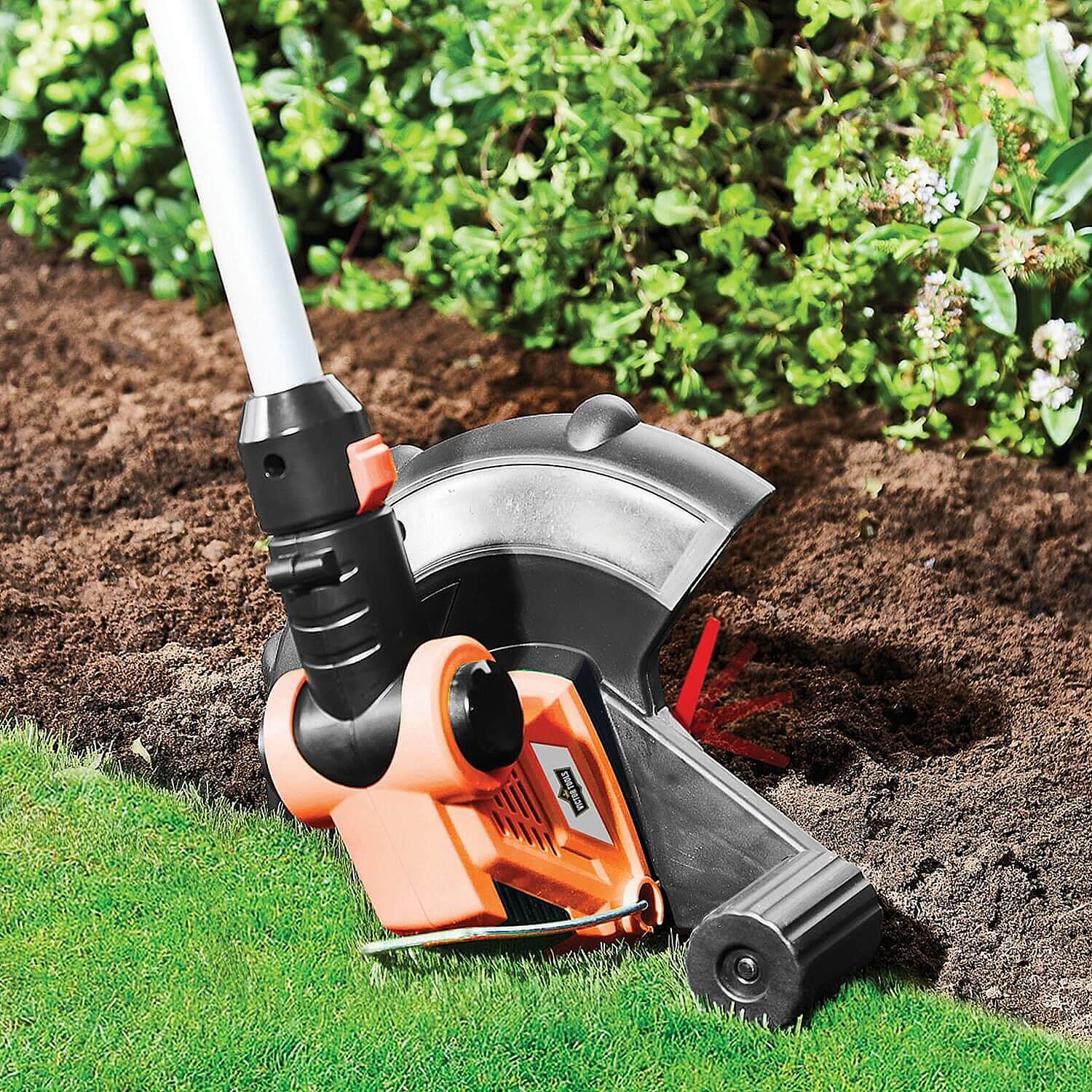 Powerful 20V cordless grass trimmer and hedger powerfully cut through grass and weeds and keep hedges and edges in great shape - without the bother of trailing cables or smelly petrol.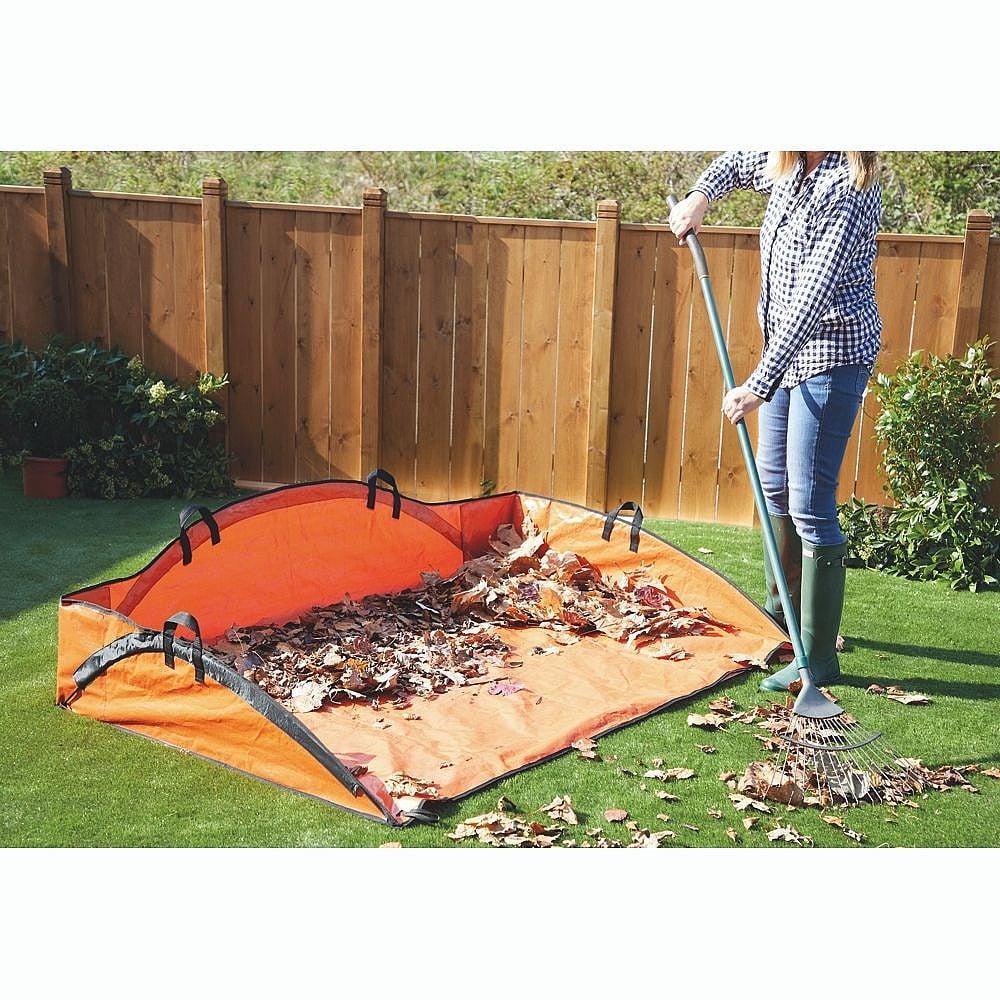 Although autumn is full of wonderful colours and the promise of Christmas just around the corner, for anyone with a beautiful lawn, the incoming piles of leaves can be frustrating, particularly if repetitive action is getting tough. Our easy leaf collector prevents the need to hurt your back lifting and raking leaves, with its tough nylon rotating brushes. It's also one of our favourite garden tools for gathering up grass cuttings or blossoms and the big front wheels make it ideal for all surfaces, all year round.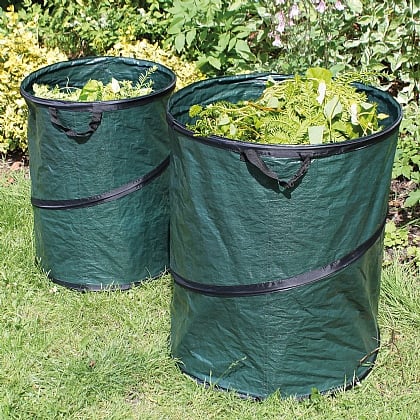 Once you've used your new lawn sweeper to collect leaves, grass cuttings, or blossoms, get them out of the way with a pop-up garden bag that offers plenty of space to get all of your garden waste out of the way without needing to deal with bulky wheelbarrows. The sprung steel frame means the bag will spring into life with minimum effort and keeps your garden equipment tidy thanks to its ability to fold completely flat easily. It can even be hung from simple handles so your garden tools and shed can stay as tidy as your garden.
Any good gardener knows that well-turned soil is essential in order to see your favourite flowers and plants thrive year after year, but when you're dealing with low-down flower beds, it can be tough for gardeners to properly cultivate your soil. With our range of handy garden tools, keeping that soil fresh and clear of stones and debris is simple.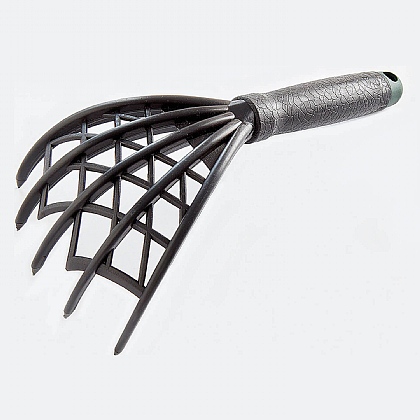 Absolute must-have garden tools for any gardener, regardless of age, include our garden hand trowel. With serrated cutting edges for cutting roots, a comfort grip rubber handle and a sharp pointed tip for digging, this trowel can handle any tough garden environment.
In addition to keeping your soil fresh, keeping your hedges and trees well-trimmed can make the difference between a garden of Eden or an overgrown woodland. Unfortunately, many tools designed to trim edges can be heavy, bulky, or simply not long enough if you have restricted movement. Our garden tools for gardeners are perfect for minimising strain, thanks to their adjustable lengths, lightweight construction and sharp blades.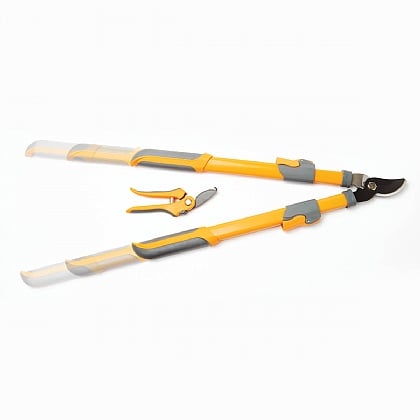 While some garden tools can be a bit of a reach financially, our loppers and secateurs are excellent value and the perfect tool for all your pruning needs. The telescopic loppers can increase your reach by up to 75cm, saving your stretched, achy arms from any unnecessary effort and the Teflon coated carbon steel blades ensure every cut hits its mark with minimum strain. As with all our garden tools, they also come with specially designed comfort grip rubber handles to further reduce any undue strain.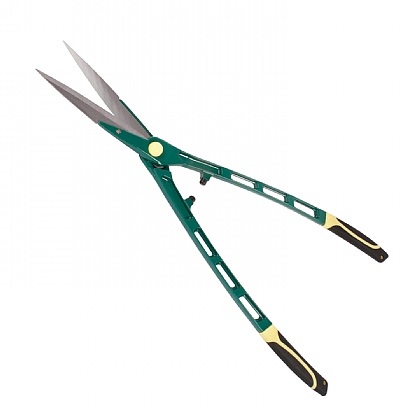 Any serious gardeners will know that having a hedge is a never-ending commitment in keeping it looking neat and tidy, but unfortunately, most hedge shears don't make shears easy to use due to their weight and the effort involved to use them. These shears are different. Weighing just 788g, you'll be so comfortable using these lightweight shears that hedge trimming strains will fast become a distant memory. If that's not enough, they're also super long (67cm to be exact), so you can get to those difficult spots without needing to battle with the bushes. To make things even easier, the shears themselves are made with light aluminium alloy and will ensure that every snip is as simple as cutting through paper.
Moving Around
Unless you're only tending a tiny corner of your garden, the odds are you're going to need to be moving around with lots of bending over; not ideal if repetitive motion is a challenge or if you tire easily. With our trolleys and other wheeled aids, you can unlock a whole new world of gardening and keep your garden tools just where you need them, no matter what part of your garden you're tending.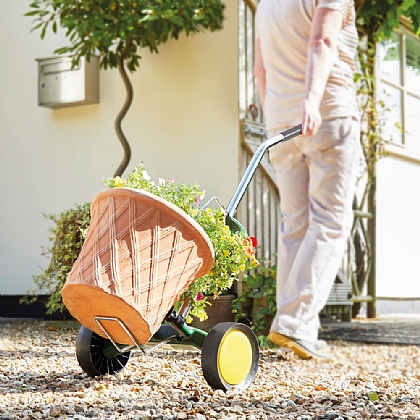 Every now and then, it's great to move things around in your garden; but those heavy potted plants or beautiful statue you've just brought can be a real challenge. Save your back and knees with a plant pot trolley that weighs just 3.7kg and can carry up to a huge 75kg with ease! With adjustable grabber arms which are easy to manoeuvre even when you're picking up an awkwardly shaped item, you'll wonder how you ever managed without this clever piece of garden equipment.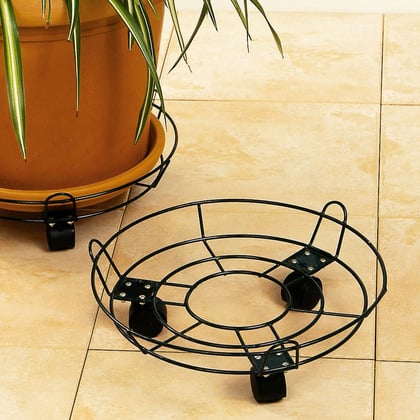 Smaller than the plant pot trolley, but just as handy, these plant pot movers are great for getting awkward pots around without needing to lift or strain. The metal carriers can take a lot of weight and the wheeled base means that you can just slide your favourite potted plants around with ease.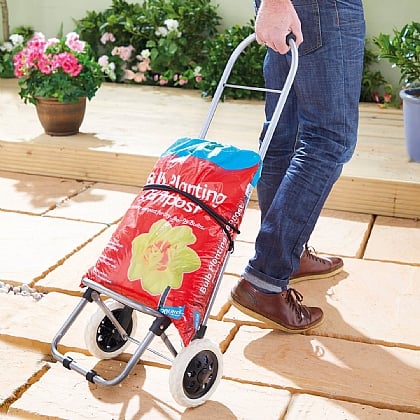 Perfect for heavy items such as bags of compost, paving slabs, potted plants and so much more, this garden trolley is made from tubular steel and can easily be transformed from a sack barrow to a hand truck, so you get all the assistance you could need in one simple tool. The handle extends up to 115cm, which is great for carrying around refuse bags, and the trolly itself can be used on either two or four wheels, so you can carry a range of awkward items and garden tools to exactly where you need them to be. Move all your garden equipment out and around without straining and feel confident that all our garden tools are there to ensure that you don't need to make multiple trips to the shed. It's even strong enough to sit on if you need a little rest!
Sitting
In addition to moving around, at times your garden will likely require you to sit or squat for long periods which can be a strain. Something that's easy on your knees and doubles up as a seat will make a world of difference.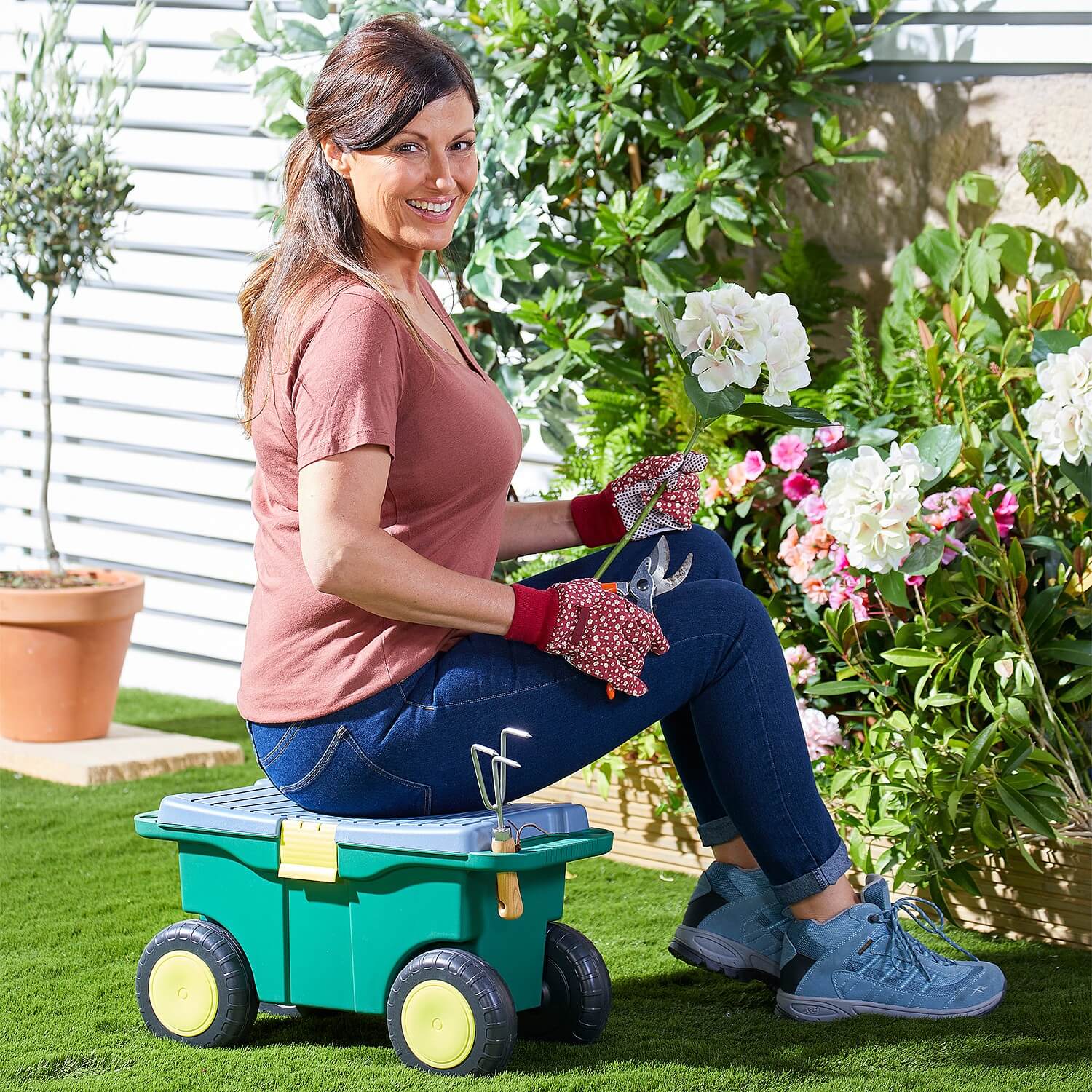 One of our absolute favourite garden tools is the garden kneeler seat. Avoiding back and knee strain is essential to keeping you moving for as long as possible and this comfy foam kneeler certainly helps with that by offering plenty of cushion for your knees when you're tending to roots, plus the handy supports are perfect to minimise strain when you need to stand up. The garden kneeler also doubles as a comfortable stool by simply turning it upside down so you can stand, sit, and kneel no matter what size plants you're caring for.
Finally, most gardeners will probably agree that one of the most frustrating aspects of gardening is storing your tools and garden equipment tidily. Making sure that your garden shed (or wherever else you keep your essential equipment) is well organised will ensure that gardening remains a joy, not a chore.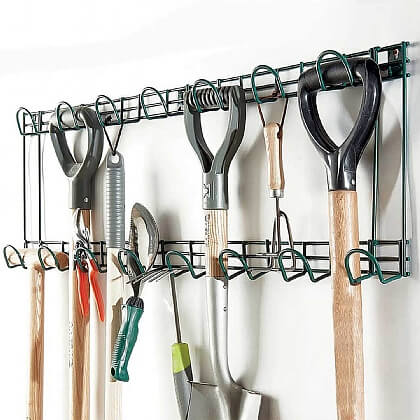 There are few things as annoying as an untidy tool shed. This storage organiser will make any gardeners' life far easier with a detachable 6 pocket organiser and is a convenient height for most users. It's incredibly lightweight so you can move it around with ease and it can even be secured to a wall. Keep your rakes, shovels, brooms, gloves, trowels, and every other piece of garden equipment you can think of nice and tidy.
Conclusion
So there you have it; our list of thoughtfully designed garden tools that are perfect for ensuring that maintaining your garden is easy and fast and doesn't need to stop you from enjoying the fresh air, exercise, and sense of achievement that gardening offers. No matter what aspect of gardening you'll find the right tool to make getting outdoors and involved the pleasure it should be.