/
Blog

/
Small Garden Decoration Ideas
Small Garden Decoration Ideas
Small Garden Decoration Ideas
Did you know that there is simply no such thing as a garden that is too small to decorate? It's true. In fact, all outside spaces deserve to be celebrated because they can enrich our lives in innumerable ways. From attracting an array of wildlife to providing beautiful al fresco dining opportunities, spending time outside in a space that reflects our personality, and our interests is one of the most soul-affirming activities we can incorporate into our everyday routine.
Although social media is awash with outside inspiration showcased in expansive gardens with seemingly endless space, there are so many smart and sophisticated ways to incorporate elements into much smaller spaces in ways that always make the right impression.
So, if your outside space can be described as compact, we're here today with a selection of small garden decoration ideas that we hope will inspire you to maximise the potential of your garden and transform it into a functional, beautiful place in which to spend time. In fact, we want to go one step further and we hope our tips, tricks and ideas will ensure that your outside space becomes an extension of your home, offering you an outside room in which to play, relax, and socialise.
Celebrate Compact Corners

Although it is reasonable to assume that small spaces lend themselves to minimal design styles, celebrating compact corners with small, decorative ornaments can breathe new life into your garden and even make your space both look and feel larger. In fact, you can even choose to layer up your garden ornaments for a maximalist look that celebrates colour, shape, and texture. There really are no limits to our small garden decoration ideas here.
At 16cm tall, this charming set of two autumn bird garden ornaments is beautifully hand-painted and can be placed in an array of different locations around your garden. Place on either side of the doorstep to create a feature that is certain to make you smile every time you step outside or position on the edge of a patio area to breathe life and personality into what can be a very simple garden feature. Alternatively, perch your new feathered friends on a garden wall or use them to give your garden tablespace a small splash of colour.
Solar lights are an eco-friendly and charming way to ensure that your outside space is functional long after the sun sets on those balmy summer nights. This solar owl ornament has a beautifully detailed wood grain effect and textured finish that resembles ruffled feathers. As night begins to fall, the solar-powered lights will begin to glow, having been charged by the sunlight throughout the day. The weather-resistant, durable poly resin material can withstand all weather conditions which means this charming decorative ornament can be placed in a variety of different spots around your garden. Use it to illuminate the space outside your back door, position it in a tucked-away corner and marvel at the cheery glow after dark, or place it in the centre of your garden table to create the perfect atmosphere for your next al fresco dinner.
Tailor-made for ethereal outside spaces and everyone who appreciates a touch of magic and whimsy, the solar fairy garden ornament is oozing with charm in a way that is certain to delight everyone who sees them. Their durable polyresin construction means that they can easily stand up against an array of weather conditions, yet their chic stone finish gives a beautiful natural look that will suit numerous garden styles from country cottages to minimal monochrome. As the sun begins to set, the affectionate fairy couple is illuminated by the soft glow emitted by the warm yellow glass globe, which itself has been given a gorgeous crackled effect finish. Tuck this delightful garden ornament away in a corner or nestle it inside a flower bed to recreate the joyful experience of looking for fairies at the bottom of the garden during childhood.
Sophisticated Seating
When you're looking for small garden decoration ideas, it can be tempting to completely overlook seating options for fear that they will take up far too much space. However, while it's true that you might not have the space for a complete garden furniture set, you can still have chic and sophisticated seating solutions that will allow you really make the most out of your outside space.
Folding Garden Chairs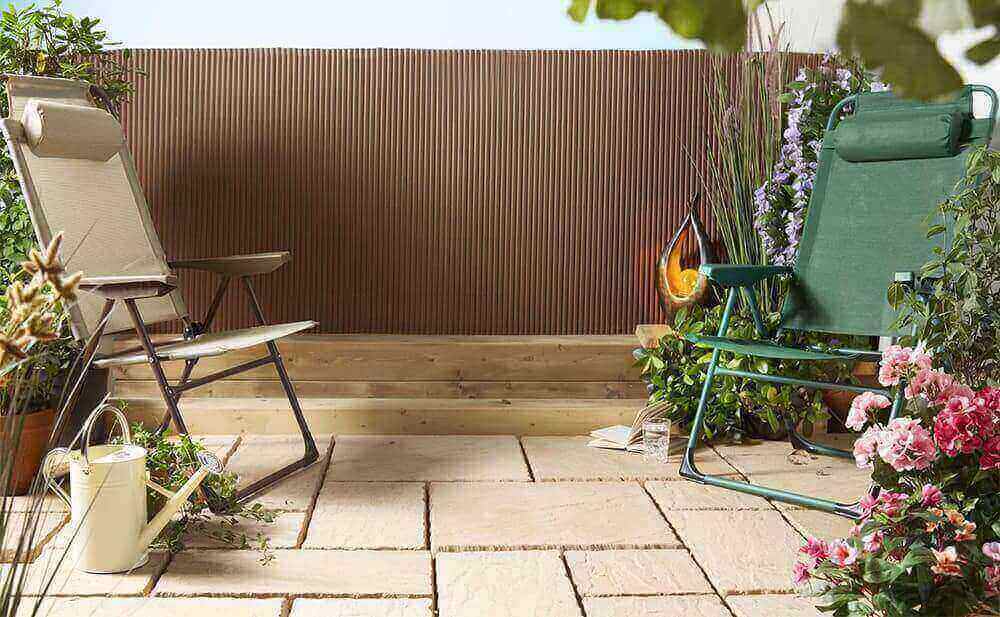 The Oakley collection of folding chairs and footstools is an excellent option for small spaces because they can be easily folded up and tucked away when they aren't in use. They benefit from a sturdy steel frame and a woven mesh fabric seat in chic green, navy or moonstone tones, which is breathable and designed to keep you cool in the warm weather. Both of these elements have the added bonus of being incredibly lightweight, which makes them extremely versatile as they can be used in your garden or popped into the boot of your car for use at outdoor events, the beach, or during your next camping trip. Don't let the sleek design fool you, as the Oakley chairs have three reclining positions, a supportive back and an integrated, adjustable headrest.
Classic Green Bistro Set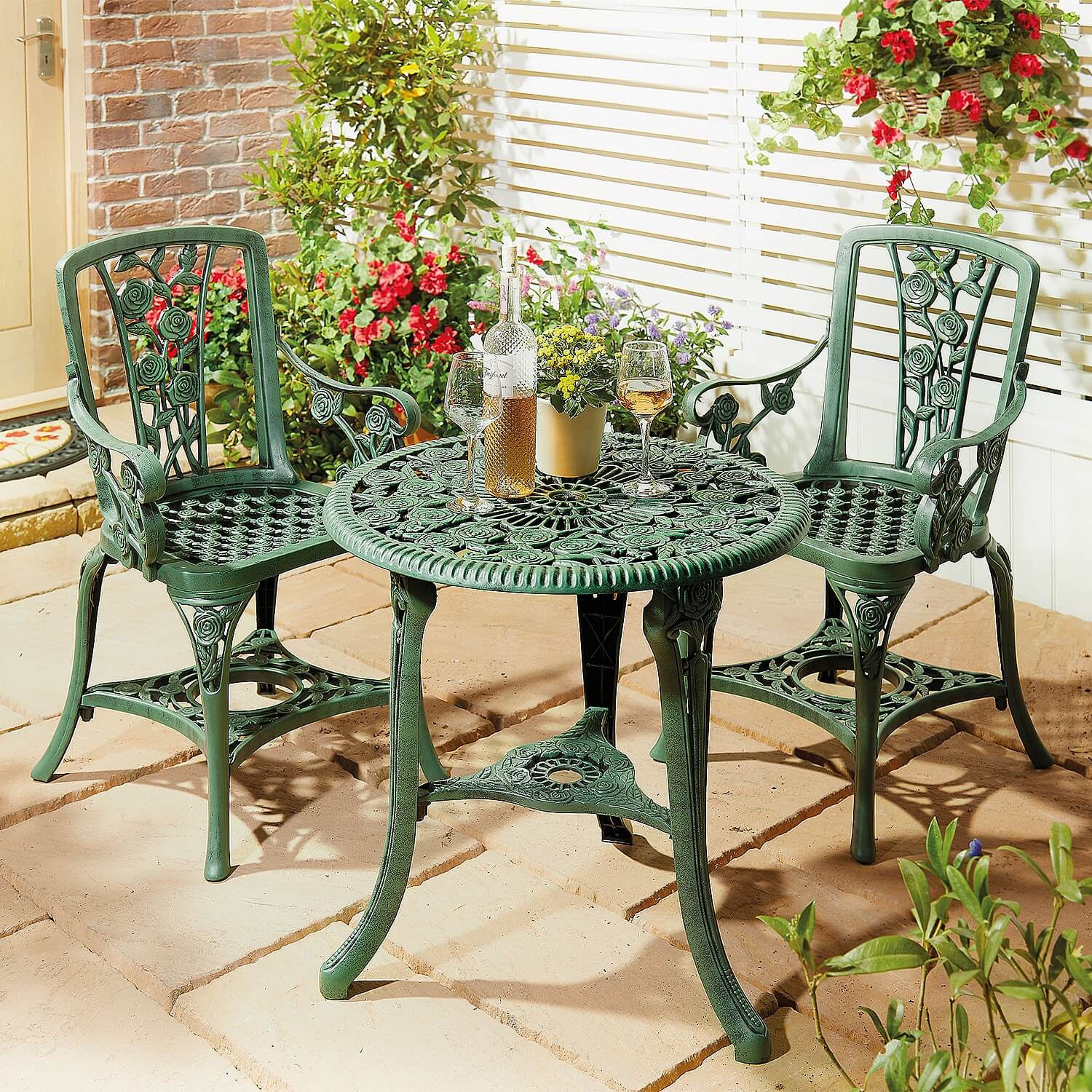 This incredibly chic green bistro set is another outdoor seating and dining option which has an antique style design with gorgeous cut out rose detailing across each piece. Unlike cast iron bistro sets, the lightweight yet durable and supremely comfortable innovative injection moulded construction ensures that you won't ever struggle to move this set around your space. In addition, it won't get too hot or too cold which makes it ideal for use all year round. Both chairs and the circular table with space for a parasol have been given weather-proofing treatments and are UV stabilised, ensuring this beautiful outdoor dining set is maintenance-free and ready to offer years of enjoyment and comfort.
Small Garden Decoration Ideas Meets Smart Storage Solutions
Small Garden Shed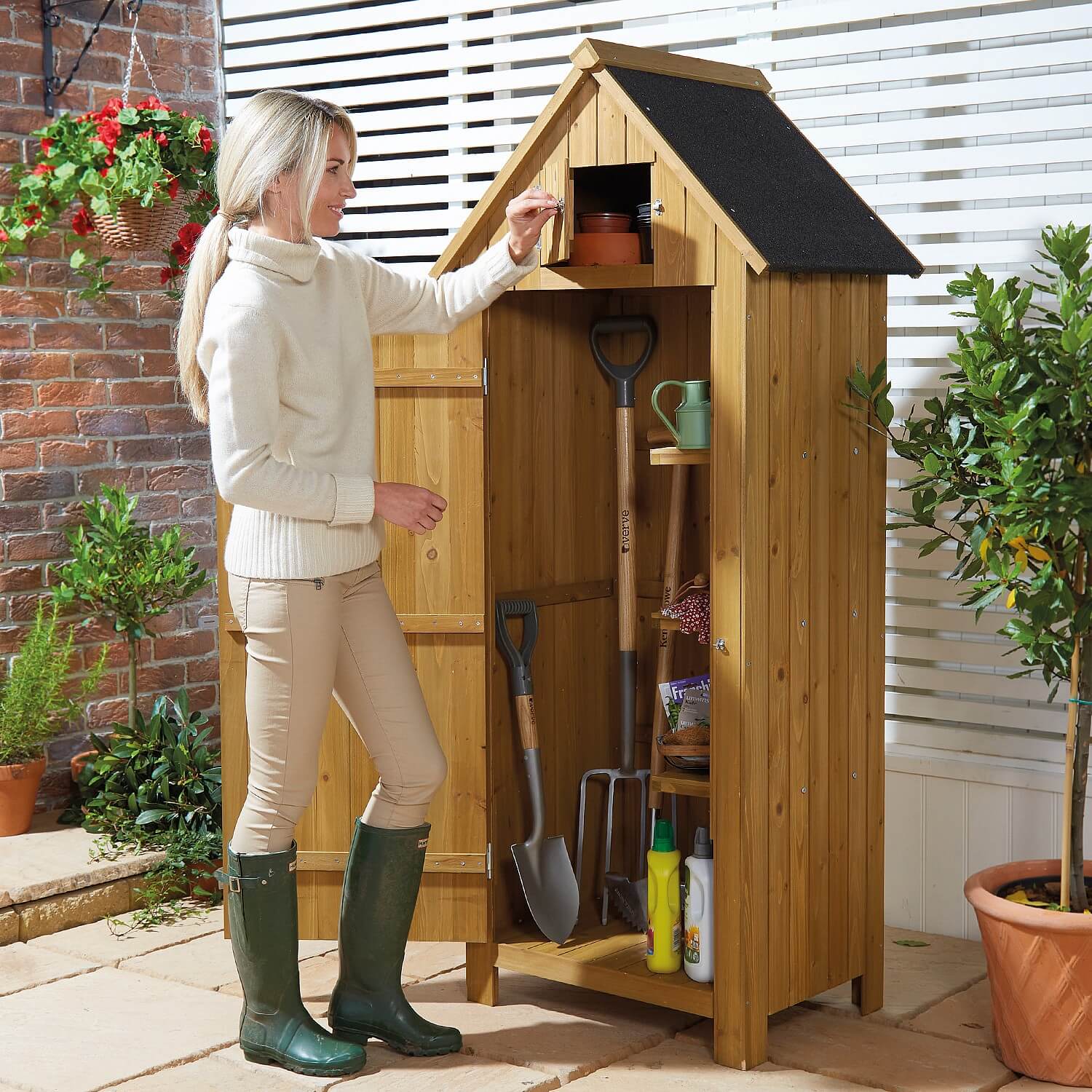 There is no such thing as a garden that is too small for a shed. In fact, a chic shed can also become an interesting focal point in a compact outside area, particularly if it has been designed to be easy on the eye. The Gainsborough sentry shed has a footprint of just 77cm x 54cm and has plenty of space to store all your garden essentials. Inside the main door is a full-height section that can comfortably house an array of tools from spades to hedge trimmers and more. It also has several internal shelves, which are ideal for organising smaller tools such as secateurs, ensuring that watering cans are within easy reach, and protecting surplus pots from the elements. The interior has also been designed to ensure that a pair of wellington boots can easily fit in the space below the bottom shelf. Additionally, there is a small compartment located on the roof of the shed, which ensures that no space is wasted.
The Gainsborough sentry shed has been constructed from Chinese fir and the pitched roof has been covered with weather-proofed felting. It comes in two colourways; a natural wood tone or a sophisticated willow green hue, both of which will work well within a variety of different garden styles. Simply stand on a flat surface next to a brick wall and style its surroundings with a selection of potted plants and decorative garden ornaments.
Magical Solar Lights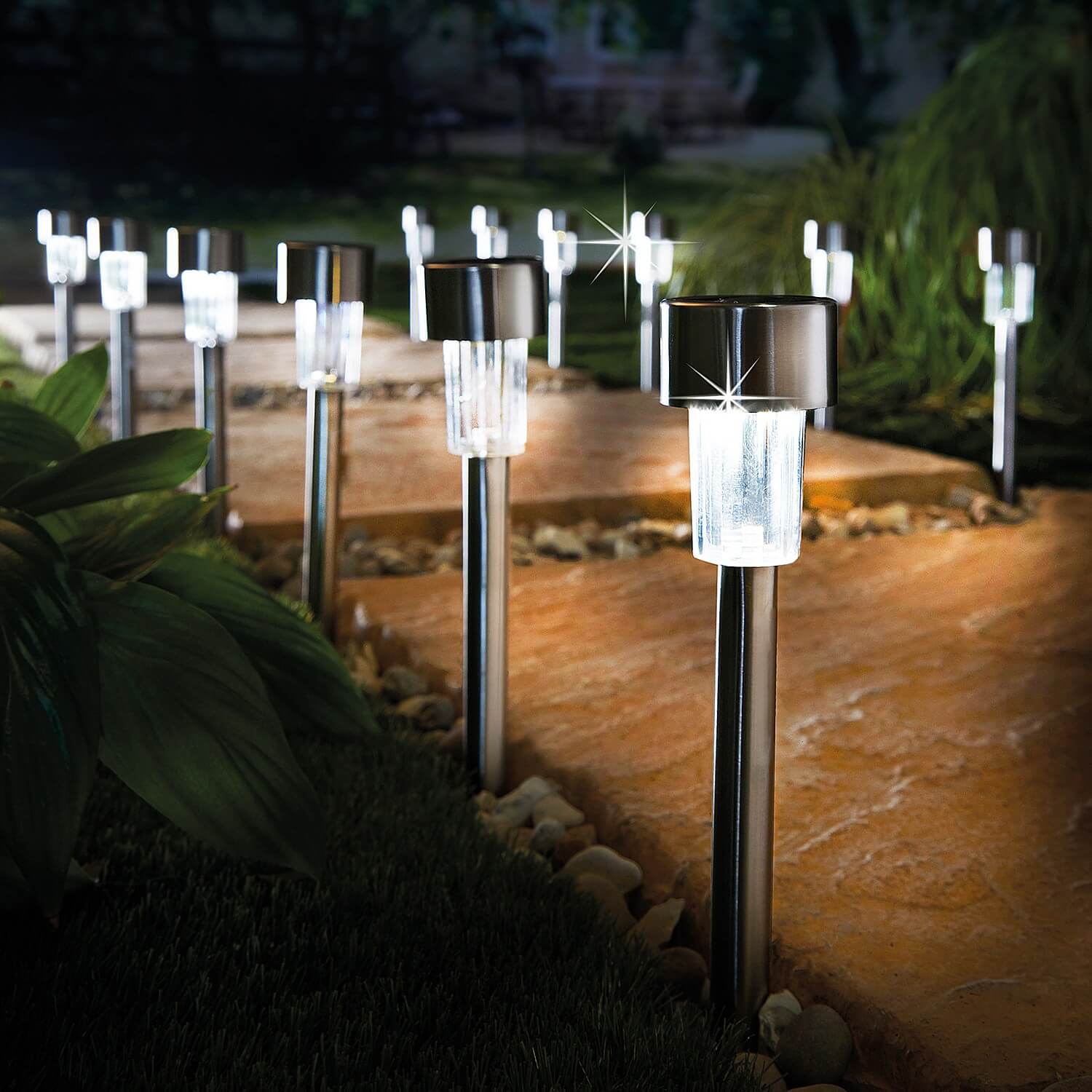 Despite arguably being one of the simplest small garden decoration ideas, solar-powered lights have the ability to completely transform the look and feel of every garden. Solar-powered lights come in a plethora of styles, designs and colours, with something to suit absolutely every outside space. These warm white solar powered garden stake lights have a sophisticated and sleek silhouette and benefit from a chic, light-reflecting weather-resistant coating which offers a distinctly contemporary look. Use along the edges of a path or position within a flowerbed to create a beautiful garden feature that can be enjoyed long after the sunsets. Each light has its own integrated solar panel, which means you don't need to worry about concealing cables or wires and you can place them wherever you want with no restrictions, other than ensuring they receive enough sunlight during the day.
Warm white stake lights are far from your only option, with a wide selection of multi-coloured and even colour changing lights available. But you can also choose to get creative with solar-powered lights (https://www.coopersofstortford.co.uk/solar-garden-lights/), as they come in an array of forms including string lights that can be wrapped around trees, suspended from branches or hedges, or attached to fence panels, ornamental lanterns that can make wonderful additions to bistro tables and patios and antique-style lamp posts which can be used to add an extra touch of vintage whimsy to your garden.
Summing Up Our Small Garden Decoration Ideas
We hope that we have given you plenty of small garden decoration ideas to work with and that you are ready to embark on transforming your outside space into the welcoming, inviting and joyful place you have always wanted. Remember, it doesn't matter whether you're decorating a compact balcony, a bijou courtyard or a small garden that is currently a completely blank canvas because our collection contains an array of decorative pieces, smart storage solutions and beautiful design features that will help you to elevate your outside space and transform it into something you can be truly proud of.
Our gardens can bring joy to our lives in immeasurable ways, which is why having an outside space in which you can relax, socialise and entertain is so important. So, use this opportunity and our small garden decoration ideas to get creative and mix and match design pieces