/
Blog

/
Solar Lights for Gardens
Solar Lights for Gardens
Whether you want to create an entertaining area with an inviting ambience or you are hoping to add a little bit of magic to a corner of your garden, patio or balcony, solar lights for gardens are the ideal option. As well as being incredibly environmentally friendly because solar lights for gardens don't require any electricity to run, they are easy to position and you won't need to spend time trying to conceal long excessively long wires for a neat look.
Creating a charming and welcoming atmosphere in your garden is easy with the addition of carefully placed stake lights in pots, borders and along pathways. Similarly, string lights can be wrapped around trees and arches or draped over summer house verandas, gazebos, and fences. Lanterns, ornaments and water features with built-in solar lights can become a striking focal point within your outside space both day and night, easily transforming your garden from a peaceful haven for wildlife and relaxation to an inviting entertaining space for romantic dinners, relaxed family barbecues and special celebrations alike.
Solar Lights for Gardens Ideas and Inspiration
As there are so many different types of solar lights for gardens to choose from, we have put together a go-to guide to help you select the best styles for your outside space.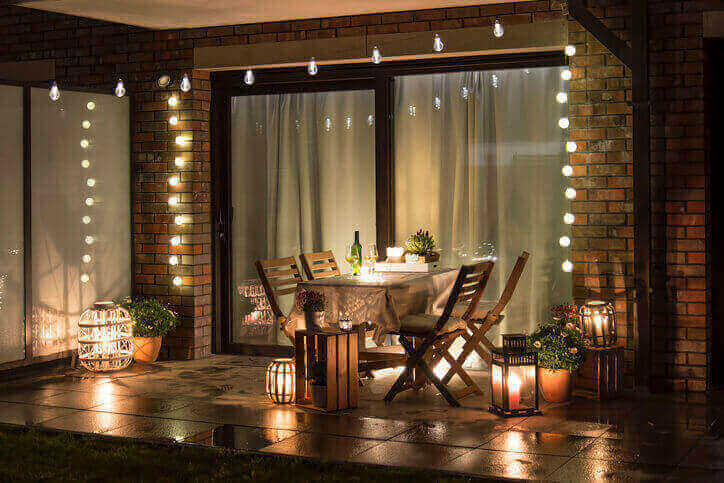 Wall lights are some of the most popular outdoor solar lights for gardens because they allow you to illuminate the outside of your property without adding to your electricity bills. Solar wall lights can be positioned to light up porches, sheds, fences, driveways and more, but importantly they should be both functional and stylish.
If you have a traditional style property and want solar lights for gardens that are in-keeping with that look, a Solar Flame Wall Light is certain to look lovely positioned on the wall beside a porch or garage. The sleek black lantern outer casing is sophisticated and it has two different lighting settings. Choose the bright white light for maximum illumination or select the ambient flame effect setting for a warm, candlelight glow.
When it comes to solar lights for gardens attached to more contemporary properties, the clean lines of Up and Down Fence Lights send streams of light in both directions and can be fitted onto exterior walls, fences and sheds with ease. The warm white LEDs are bright without being too over the top, enabling you to illuminate stairs, pathways, and entranceways for enhanced safety. Stainless Steel Solar Wall Lights are another option for contemporary properties, which offer a softer look than the sleek black style of the previous option. The curved silhouette is easy on the eye and the polished exterior reflects the light for added illumination.
Solar wall lights are also available in a range of notably more creative and unique designs, including
Flower Cut-Out
styles that emit a warm, welcoming glow and look charming when mounted on either side of a porch or entranceway. The pretty floral cutouts resemble dahlias in full bloom and give the piece a designer quality, with the burnished gold hue further elevating the overall look into something very special.

Solar Stake Lights
Providing a smart and energy-efficient way to illuminate everything from garden paths to planted borders, solar stake lights are truly versatile and can be easily transported to different areas of your garden. From classic lantern styles to contemporary spotlights, charming characters and beautiful blooms, stake lights are available in a range of different designs to suit all outside spaces.
Sunflower Stake Lights and Tulip Lights make wonderful additions to flower beds filled with colour, ensuring they are real features of your outside space even after the sun starts to set. As each flower is equipped with its own solar panel, they can be positioned together or separately, depending on the look you want to achieve. They also make wonderful additions to flower pots positioned beside porches, patios or decks, bringing both light and colour to these spaces.
For those who prefer a multicoloured glow over warm or crisp white lights, the charming
Solar Globes
are ready to infuse your outside space with plenty of colour. The crackled glass globes have a beautiful texture and ensure that the coloured light is reflected in all directions. Each of the five globes is a different colour and the sleek branch-style design will suit a variety of outside spaces. Beautifully suited to the festive season but with year-round style, the
Star Branch Path Lights
will bring a touch of celestial chic to your outside space as well as a beautiful splash of colour.
To introduce a touch of traditional charm to your garden, you can't go wrong with a set of warm orange
Acorn Stakes
which are the perfect partner for these incredibly sweet and super cheeky looking
Squirrel Stakes
. Both squirrels have lovely expressions and are clasping an acorn tightly in their hands. The acorn stakes will help you to create a layered autumn display, particularly as they are also adorned with gold and russet-hued foliage for an added element of dimension, texture and movement.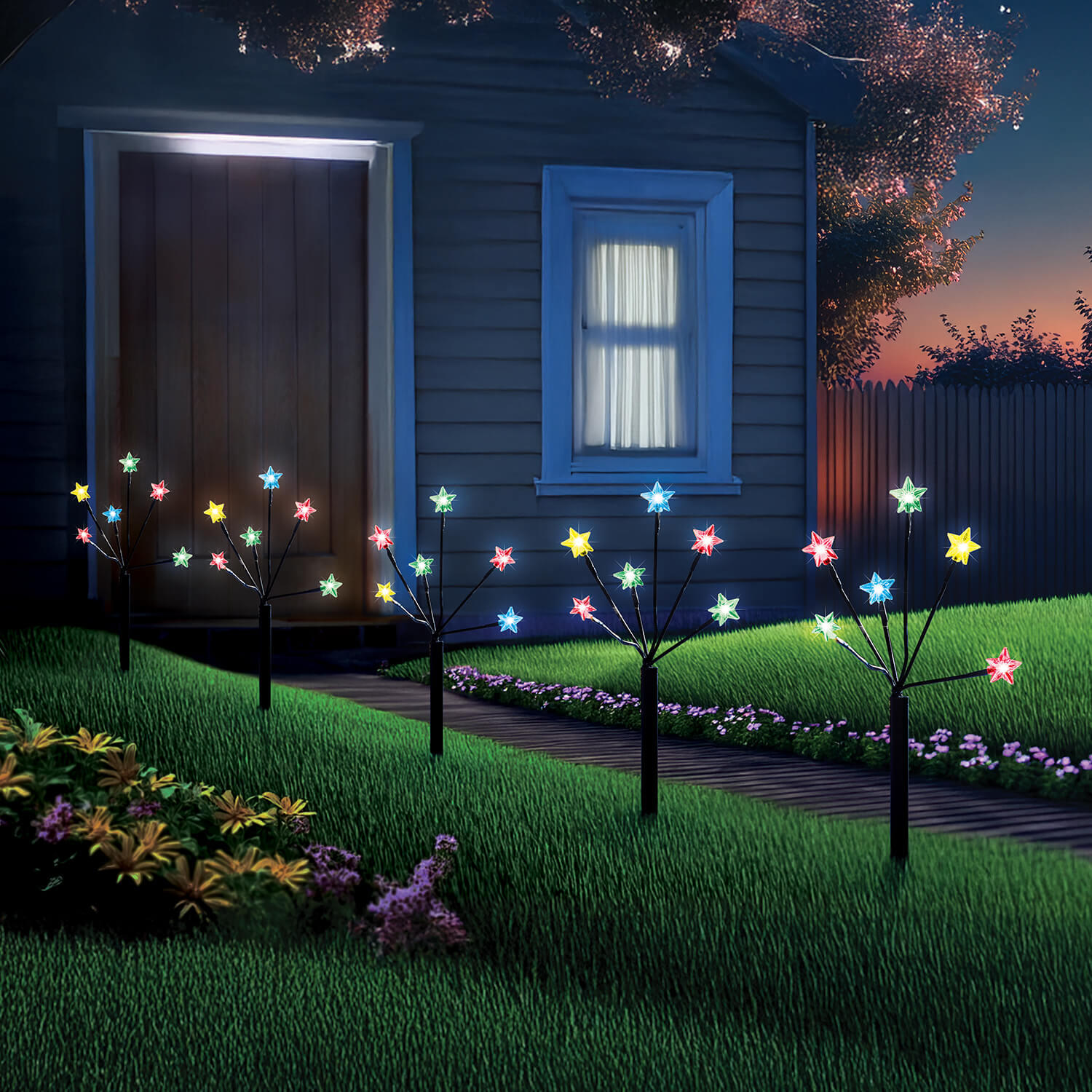 Solar Edging
Ideal for perfectly framing the edges of lawns and pathways, solar powered edge lights can be positioned in straight lines or in a curved layout to safely illuminate parts of your garden without needing to worry about hiring an electrician or the impact it might have on your energy bills.
These semi-circular Edge Lights are available in both white and multicoloured varieties, allowing you to bring light to your outside space in a way that suits your personal style. If you're hoping to make more of a statement, the curved lines of this Bronze Lawn Edging will easily bring both style and illumination to your garden. This set is comprised of panels that interlock and feature nine arches, each of which has its own warm white LED light.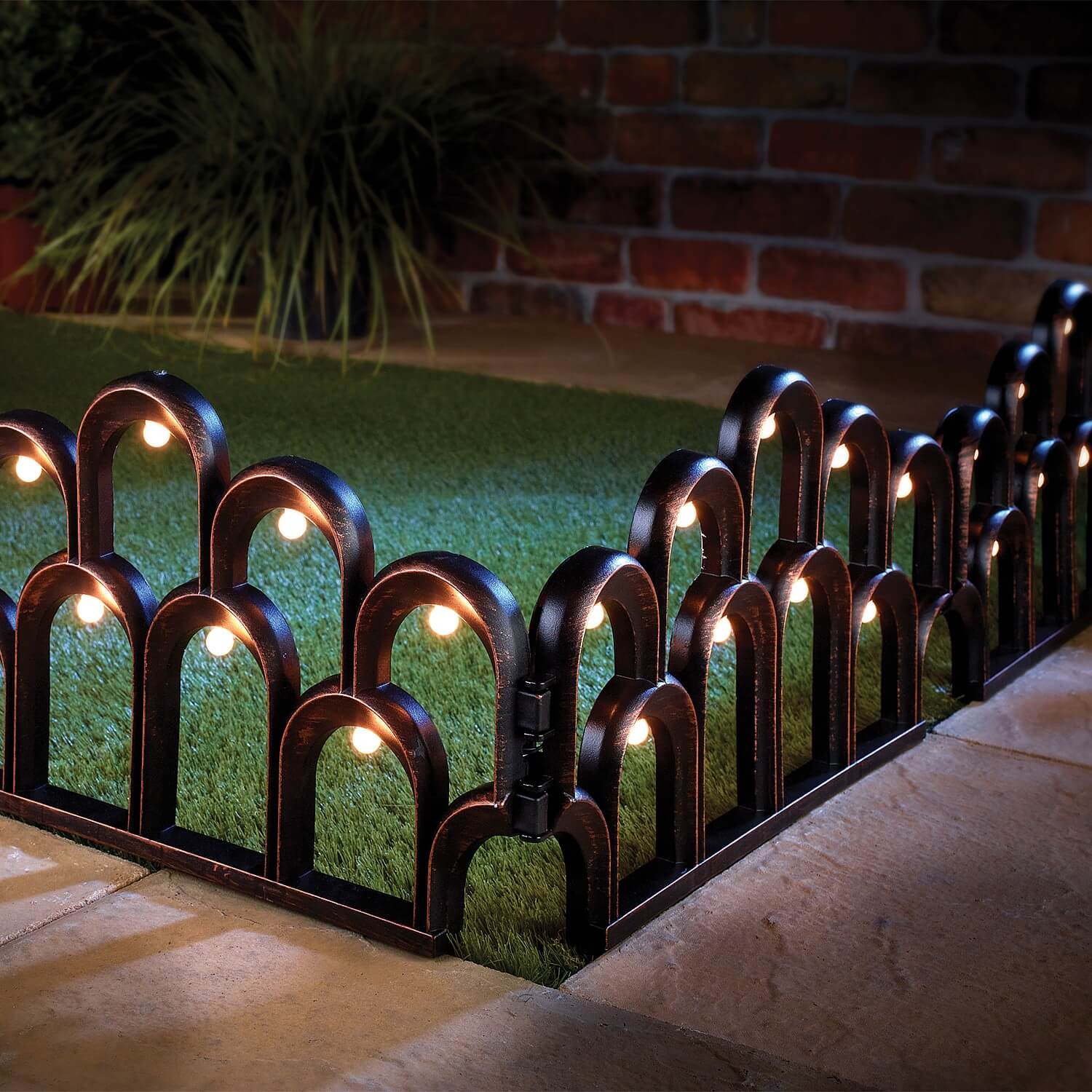 Whether you're looking for solar lights for outdoor trees, fencing, gazebos, conservatories or summer houses, fairy lights are supremely versatile and come in both string and curtain styles for easy installation.
For a romantic and distinctly magical firefly look, warm white LEDs on a flexible copper wire can be positioned in a vast array of locations with ease. From placing them in decorative bottles to adorn an outdoor dining table for a special occasion to wrapping them gently around tree branches or shrubs, there are seemingly no limits to the range of options this style offers.
Notably, fairy lights are also available in a variety of different designs, ranging from natural forms to cute characters. Bulb String Lights feature beautifully shaped lights, each of which has a gently bubbled effect which enhances their overall effect. The alternating yellow, green and red hues provide an easy way to introduce a subtle amount of colour into your outside space without ever looking too overwhelming.
Gorgeous Bumble Bee String Lights are guaranteed to bring a smile to the face of everyone who sees them. Each 2 metre string houses 20 individual bumble bees with warm orange bodies and beautiful semi-transparent wings. Position on bushes, tree branches, fencing or trellises to create a sweet feature that will bring a buzz of delight to your garden.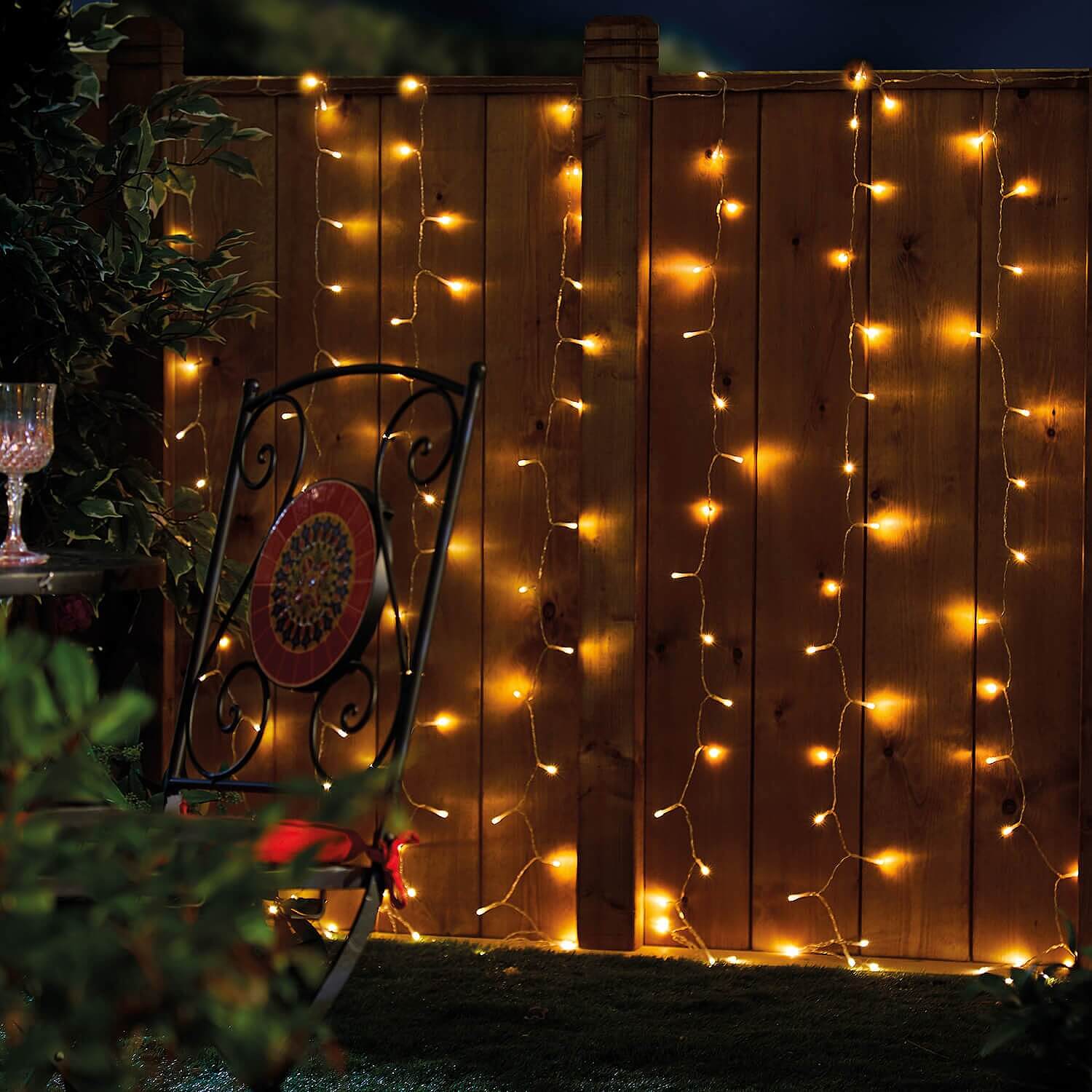 Whether you want to bring some additional light to a patio, are keen to illuminate your balcony, or would like your solar lighting to come with plenty of versatility, solar lanterns could become your new outdoor decor hero.
The artful Solar Butterfly Lantern gives a traditional style a magical twist with the addition of sweet floral string lights in the centre. The beautiful butterfly cut-out detailing running around the top of the piece gives a delicate look which highlights its gently curved form and twisted handle detailing.
Perfectly suited to minimalist outdoor spaces with an air of tranquillity and that are used for meditation or yoga, the Cut-Out Leaf Lantern has a sculptural quality with curved leaves which highlight the central crackled glass ball.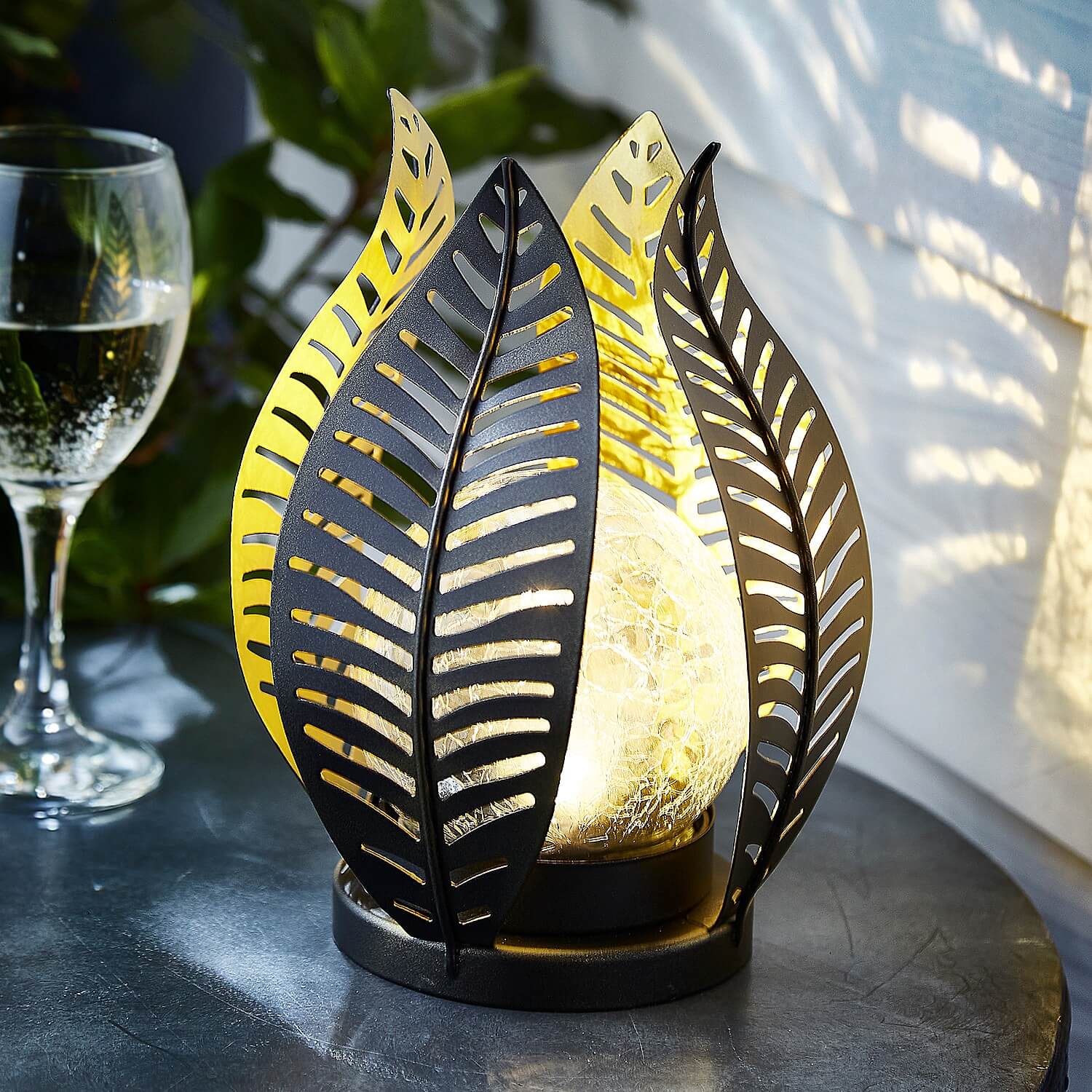 For those who are looking for something a little bit different and prefer more ornamental solar lighting solutions that will emit a soft glow to gently illuminate parts of your garden whilst also providing a focal point during the daytime, there are a range of options to suit all styles.
Ideally suited to peaceful spaces, the Bronze-Effect Buddha Solar Light features a cracked glass globe which emits a gentle glow as daylight starts to fade. The Namaste Garden Light has a similarly tranquil ambience and has been designed to replicate a pressed hands greeting, which makes it a beautiful addition to a garden that you want to share with loved ones.
If you want to make a bold statement, the eye-catching Solar Gazing Ball and Plinth has been crafted from crackled mercury glass and finished with a gold and red ombre effect. During the day, its textured surface will reflect the light and by night, you will be captivated by its mesmerising aura, making this a piece that can be enjoyed at all times of the day and night.
Gardens with a more whimsical feeling will be enhanced by the presence of the Solar Pumpkin Cottage which emits a beautiful glow from the charmingly styled windows and door. The curved chimney and two potted plants on either side of the door add to its charm and ensure that you can't help but wonder how cosy it must be inside for the fairy family who live there. The Squirrel Solar Garden Light is equally charming and features a trio of squirrels sheltering inside a log with their pinecones. The top of the piece is adorned with russet-toned leaves and beautifully stylised acorns, and the internal LEDs illuminate the intricate detailing on the squirrel's faces and tails.
A stone-effect
Hare with Gazing Ball
light will make the right impression when nestled within a rockery or border with his charming expression guaranteed to catch your eye. When the crackled glass gazing ball is illuminated as dusk falls, it emits a gentle glow that will highlight the beautiful textures and colours of your plants.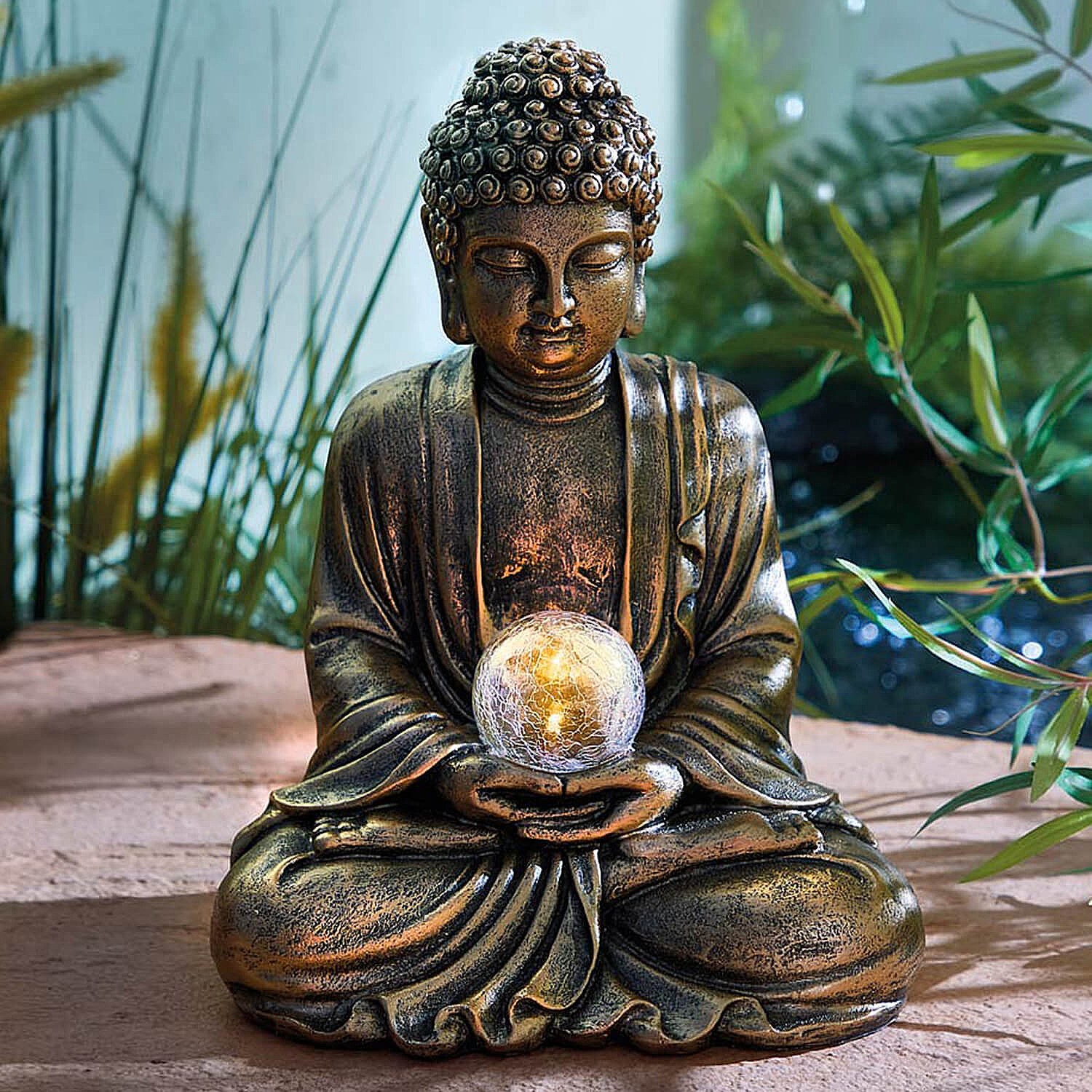 Solar water fountains and features can bring both light and sound to your garden, enhancing its relaxing ambience and offering a soft glow throughout the night. The soothing sounds of the Solar Cascading Bronze Water Feature will delight all day long and in the evening, two warm white LEDs will send a stream of light into the barrels, highlighting the glistening surface of the water.

Similarly, water will gently flow from one pool to the other on the delightful Log Water Feature with Robins during the day and in the evening, the beautiful detailing within the bark effect exterior and the texture of the robin's feathers will be highlighted with integrated LED lights as soon as dusk arrives.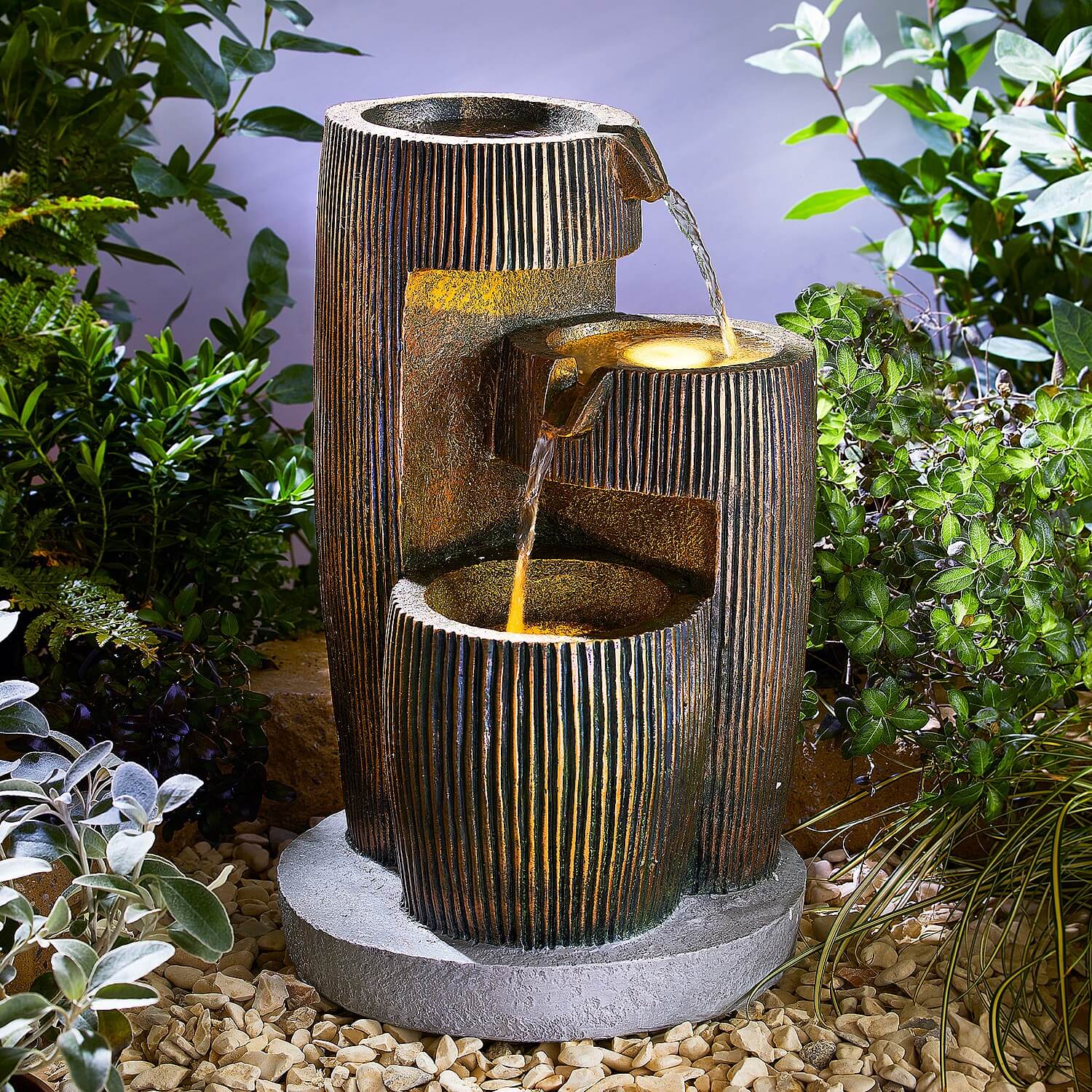 Solar lights for gardens come in styles and designs to suit all spaces and personal tastes. Whether you're looking for multi-functional options or simply want to add more decor to really personalise your garden, our collection has something to suit your need