/
Blog

/
Solar water feature: a wonderful addition to your garden
Solar water feature: a wonderful addition to your garden
All you need to know about solar water features.
Incorporating a water feature into your outside space can provide your garden with a striking focal point, bringing the whole design together and making it feel polished and refined. But the benefits of water features don't simply end there. In fact, the gentle sights and sounds of flowing water are known to be intensely relaxing and calming, which can have significant benefits for our health and overall sense of wellbeing.
In addition to adding a certain sense of character that simply cannot be replicated in any other way, a solar water feature has the added benefit of attracting numerous types of wildlife into your garden. In fact, water features are the ideal place for birds of all sizes to pause, drink and bathe.
As the spring and summer seasons are right around the corner, many of us are looking to take steps towards ensuring our outside spaces are ready for us to spend more time in. After all, gardens are wonderful places to meet with friends and simply relax after a long and busy day.
So, if you are thinking about incorporating a water feature into your garden, you may have lots of questions. This is why we have put together this article which we hope contains everything you need to know about solar water features, including the styles that are available and how to maximise their impact within your own outside space.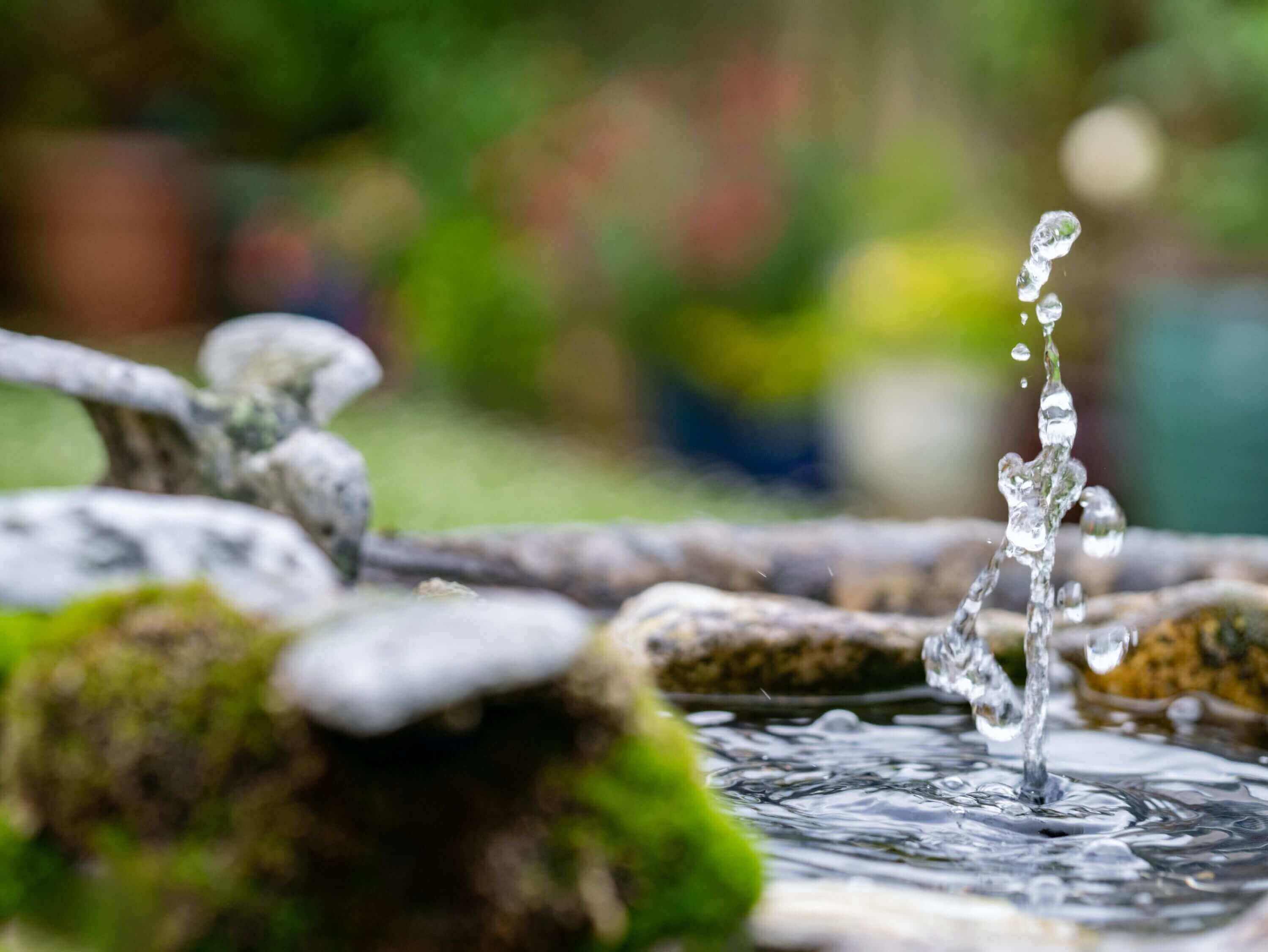 How do solar water features work?
Solar water features draw their power from sunlight using solar panels. Solar panels are typically positioned either on the water feature itself or attached to the main feature via a cable. The photovoltaic cells within the solar panel effectively convert energy from the sun into electricity, which then powers the water feature.
A solar water feature with integrated solar panels will need to be positioned in a sunny spot within your garden. Solar water features with separate solar panels that are attached to the feature via a cable are a little more versatile as it is possible to position the panel in the sunniest spot without compromising on the location of the main water feature.
When the feature has enough power, electricity is channelled through the integrated wiring to activate the pump. The pump will be submerged in a reservoir of water and an internal blade-like structure will rotate, which will draw in water. The spinning motion will then use centrifugal force to channel the water through the internal tubing to create a spray, jet or gentle trickle that can be admired and enjoyed.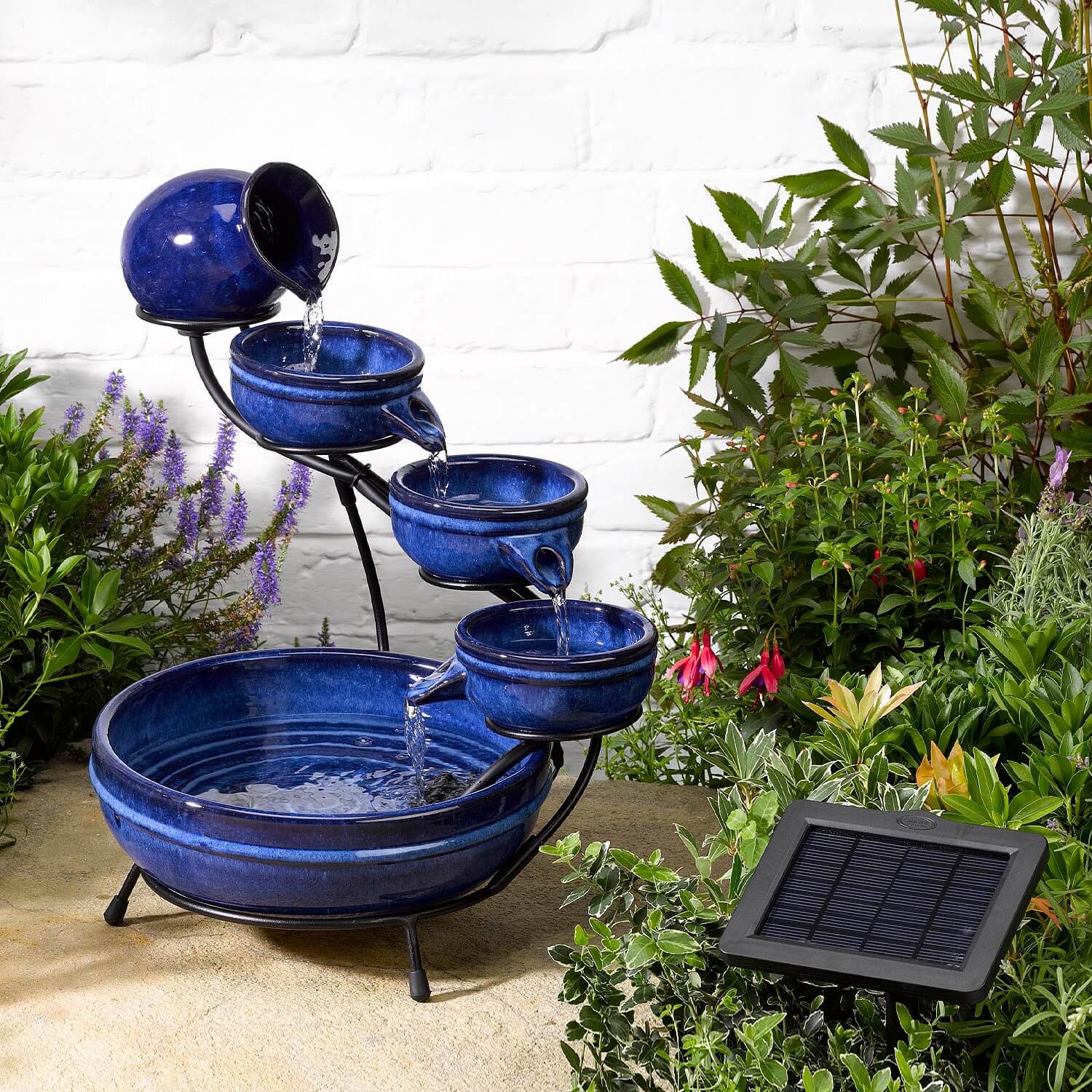 Do solar powered water features need electricity?
The good news is: no, solar powered water features do not need a direct source of electricity to work. Instead, solar powered water features directly transform sunlight into electricity, making it a supremely cost-effective and eco-friendly way to introduce a sense of calm into your outside space.
Not only is solar energy one of the world's greenest sources of energy with no impact on your electricity bills, but by opting for a solar water feature, you won't need to worry at all about the installation process. They are free-standing and can be positioned anywhere, provided that the solar panels receive enough sunlight.
However, some solar water features are also equipped with mains adaptors, which ensures they can continue to be enjoyed all year round. Opting for a water feature with this option may be an excellent decision for outside spaces that perhaps don't experience a large amount of sunlight throughout the day. It is important, however, to remember that running a water feature via mains electricity will affect your electricity bill, albeit only by a modest amount.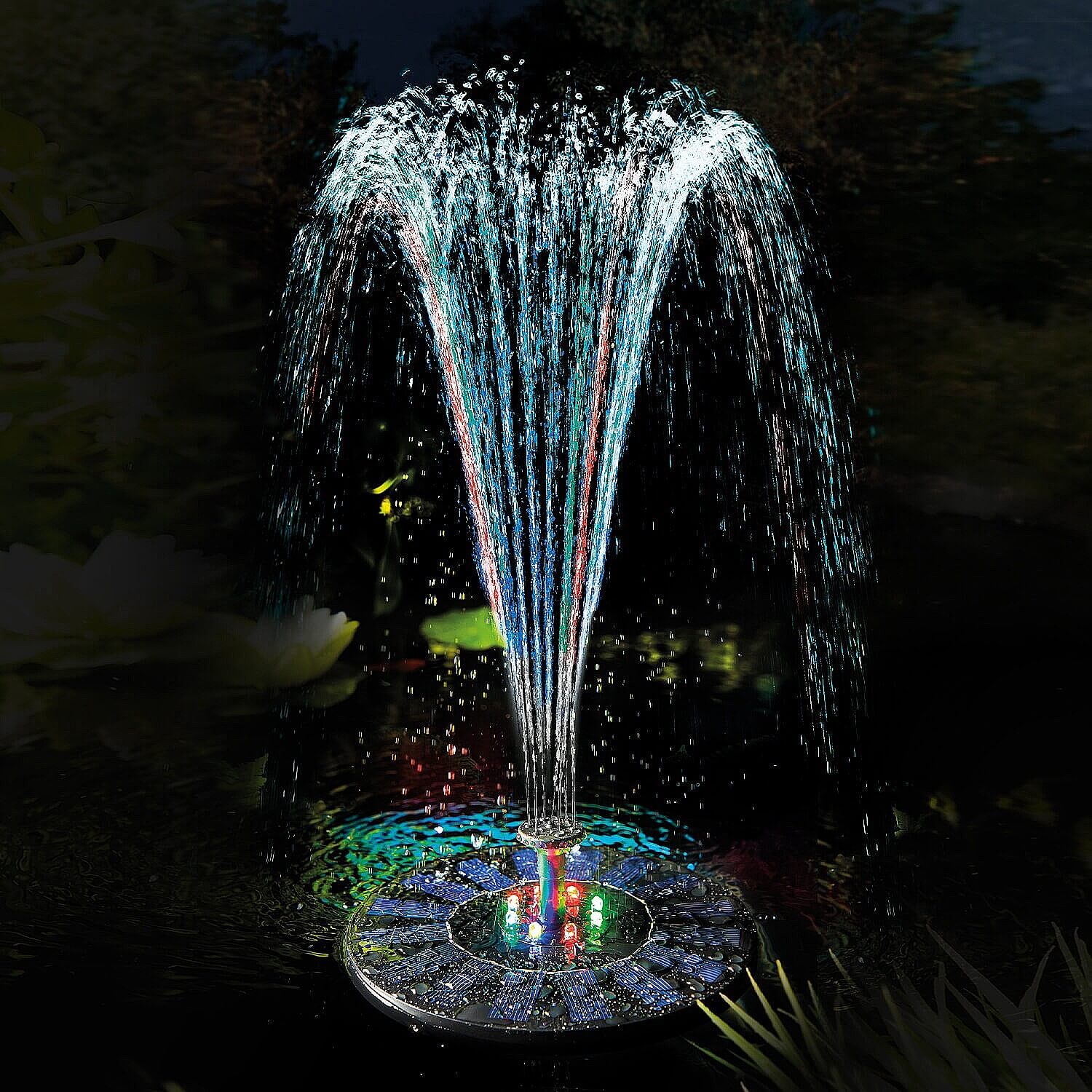 What are the different types of solar water features?
Solar water features are available in an array of different forms and designs, which means there is something to suit all outside spaces. Options include smaller fountain style water features that produce a gentle trickle of water through to larger tiered designs with cascades of water. Whether you want to make a subtle or bold statement, it won't take much searching before finding your ideal water feature. Additionally, many water features also come with integrated lighting, which means that they can continue to be a real focal point even after the sunsets.
To highlight the variety of solar water features that are available here at Coopers of Stortford, we have put together a shortlist of some of our favourite options that will elevate your outside space and provide hours of enjoyment for years to come.
- Solar Wishing Well Water Feature

This charming wishing well style water feature has a distinctly whimsical feel, which is ideally suited to country cottage style gardens and will look particularly beautiful surrounded by gently scented lavender and chamomile plants.
The water gently flows from the wood-effect bucket onto the well below, which has been expertly finished with a realistic brick effect. Additional rope detailing completes the feature, which looks as though it has come straight out of the pages of a fairy tale story. Constructed from durable resin, this feature is low maintenance, hardwearing and fully resistant to frost.
The solar panel has been discreetly integrated into the roof of the wishing well, which stands at 56 cm tall and so it shouldn't have any problem at all in collecting the right level of sunlight to continuously power the soft stream of water.
- Heywood Mill Solar Water Feature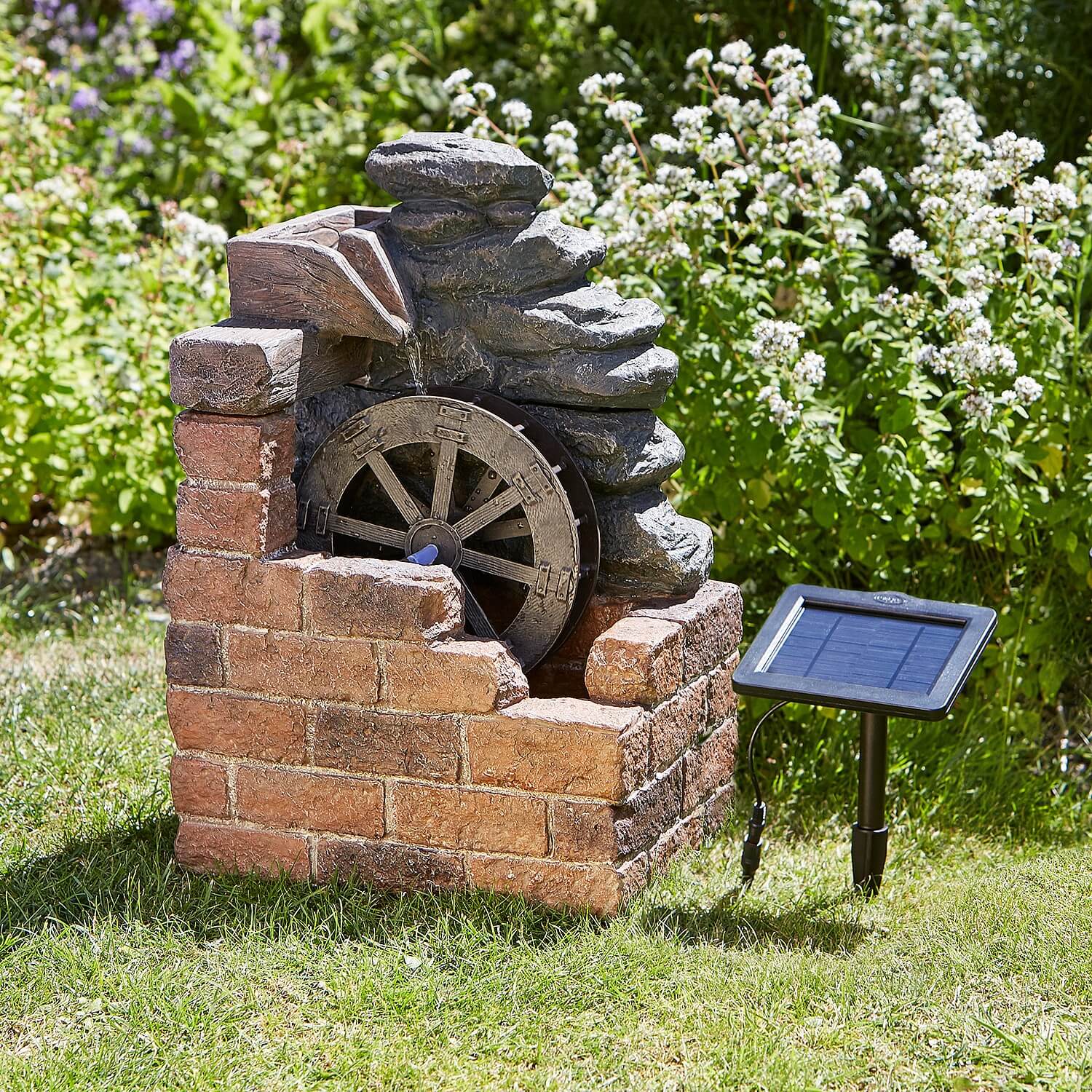 Another option for a classic country cottage style garden is the Heywood Mill solar water feature, which boasts a brick-effect base, stunning stone detailing, and a traditional mill wheel that is moved by a gentle stream of water falling from the wood-effect funnel above. In addition to the beautiful sound of running water, this feature also brings a sense of movement which works well to create a calming atmosphere and promote relaxation.
The separate solar panel is attached to the feature via a lengthy cable and can be mounted onto a stake which can be positioned in a sunny spot on a lawn or tucked into a flower bed. This offers additional versatility when it comes to positioning the feature within your space. Additionally, the integrated battery will automatically store power and the timer function means that you have complete control over when your feature is running, allowing you to maximise your enjoyment.
- Solar Sphere Water Feature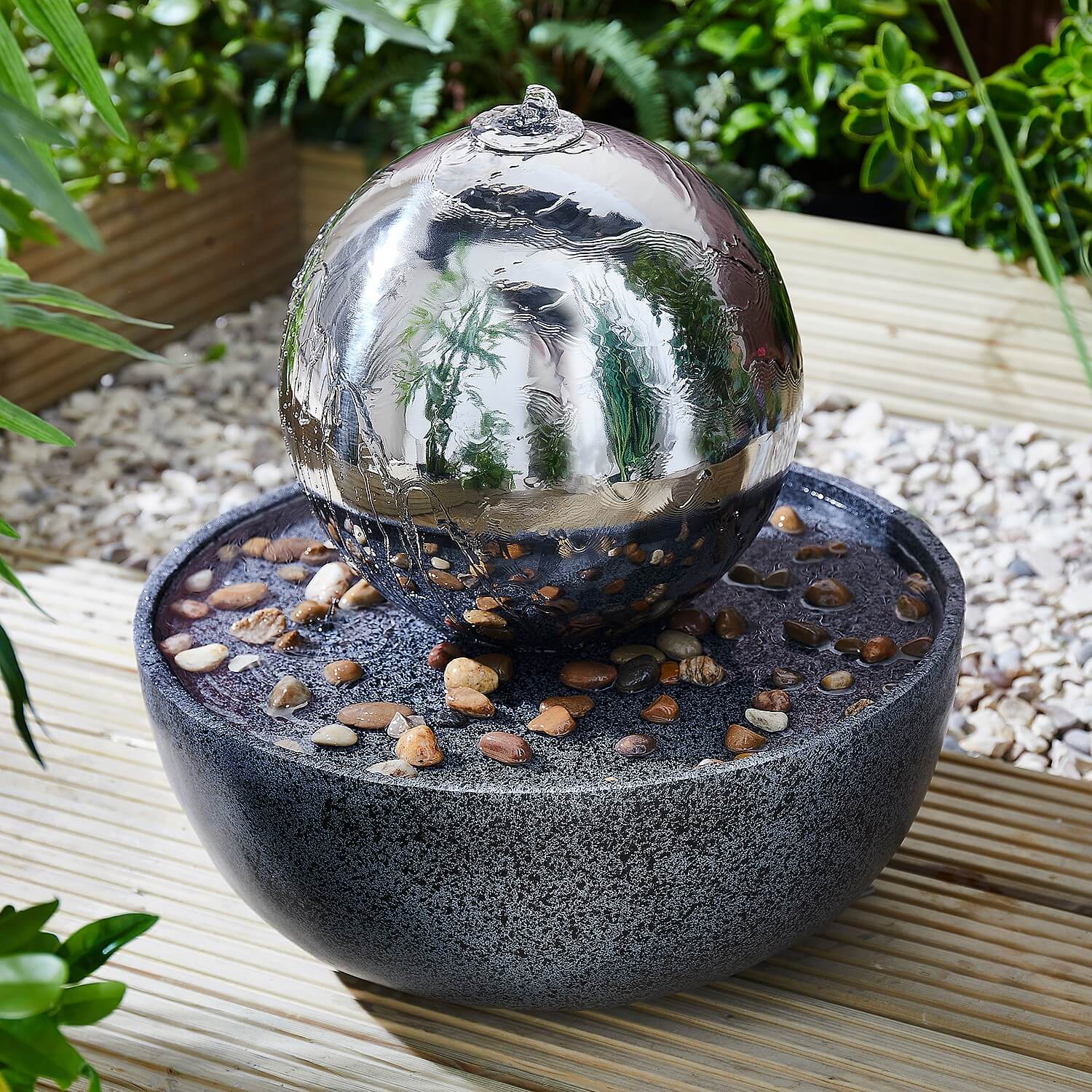 Designed to complement ultra-modern and minimal spaces, this gleaming stainless steel sphere expertly reflects the light whilst acting as a smooth surface for the water to flow across. The highly reflective surface also acts as a mirror, which can help to give even the most compact patio areas a sense of space. A glowing LED light has been integrated into the top of the stainless steel sphere, which offers ambient illumination as dusk falls and provides an ideal focal point for evening gatherings with friends.
The sphere is mounted on a luxurious granite effect base, which has a deep grey speckled finish that complements the minimal essence of the design. Notably, this water feature can be customised to suit your space by positioning some white pebbles, shells or even semi-precious crystals on the base around the base of the sphere. This will bring an additional element of colour and texture to the piece, allowing you to showcase your personality and taste in your outside space.
The high-quality materials are weatherproof and resistant to rust, which ensures the longevity of the feature and will allow you to continue enjoying its calming ambience long into the future.
- Solar Buddha Water Feature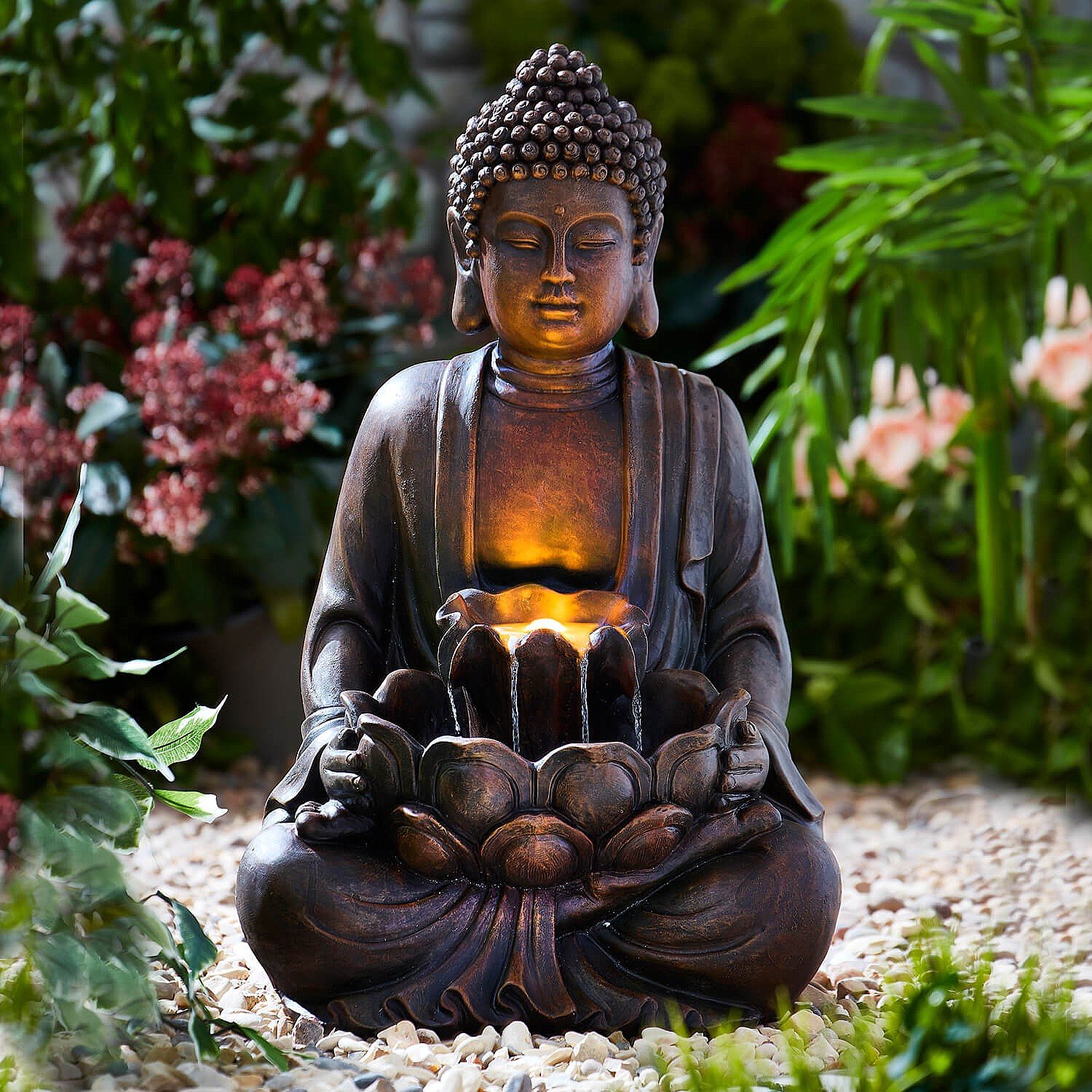 The Joy of Water Features
Solar water features are one of the simplest and most eco-friendly ways to enhance your garden and maximise the joy you get from spending time there. Not only are they a wonderful focal point, but they are also ideally suited to sitting at the heart of a formal or informal seating area, offering a place for you, your friends and your family to gather, socialise, and enjoy quality time together.
The impact this can have on our overall sense of wellbeing is enormous and the wellbeing benefits don't end there. In fact, the sound of gently flowing water can have such a profound impact on our calmness and tranquillity; even just spending five minutes outside beside a water feature can help us to decompress after a busy or stressful day.
We hope we have gone some way to highlight the vast array of different solar water features that are available, including traditional designs, those with bundles of whimsical personality, and contemporary designs that are ideally suited to modern gardens. In fact, there are so many different designs, we really have only skimmed the surface here so there is genuinely something for absolutely every garden.
We hope we have gone some way to highlight the vast array of different solar water features that are available, including traditional designs, those with bundles of whimsical personality, and contemporary designs that are ideally suited to modern gardens.