/
Blog

/
The Benefits of Incorporating a Water Feature in a Garden
The Benefits of Incorporating a Water Feature in a Garden
A water feature in a garden can complete your design, making it feel like a complete space that is ready for relaxing, entertaining, and everything in between.
Pleasingly, there are so many different types of water features to choose from and your decision should always be informed by your personal design preferences, the atmosphere you want to establish in your garden, and the size of your outside space. Whether you choose to go big and create a large-scale central water feature or are looking for a smaller accent piece that will discreetly add a sense of sophistication to your garden, there is a beautiful feature out there that will allow you to add the finishing touches to your dream outside space.
But with so many things to consider and options to choose from, how do you know when you are choosing the best water feature for your outside space? To give you a helping hand, we have put together some of our top tips and tricks alongside a range of examples that we hope will inspire you to incorporate water into your outside space in some form.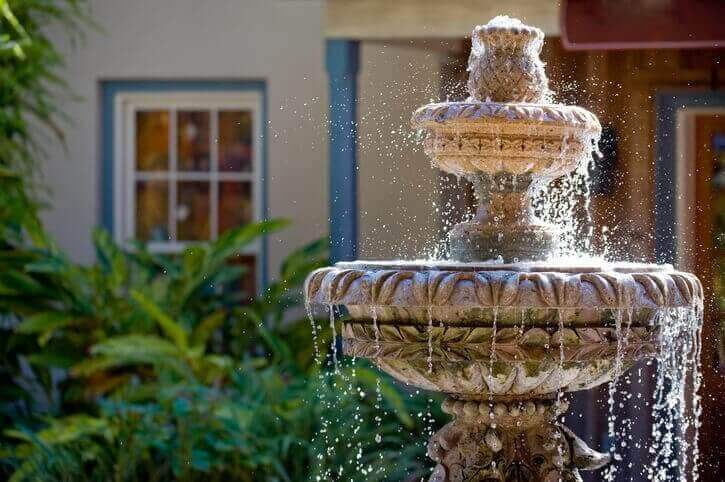 To begin with, let's take a quick look back at water features throughout history….

The History of Water Features in Garden Design
Water has been incorporated into garden design for hundreds of years, but did you know that the earliest known water features date to the Minoans and the Romans? Canals and fountains were purposefully engineered to deliver ample supplies of fresh water to cities for irrigation, bathing and drinking.
During the 16th century, garden water features became a signifier of wealth, with wealthy families instructing garden designers to include everything from dynamic meandering streams to eye-catching fountains into their vast outside spaces.
Today, water features are incorporated into gardens of all shapes and sizes, often providing a welcome sense of tranquillity that takes us out of the hustle and bustle of everyday life and into a moment of pure calm.
Water Feature Design Ideas
Every garden can play host to the soothing and calming benefits of a water feature. Not only do they provide interest at an aesthetic level, but they can also act as a valuable habitat for all sorts of wildlife.
Notably, a water feature in a garden can take many different forms. If you're looking for the perfect water feature for your garden, here are just a few ideas to consider.
A water bowl is one of the simplest ways to incorporate a water feature in a garden and they can be made from a range of materials, including wood, stone and ceramic. Water bowls are at their most effective when they are positioned to reflect the light into a naturally shaded area, making it look instantly more dynamic and full of life.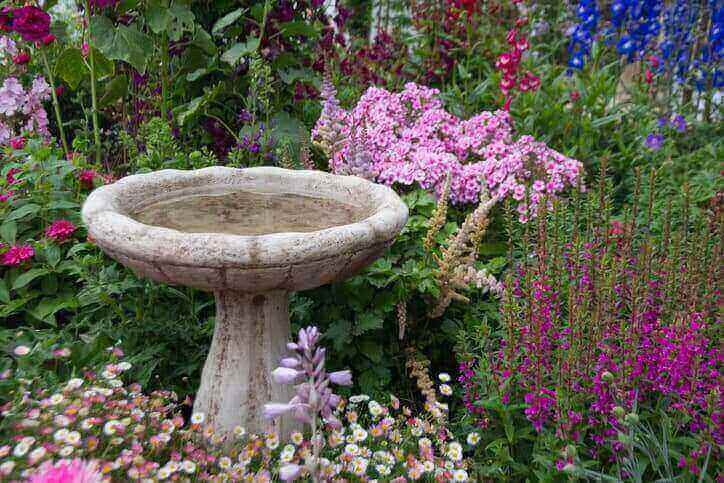 Garden Pebbles
Another straightforward water feature to install simply requires a selection of pebbles in a range of sizes, a pump, and a water source. Pebbles can be piled into a range of shapes to conceal the pump to create an really charming feature to suit your space.
Garden Ponds
From compact minimalist-inspired designs to sprawling designs filled with a variety of water-loving plants, the garden pond is a classic water feature that has delighted millions of us for centuries.
If you want to bring a sense of movement to your garden pond, a solar water fountain will do so with ease. With four water patterns to choose from and the ability to send water up to 70cm into the air, this simple addition can completely transform the look and feel of your pond. It also benefits from six integrated LED lights, which can be set to change colours to create a fun atmosphere for people of all ages.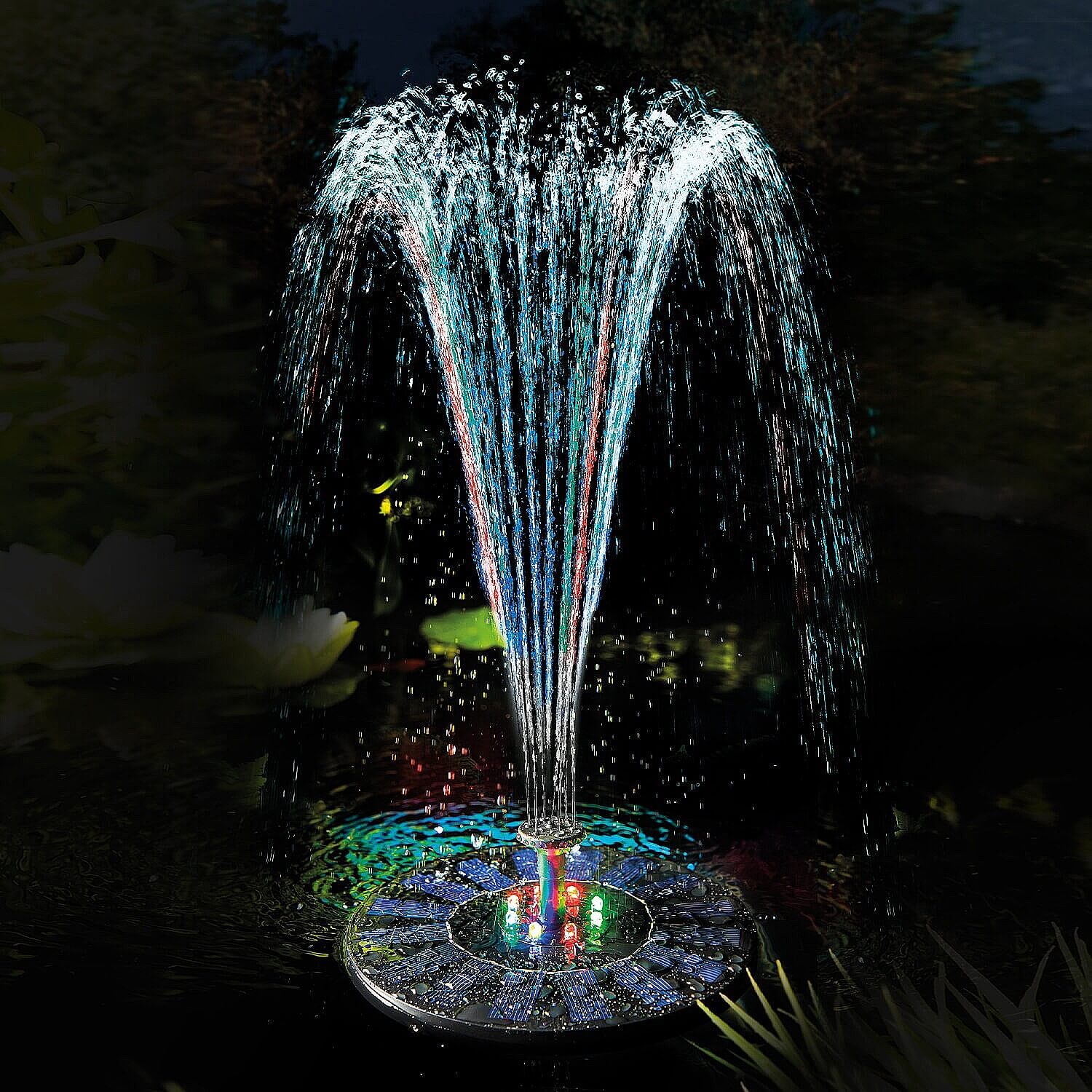 Garden Troughs
If you want the enjoyment of a garden pond without needing to dig to create a hole in the ground, a standing pond made from a garden trough could be your perfect match. From naturally weathered troughs in gorgeous rusty orange hues to sleek enamelled troughs with a country cottage style aesthetic, there are countless ways to personalise this option to suit your space and your personal tastes.
If you want to soften the rigid edges of a square or rectangular trough, simply position a range of plants with bold flowers and beautiful foliage all around the outside. This will also help to encourage wildlife to the area, so be sure to include some way for different types of wildlife to get out of the water with ease.
This contemporary trough water feature is ideally suited to more compact gardens that perhaps don't have the space for a freestanding trough but would benefit from its ability to provide a focal point and an element of movement. Its polyresin construction has been given a delightfully textured slate-like finish and the water flows with ease from an upper channel into the trough below. The multi-tonal grey colour palette will fit perfectly into a range of outside spaces and complement a variety of planting styles.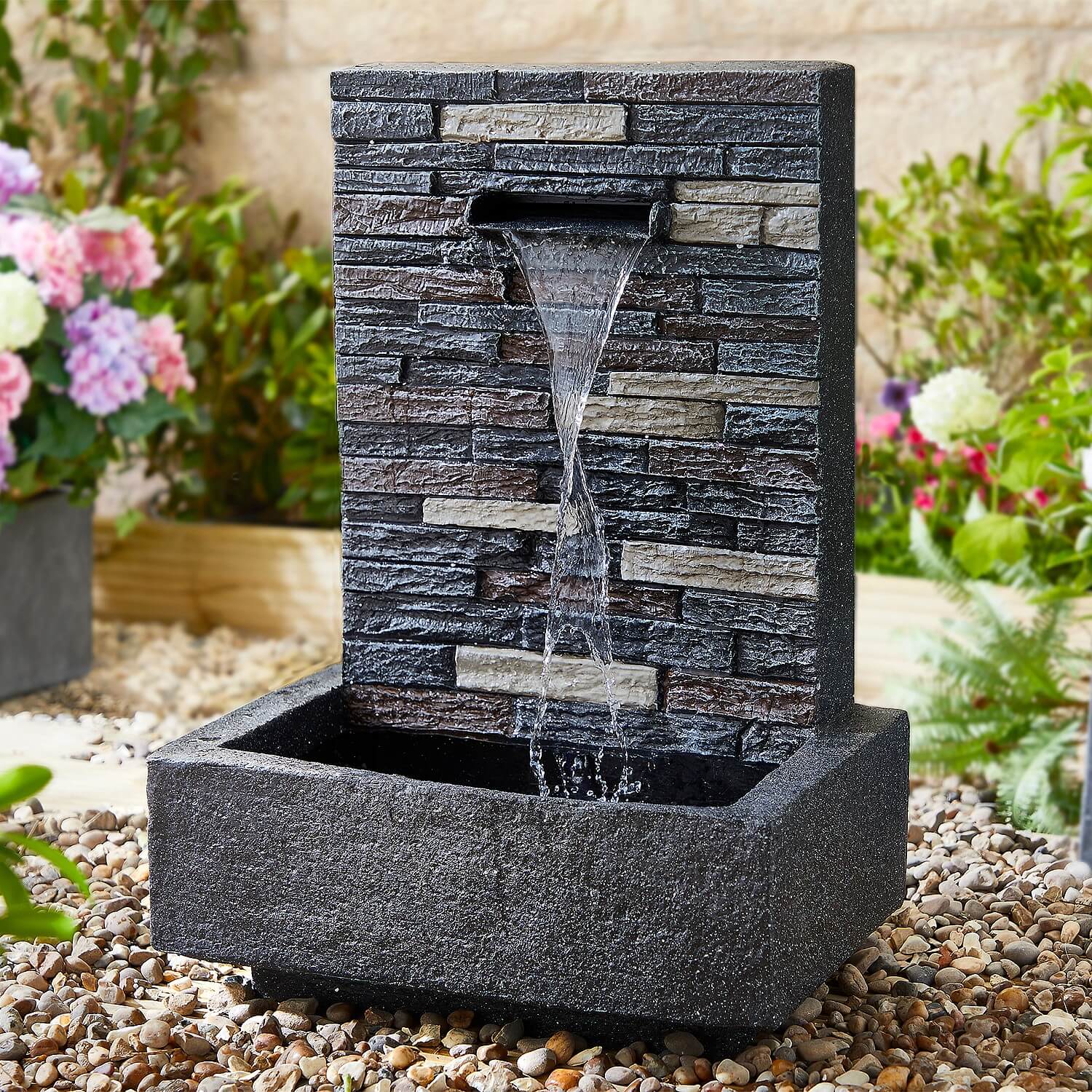 Water Rills
A shallow channel that allows water to flow between two different areas is known as a water rill. This gentle flow of water provides a soothing sound that will instantly establish a calming and tranquil environment that is ideal for relaxation and rest. Water rills can be both large or small and, as such, can be incorporated into any garden.
Water features like this solar cascading log water feature, complete with charming robin adornments is a delightful example of how to achieve the sound of a water rill within a smaller space. Water flows steadily from the top pool to the bottom pool, where it is then captured by the internal reservoir. Not only does this feature use minimal water, but it is also solar powered and therefore offers an environmentally-friendly way to experience the benefits of running water without increasing your carbon footprint.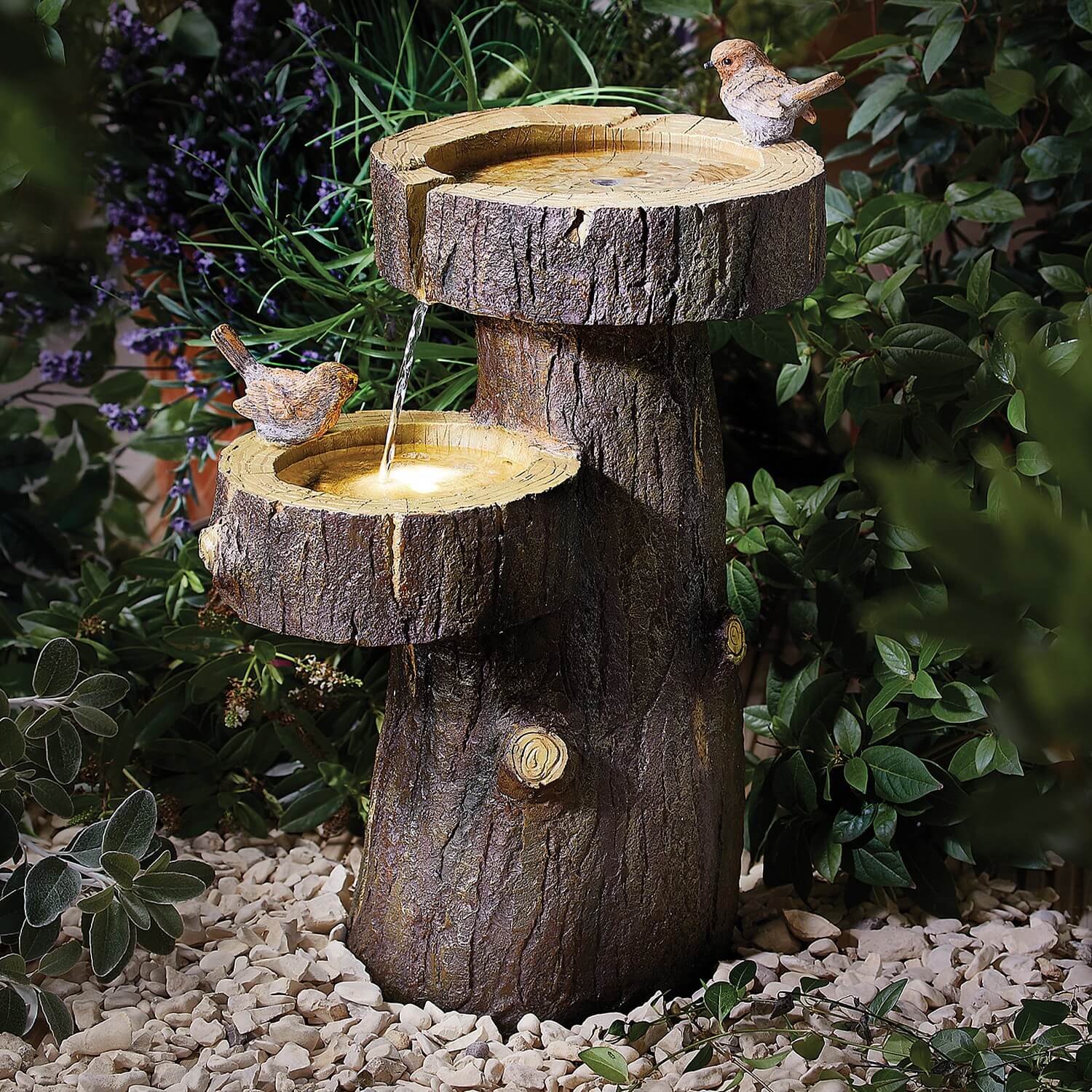 The solar cascading bronze water feature has an additional tier and a more contemporary aesthetic. The weather-resistant resin exterior is finished with a beautiful metallic bronze hue, which reflects the light beautifully and can be used to bring a layer of illumination to shadier areas of your garden. The sounds of running water will enhance the relaxing ambience of your garden as the powerful internal solar-powered pump effortlessly handles 200 litres of water each hour. Plus, as the evening approaches and darkness falls, the in-built LED lights spring into action and allow you to continue enjoying the relaxing sound of the water long into the night.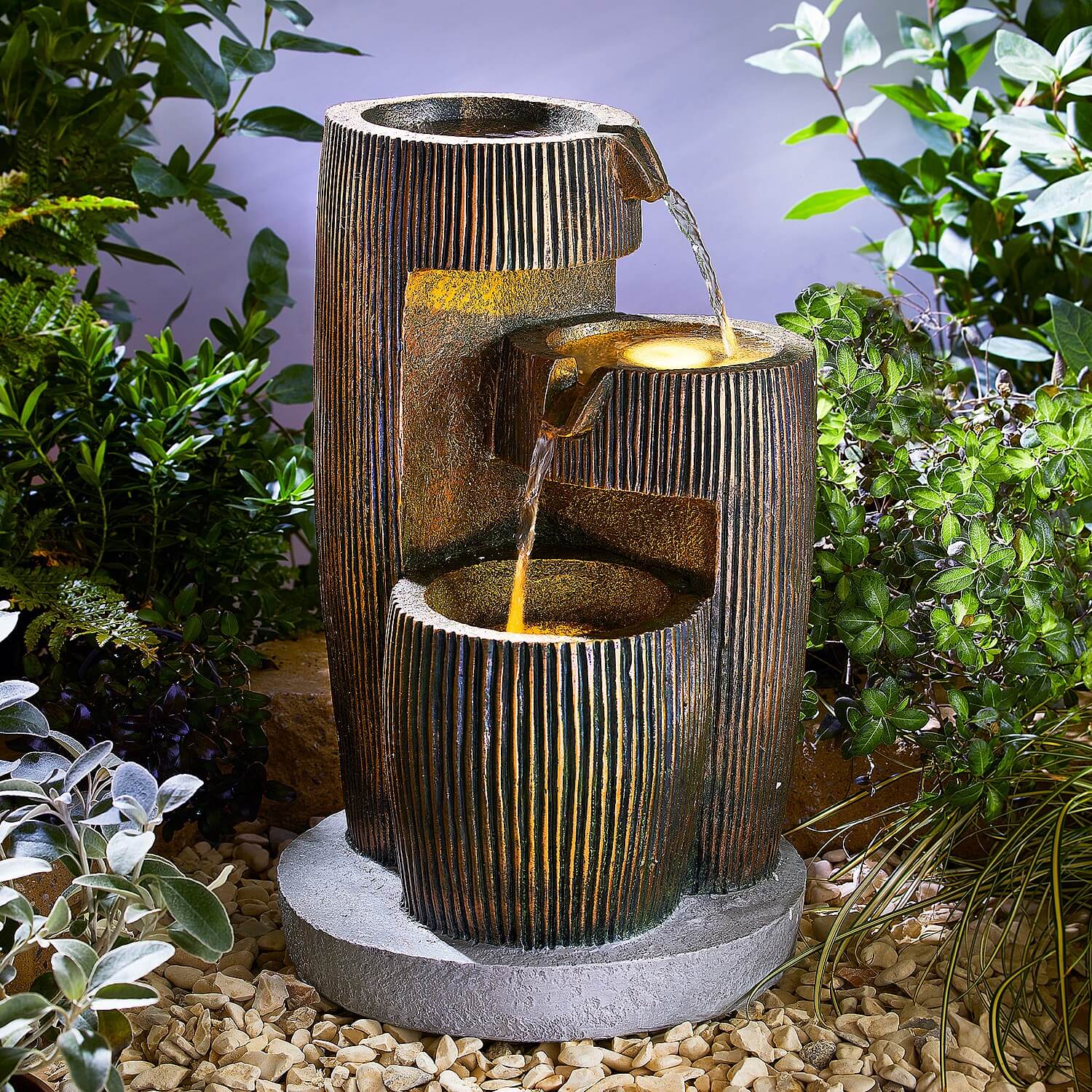 Garden Fountains
Like garden ponds, fountains have been a feature in outside spaces for hundreds of years and are the ideal option if your garden is crying out for a focal point. There are so many different styles of water fountain to choose from, including vast stone columns to contemporary spheres with a sleek, minimalist silhouette.
For those who want to add a touch of magic and wonder into their garden, the solar fairy water feature is certain to charm and delight. Featuring a dainty fairy perched on the edge of a beautifully carved shell, water delicately falls from the flower in her hands and will instantly captivate both adults and children alike. Beautifully crafted from plastic that has been reinforced with a weather-resistant resin material, this sturdy yet lightweight feature is easy to move and can be positioned in a variety of locations within your garden. The gorgeous antiqued bronze finish will ensure it looks as though your garden has been this fairy's home for a long time and showcases the carved textured detailing that brings this piece to life.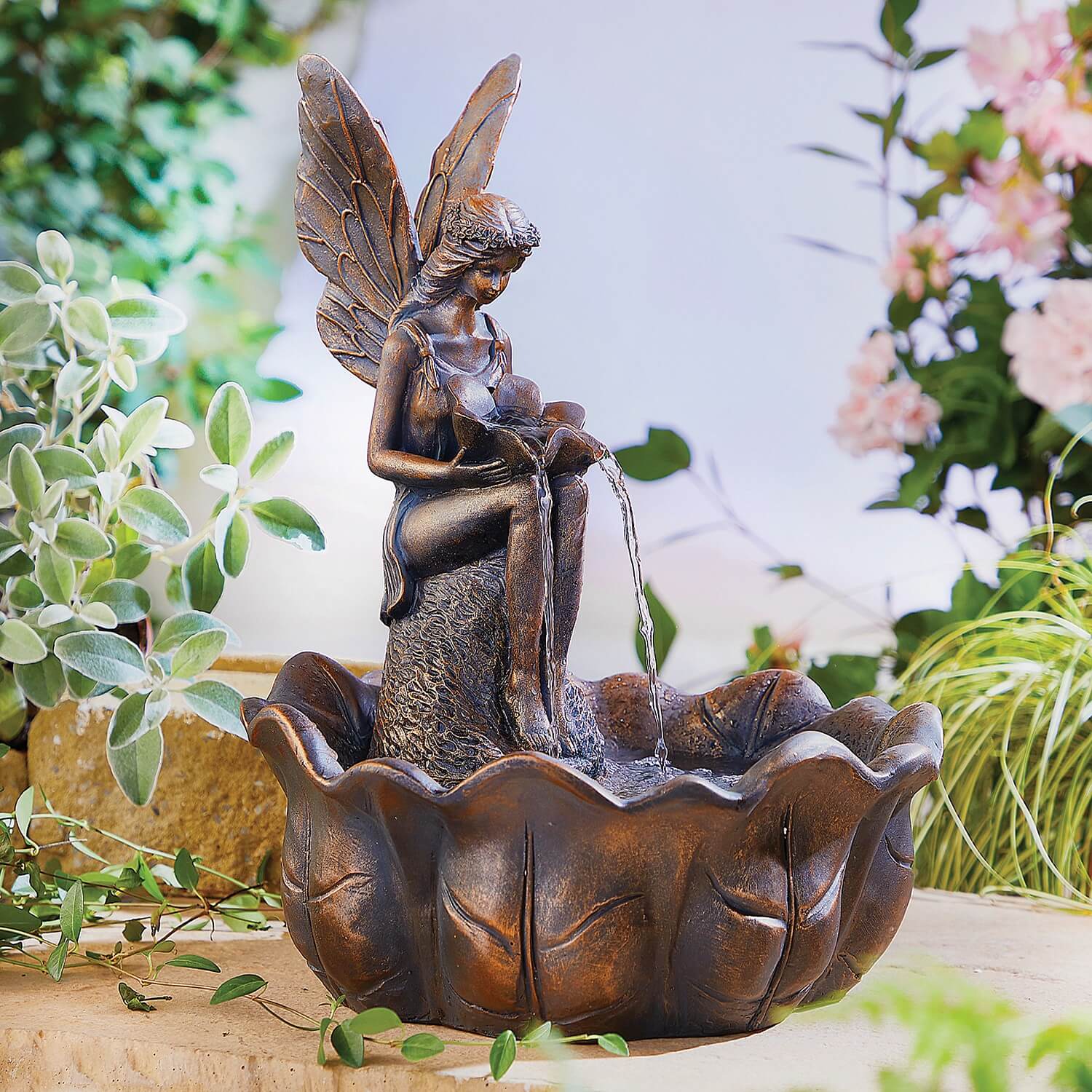 In minimalist-inspired outdoor spaces, this striking solar sphere fountain will reflect the light and bring a subtle sense of movement in ways that will complement rather than overtake the garden. Water emerges from the top of the polished silver mirrored ball and flows gently downwards across its surface, creating texture, sound and movement in the process. A curved textured bowl collects the water in an internal reservoir to be recycled by the solar-powered pump with ease. Ideally suited to patios and calming meditation areas, this piece is constructed from waterproofed and rust-proofed materials which ensure it will remain a central feature in your garden for many years to come.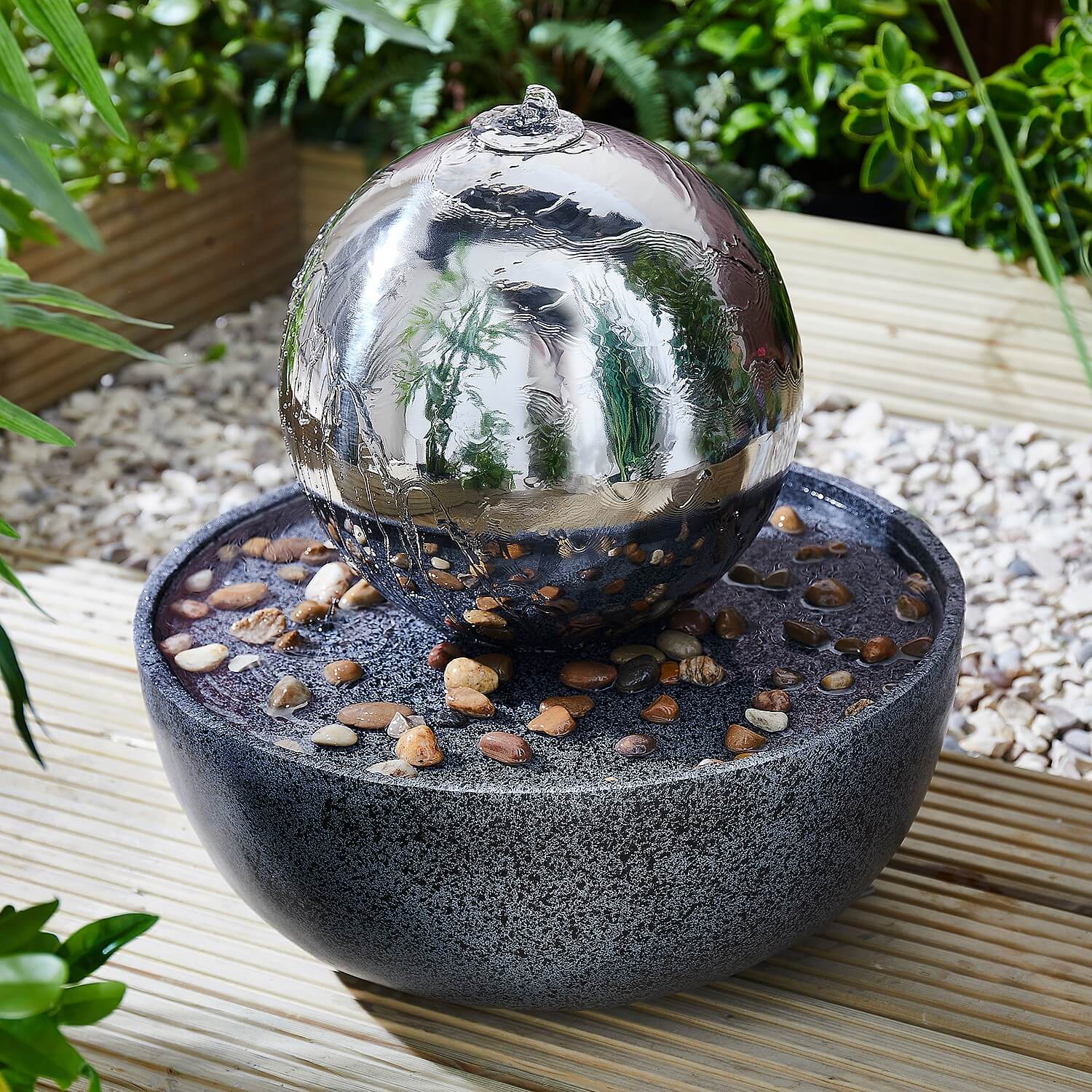 Garden Jugs
A pouring jug can immediately bring a touch of classicism into an outside space and provide a sense of rustic charm that is certain to delight. This style often works well when it is surrounded by slightly haphazard planting for a natural look that makes it appear as though it has sat in this place for decades.
This type of water feature has a hole that allows for the seamless addition of a water pump, making it easy to install in a variety of locations for maximum versatility. You could position it as a standalone feature that channels water into a bowl or incorporate it into a more complex water rill feature.
For a slightly more contemporary take on this look, this blue pot solar water feature is bold, eye-catching, and ready to be the star of the show in your outside space. Whether you want to incorporate it into a bright and beautiful flower bed or place it in the centre of your entertaining patio area, this sleek Green urn-style piece is ready to impress. The water gently cascades down the textured surface into a reservoir when it is then channelled up through the feature by the internal pump. Its bold blue hue feels both traditional and contemporary, replicating the cloudless summertime sky that marks the opportunity to entertain and spend more time outside. But this is a feature that can be enjoyed year-round, as it has built-in warm white LEDs that effortlessly highlight its undulating form and beautiful blue hue.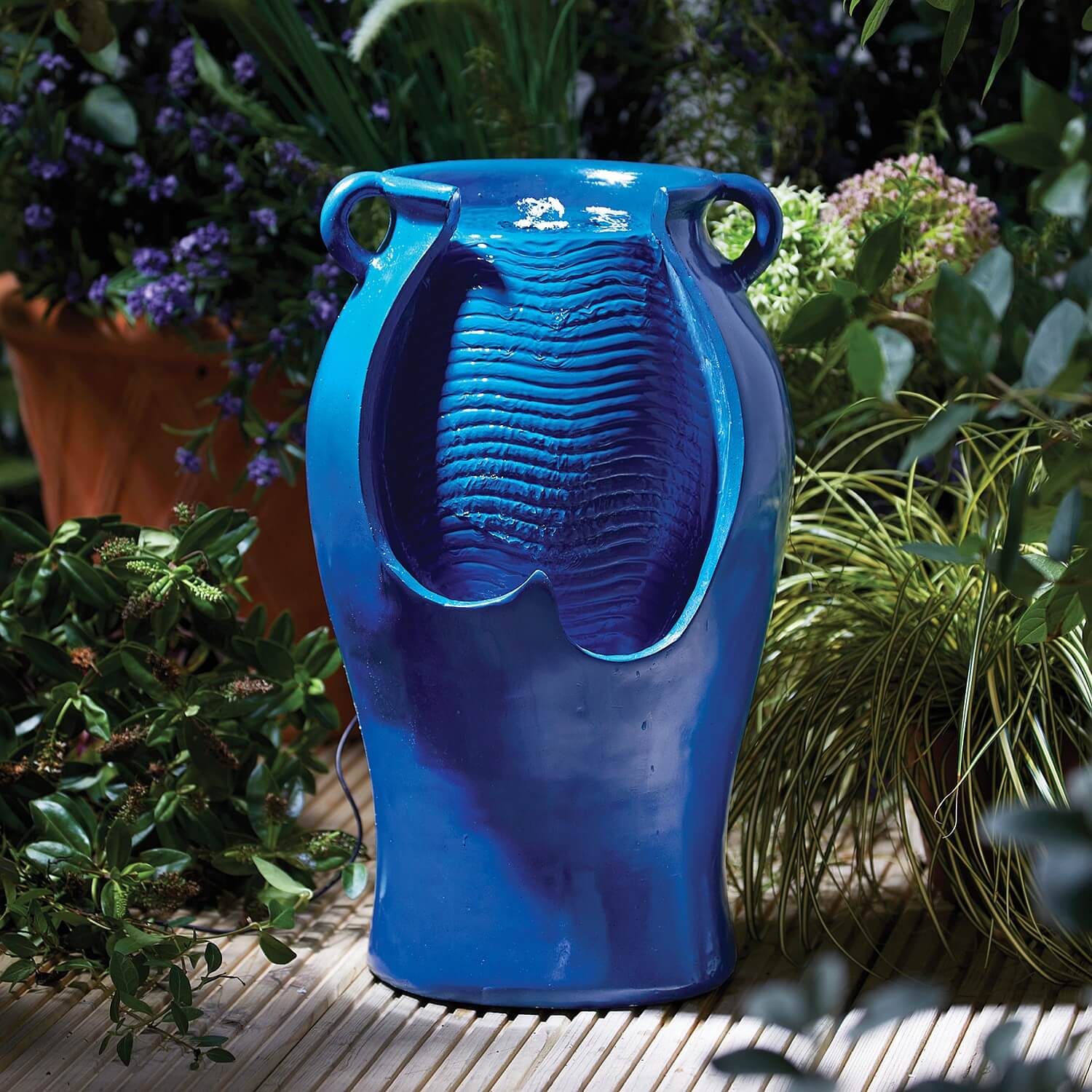 Garden Whirlpools
Whirlpools are one of the most dynamic types of water feature as the movement and sound created by the swirling water is uniquely mesmerising. Again, they are available in a range of different styles to suit diverse outdoor spaces and can even make an eye-catching addition to a landscaped front garden.

A common question - How do I avoid mosquitoes?
In a pond that attracts plenty of wildlife and invertebrates, you shouldn't run into any problems with mosquitoes as they feed on the larvae. However, if you want to incorporate a still water bowl into your garden, it is important to change the water immediately if you notice the appearance of larvae.
What other benefits do garden water features bring?
A water feature in a garden can instantly take your design to the next level by allowing you to experiment with the effects of texture, shape, movement and colour. The sound of running water can also minimise noise pollution by both softening unpleasant sounds and providing you with a different sound to focus your attention on. By engaging the sense of hearing, you may find that your other senses are heightened as well, which will allow you to appreciate garden colours, scents, and textures in greater depth.
Garden water features are also excellent ways to infuse your own personality and preferences into your garden. Whether you enjoy the clean lines of minimal design or want to enhance the country cottage style of your plant-filled garden, you will find a beautiful range of options to choose from.