/
Blog

/
Useful tips to get back to healthy eating
Useful tips to get back to healthy eating
New Year's Resolutions- they are easy to make but easier to break!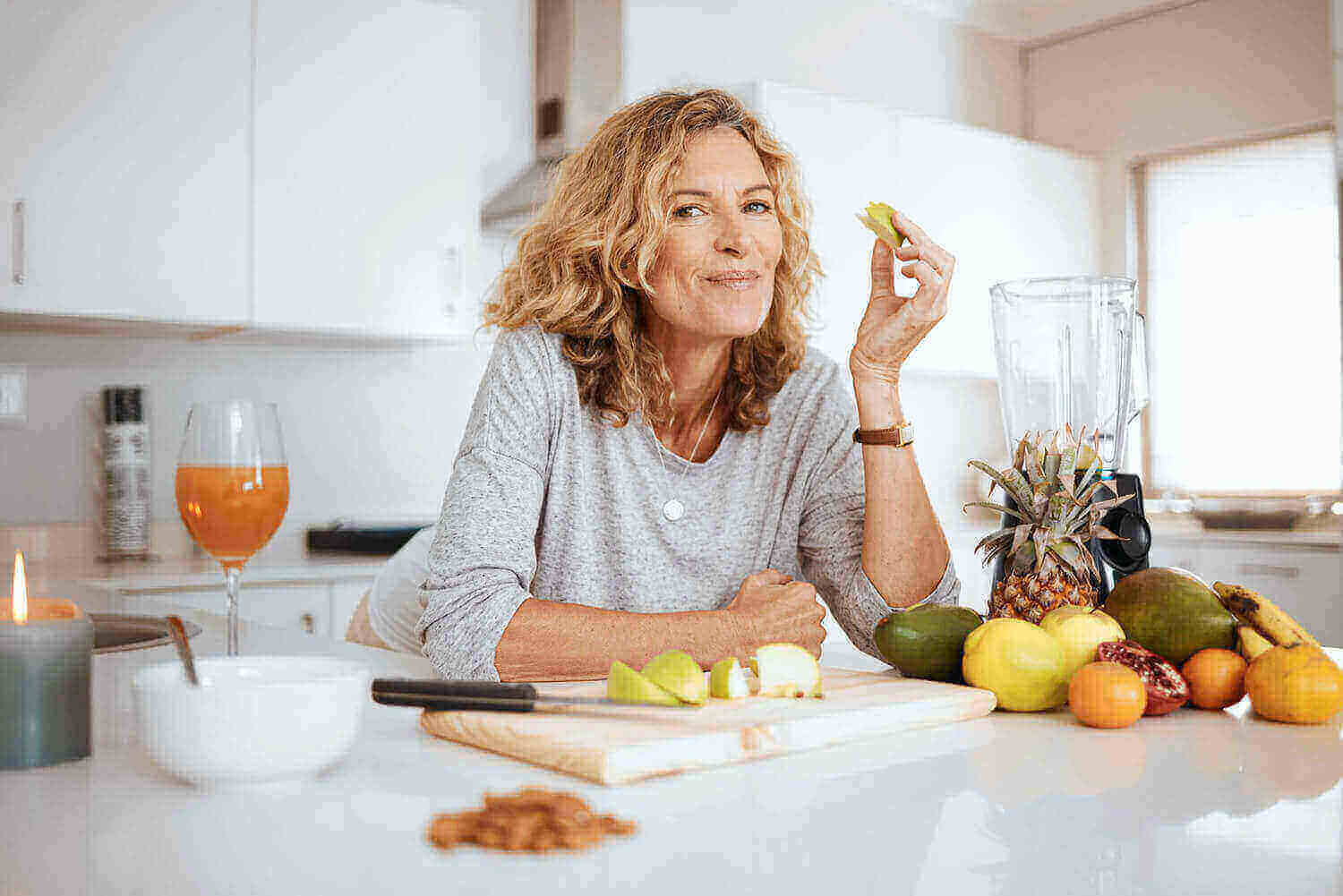 The festive season is well and truly upon us and with treats to tempt us at every turn, it can be all too easy to over-indulge. Now, there's nothing wrong with partaking in your favourite foods during festive celebrations. After all, sitting down to enjoy a meal with family is one of life's purest joys and we haven't had many opportunities to do it over the last few years.
As a result, many people gain weight at this time of year when healthy eating can so easily be forgotten about. Minor weight fluctuations can be a normal part of life for many of us but equally, we feel better within ourselves when we're at a healthy weight.
If you find that you're someone who tends to gain a few pounds during the holidays, don't fret. There are a variety of things you can do to get back on track with healthy eating when the decorations come down and New Year celebrations have been enjoyed. Don't make healthy eating just another new year's resolution. View it as a lifestyle choice that, with a few minor changes, can quickly become part of your everyday life.
1. Count Calories in a Healthy Way
A combination of regular movement in the form of exercise and healthy eating is key to losing weight. Calorie counting can be a beneficial way to understand how much food you are consuming in relation to the amount of exercise you are doing each day. It is important to note here that both exercise and calorie counting should be done in a healthy way, as it can be easy to become somewhat consumed with the process. So, while being mindful of what you're eating can be helpful, it is vital to ensure you are fuelling your body with the vitamins, minerals and nutrients it needs to keep you healthy.
Introducing more soups into your diet is an excellent way to ensure you are consuming enough vegetables. Making soup in a regular saucepan can be a bit of an undertaking, particularly because most require consistent stirring before you can even think about getting the blender out. A soup maker can simplify the process considerably as all you'll need to do is chop up your ingredients into chunks and add them to the soup maker alongside some stock. With three blending options to choose from, it is simple to create soup at your desired consistency, whether that is ultra-smooth or chunky. Who said healthy eating needs to be difficult?!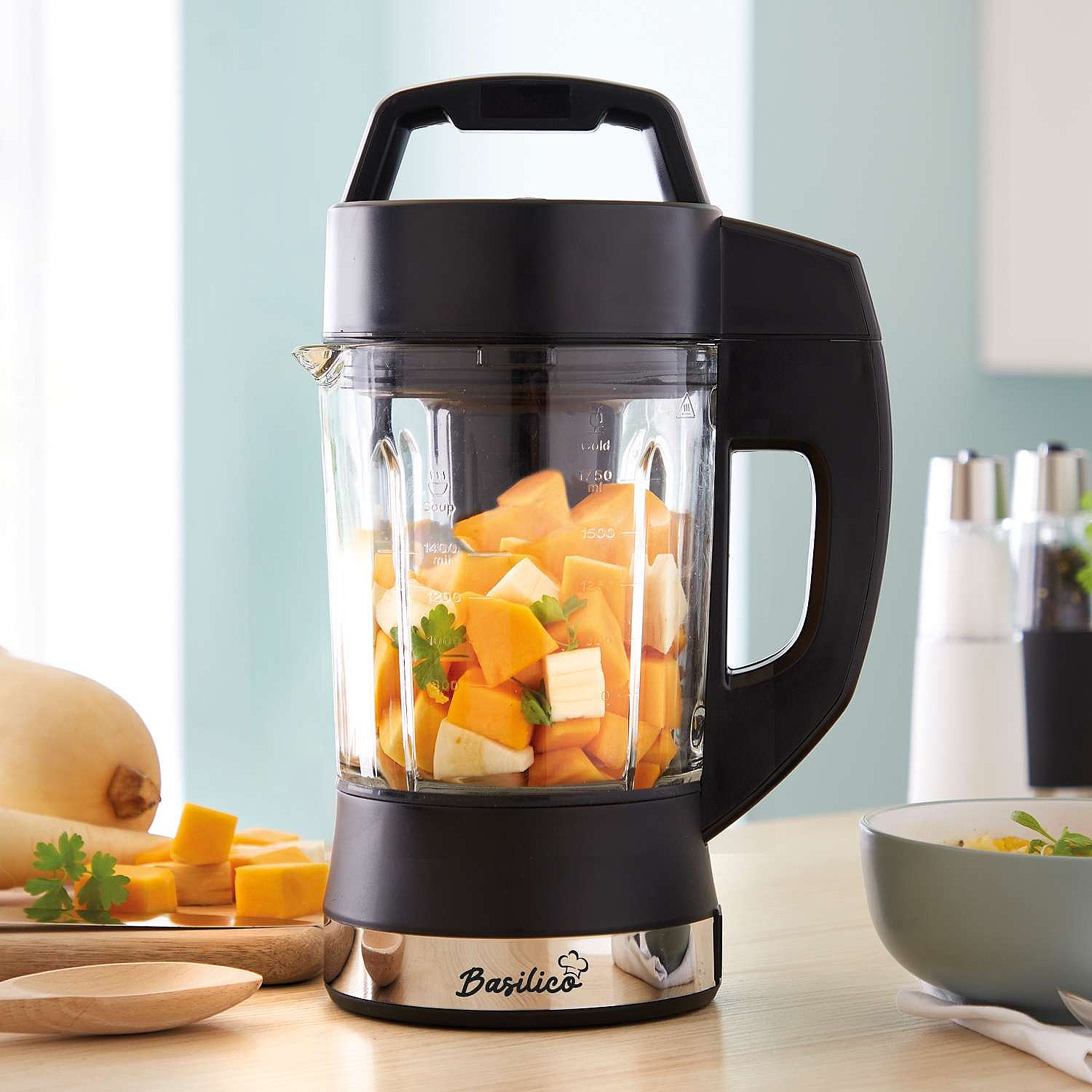 Balance is one of the keys to healthy eating, so if you find yourself craving something fried every so often, an air fryer could quickly become your new favourite kitchen gadget. Air fryers give the food the taste and texture of deep-frying without the need to completely submerge food into the hot oil. The internal fan expertly circulates hot air from the heating element around the cooking chamber, cooking the food through whilst ensuring it has a crisp outer layer. This 1.8L model is compact and has stylish copper touches which will look chic on your kitchen countertop. It is also ideally suited to preparing small portions, which will help you to cook in manageable amounts and reduce food waste.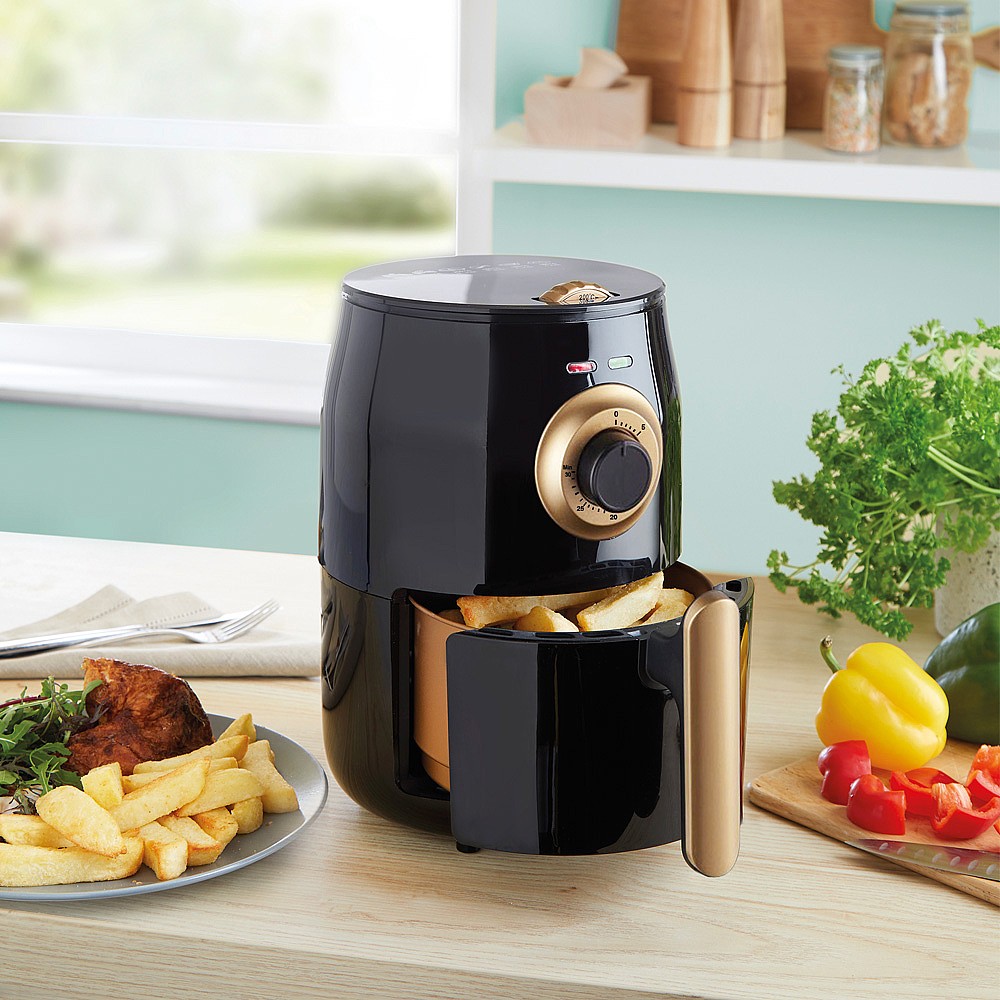 Another way to reduce the amount of fat in your diet is to swap the frying pan for a crisping tray when preparing bacon. A bacon crisping tray ensures the bacon is raised off the surface of a flat tray, which prevents hot spots and soggy bottoms. Any fat from within the bacon itself will drip onto the tray below, delivering crisp results every single time. Give the tray a quick soak and a hand wash after use to retain its non-stick properties and keep it looking as good as new for longer. This tray can also be used for a variety of other uses, including ensuring that pre-prepared foods such as breaded fish fillets cook with a crisp outer and a piping hot centre.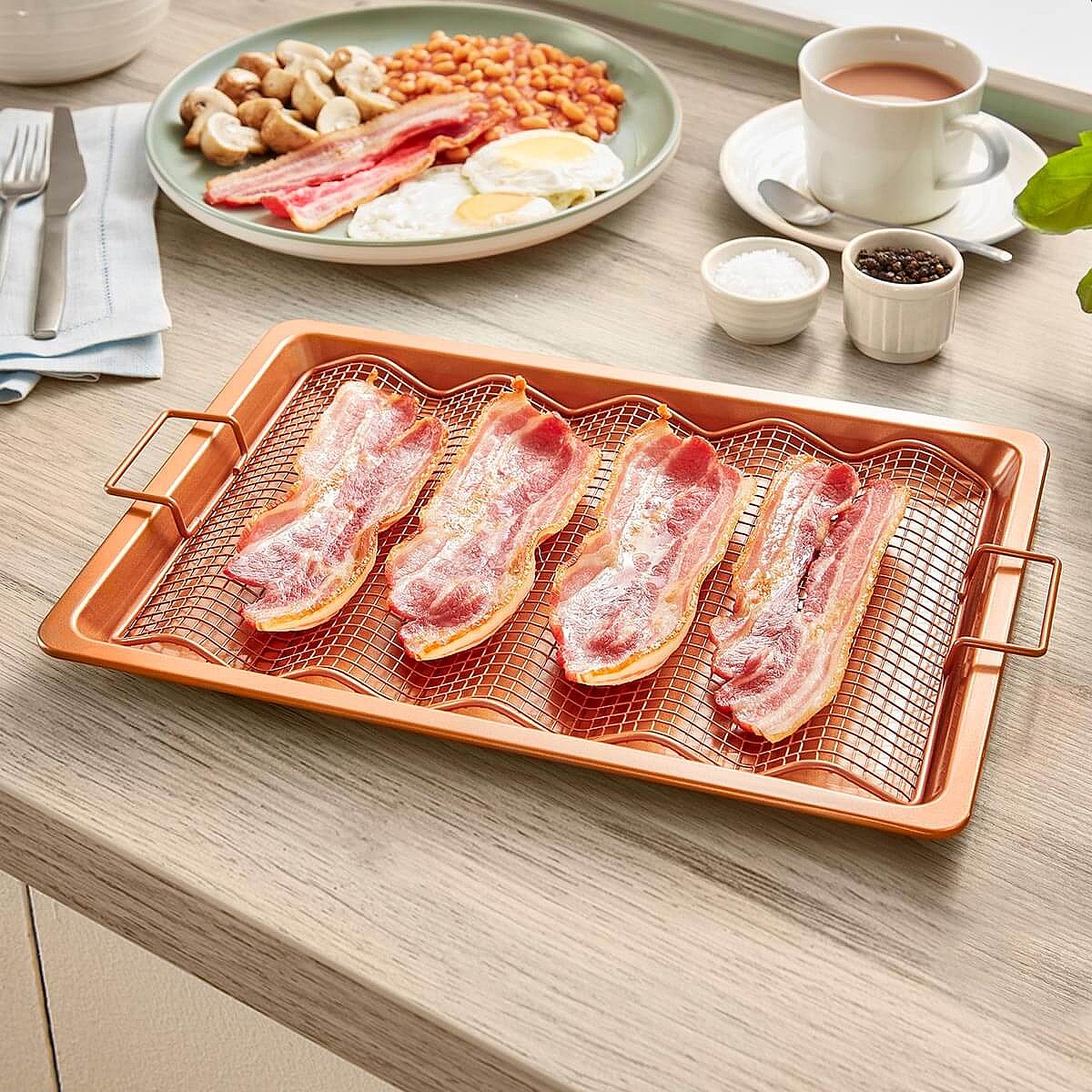 Have you ever gone to put some oil in a pan to heat up before adding your first ingredients only to pour out far too much? This is something that is so easily done and if you don't remove the excess, it will just add unnecessary calories to your meal. Switching from a pouring bottle to a spray bottle can make all the difference, allowing you to ensure that every single home-cooked meal you prepare is as healthy as possible. This oil spray bottle has an elegant glass and copper design, with a spray mechanism that will consistently produce a fine mist and dispense just the right amount for frying. Bakers will also get a lot of use out of this spray bottle as it can be used to ensure that delicious creations won't get stuck to the inside of the pan or tin during the baking process. BBQ lovers will also appreciate this simple kitchen accessory, as it can be used to apply the perfect amount of oil to the grill.


Fresh fish is a healthy and flavourful protein that can provide you with all the omega 3 you need to keep your joints, heart and eyes in good health. Many people find fish cookery to be a little time-consuming and if you don't have a high-quality extractor fan in your kitchen, the smell can hang around for some time after the dish has been consumed. A microwave fish steamer can take all the complexity out of fish cookery, ensuring your favourite fish is always moist and has the perfect flaky texture. Not only do you not need to add any fat or oil, but there is also enough room to steam a side of vegetables in there as well. It is also dishwasher safe, which means that it's possible to enjoy a nutritious and healthy meal even after a long and busy day.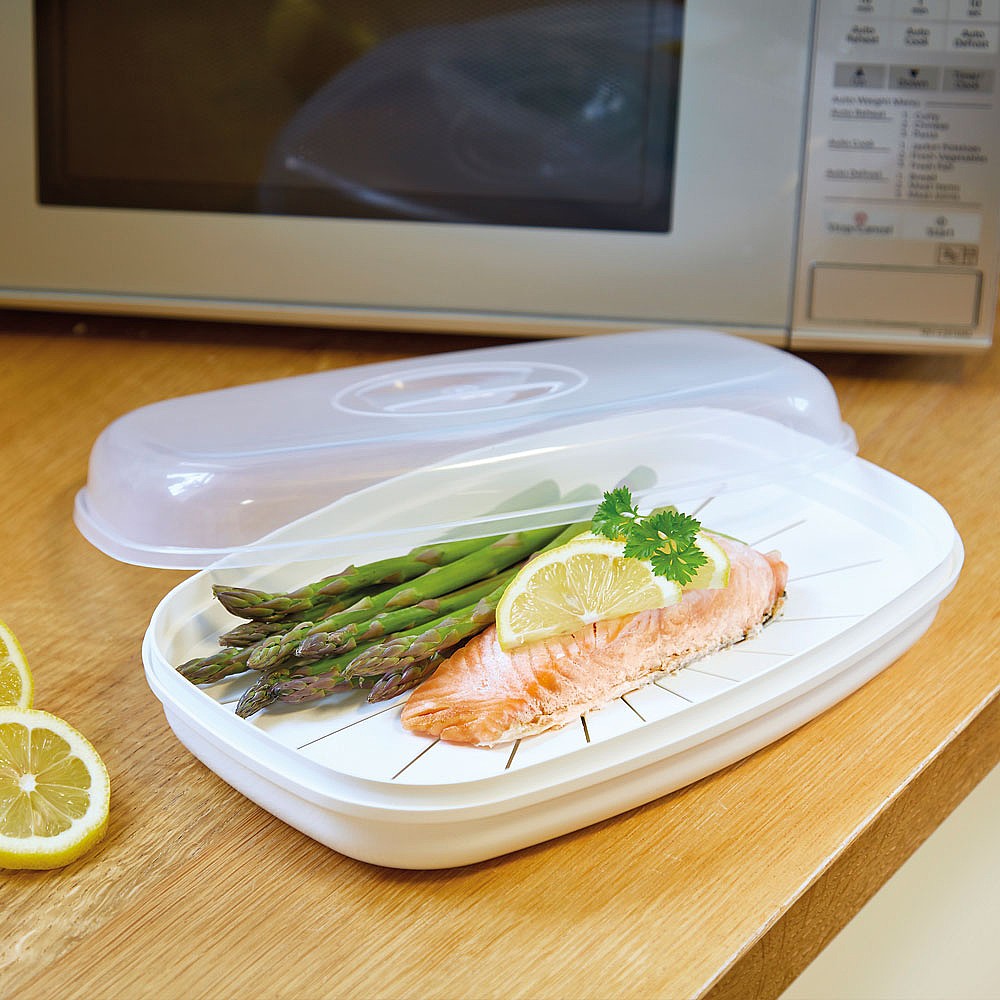 2. Start Making Your Favourite Restaurant and Take Away Foods at Home
Going out to a restaurant or eatery is often the perfect time to order a dish that often takes a long time to prepare. We certainly aren't suggesting that you should stop visiting your favourite restaurants forever, but there are ways to start making some of your favourite dishes at home without being forced to spend the entire day in the kitchen. Not only can making your own food be both relaxing and rewarding, but you also have the opportunity to customise the flavour to suit your palate and keep an eye on the calories, too.
If you're anything like us, pies always catch your eye when you're scanning the menu. Filling and flavoursome, pies have a reputation for being a little tricky to make at home. Thankfully, we have some gadgets to simplify the process. The deep-fill pie maker can be used to prepare and cook fresh, deep-filled pies in no time at all. All you need to do is use the included template to cut out the perfect amount of pastry, pop it into the moulds, load it with a filling of your choice, and close the lid. The closing mechanism will automatically crimp the edges, giving a professional look and the perfect amount of crispiness. The cooking plates have been infused with copper particles, which results in faster cooking times and means you can be tucking into a piping hot pie in just 15 minutes. One of the best parts about making pies at home is that you can incorporate all your favourite ingredients. As it is possible to use a variety of different types of pastry, including flaky and filo, you could also have a go at making some sweet pies if you have a sweet tooth. Just think how glorious a freshly made apple pie would taste with a splash of cream. Delicious!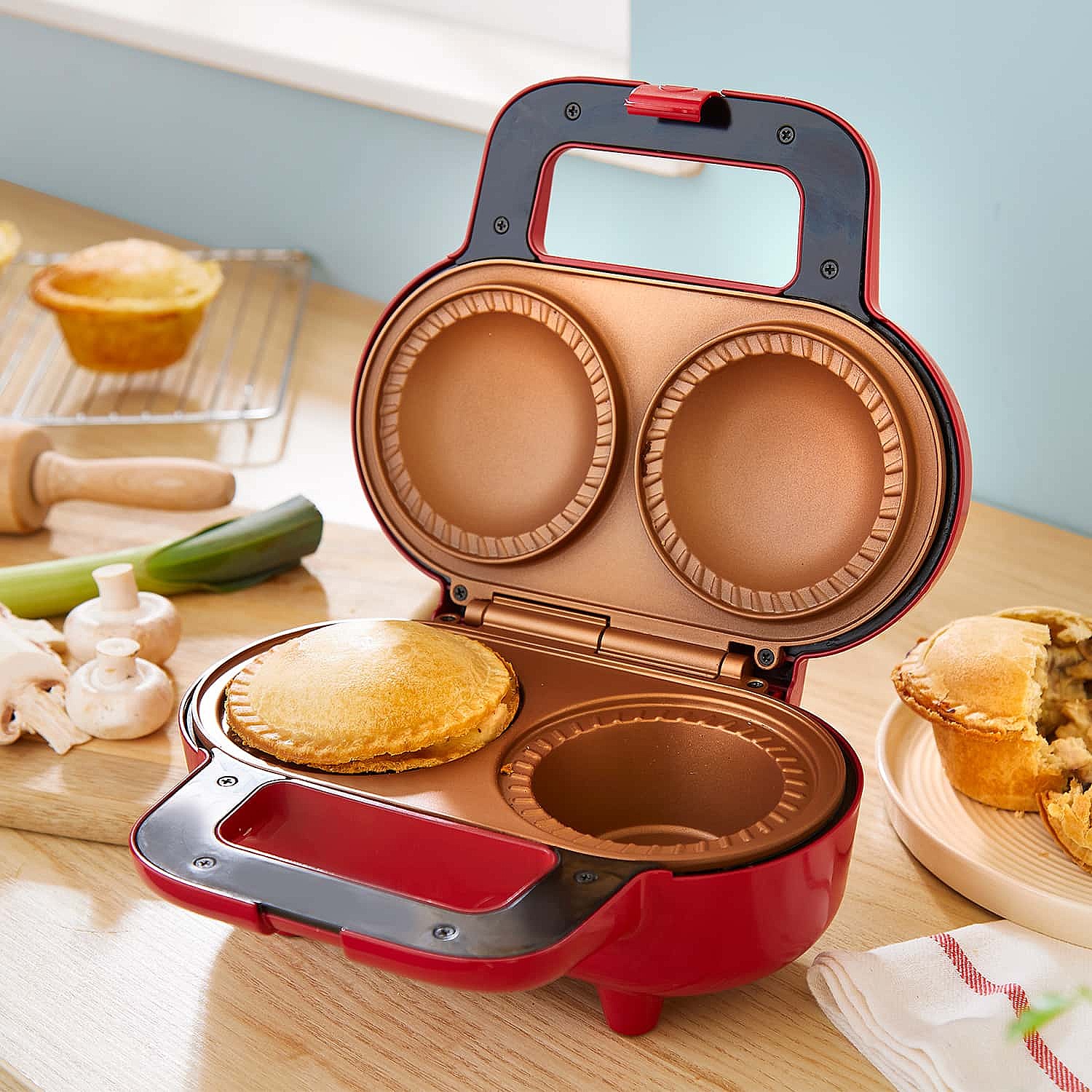 If you're hosting a get-together for several guests, it can be tempting to simply book a restaurant to avoid the difficulties that can come with cooking for more than one person. Similarly, mealtimes can be a bit of a challenge if you have a large family to feed and the temptation to order take-aways is certain to set in after particularly long and busy days. The 8-in-1 multi cooker can make cooking a breeze. Whether you want to make a mid-week casserole, a healthy risotto, or a full-on Sunday roast with all the trimmings for your nearest and dearest, this multi-functional tool can do it all. With a maximum capacity of 5L, you can prepare a single portion or enough food to ensure that your whole family leaves the dining table feeling satisfied. Plus, all you need to do is add your ingredients and set the temperature because the multicooker will take care of the rest.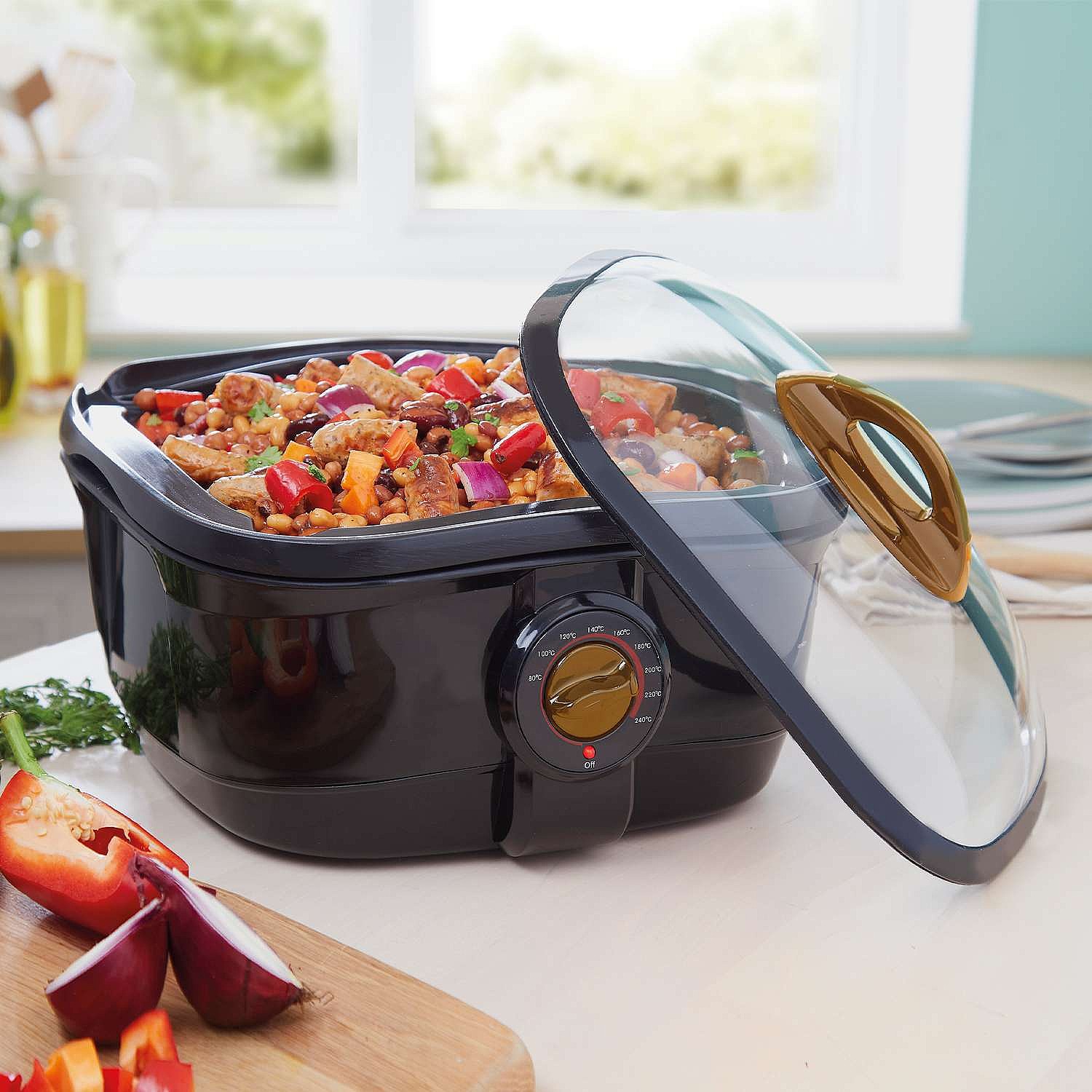 3. Don't Forget The Importance of Portion Control
Portion control and healthy eating go hand in hand, but it doesn't mean that you need to start counting out the number of peas you put on your plate and it certainly doesn't mean that you need to eat tiny meals that don't curb your hunger or leave you feeling satisfied. It is, however, something that many of us struggle with and it can take some time to retrain our brains to understand that we don't need to pile our plates high with food during every meal.
There are a variety of tips and tricks that can help you to perfect your portion control and divided meal plates are likely to become one of the most valuable tools for preparing balanced meals. These practical 4 Way Saucepans are divided into foursections, which makes it incredibly easy to get your portion sizes just right. These healthy eating plates also come with snap-on lids which increase their versatility. If you prefer to batch cook meals to be enjoyed over several days, these divided plates can also further streamline this process.

Preparing individual portions of certain foods isn't always easy, however, there are a variety of compact kitchen tools and gadgets that can give you a helping hand. An excellent example of such a tool is our compact Copper King Air Fryer which can perfectly fry smaller portions of nuggets, fish fingers, scampi or chips with ease. Many traditional fryers use several litres of oil, whereas this air frying model only needs a tiny bit of oil depending on what is frying and they are far more economical. Remember, healthy eating doesn't mean you need to completely avoid your favourite foods forever. In fact, allowing yourself to enjoy food whilst still being mindful of the amount you are consuming is the only healthy way to approach making lasting changes to your diet. So, don't feel as though you need to switch your fries for oven chips, which simply don't have the same taste or texture.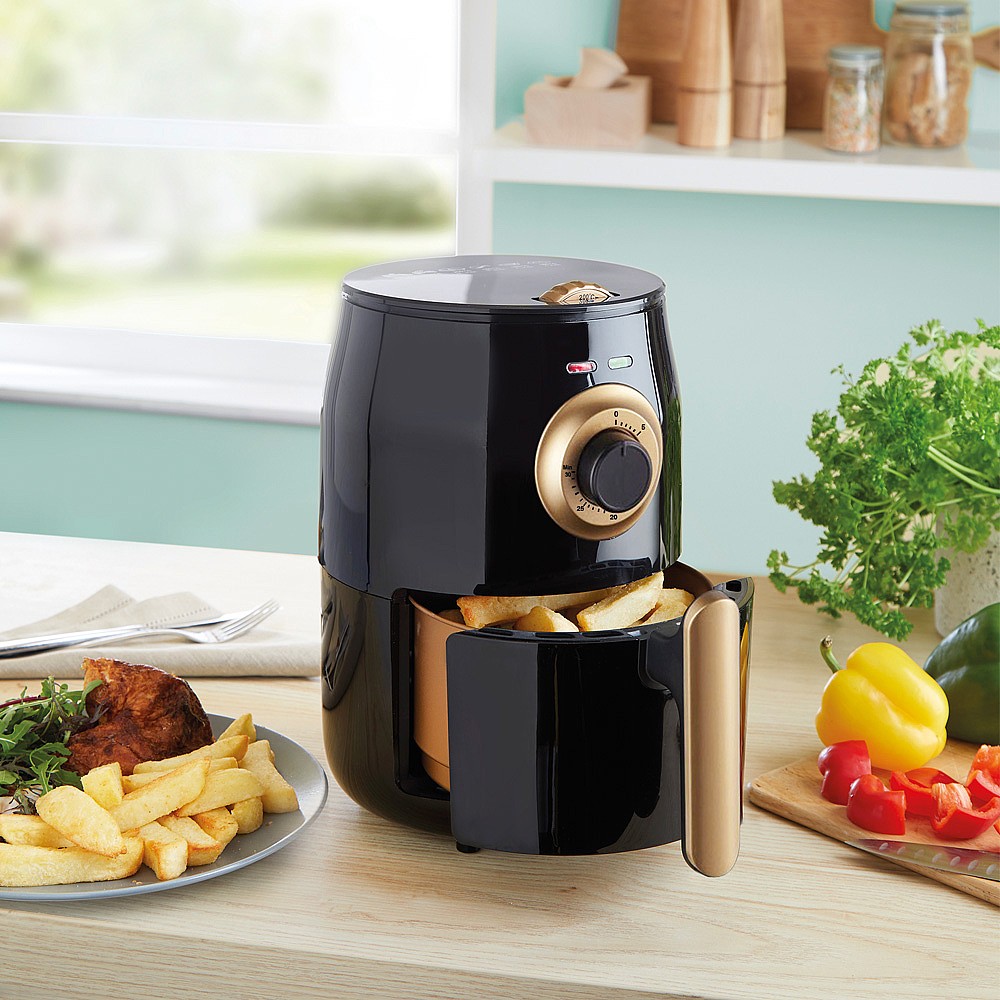 4. Incorporate More Salad (That You'll Actually Want to Eat) into your Diet
Salads aren't necessarily the most immediately inspiring or exciting meal options but we're here to make the case for this versatile and delicious dish. You see, we're firm believers in preparation being key to a truly excellent salad that you will actually want to eat time and time again.
Firstly, the sheer amount of chopping that can be required to create a quality salad can be off-putting but with the right knife, it'll all be done before you know it. The easy-slice knife has five integrated vents, which reduces the surface area of the knife and makes it less likely that food will stick to it. This means that you can chop vegetables faster and with greater precision. The ergonomic design is also easy on the hands and wrists, and the stainless-steel blade will never need sharpening.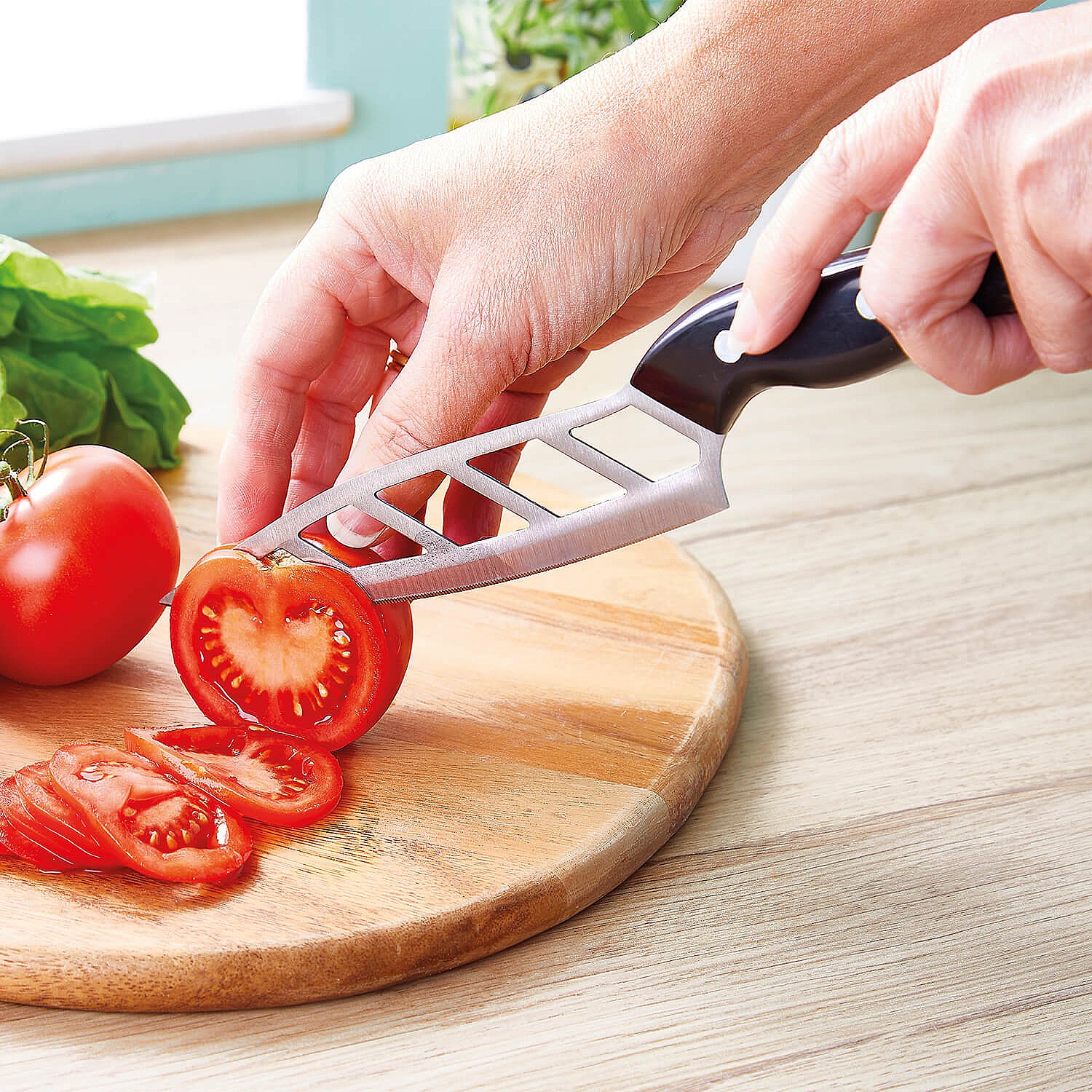 But what about other important salad components that need more than a simple chop? Enter the 3-in-1 table top grater. The rotary grating mechanism and three interchangeable blades will do all the hard work for you, making it incredibly simple to slice, grate or shred fruits, vegetables and cheeses. The suction base will ensure the grater won't move around during use, meaning it can be used to quickly make a modest salad look far more appealing by offering a simple way to incorporate additional textures.

When preparing a fresh salad, it is important to ensure that all your chosen components have been thoroughly washed. Traditional colanders can be cumbersome to use but our green colander has a rotating basket, which prevents freshly washed produce from tumbling out when draining the water from the integrated bowl. This design is much easier on the wrists which can take a lot of the frustration out of salad food preparation.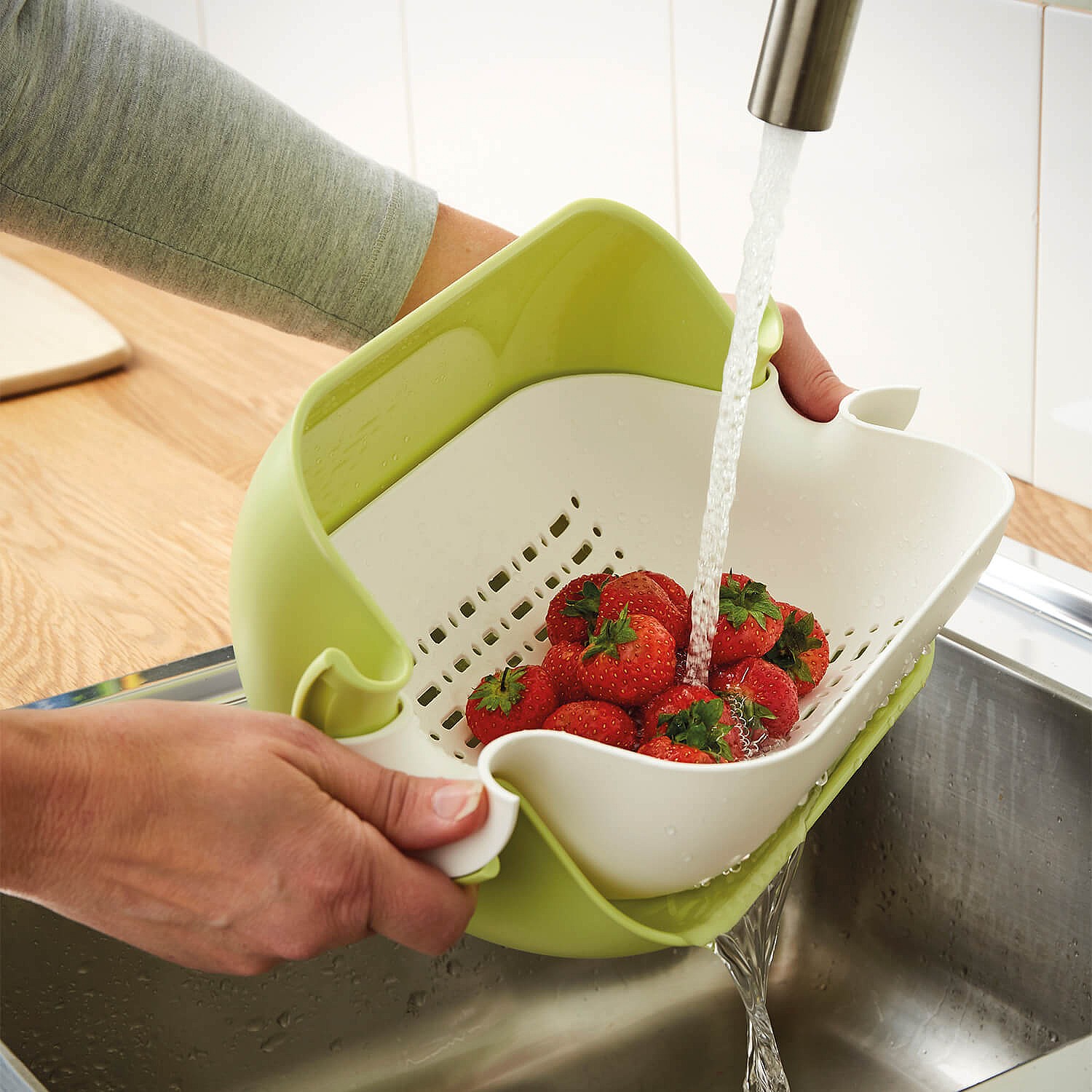 Finally, if you want to prepare a small side salad to accompany your main, you are likely to run into the issue of what to do with partially used vegetables. You could use plastic wrap but it isn't a very environmentally friendly choice. So, if you're keen to minimise food waste and make good decisions for the planet, reusable food covers can transform the way you view food preparation and storage. They can be stretched over open jars and containers or simply placed over the cut end of a piece of fruit or vegetable to preserve its freshness until you're ready to incorporate it into another recipe. Not only will they help you to keep ingredients fresher for longer, but you won't feel compelled to consume more food than you need simply to avoid food waste.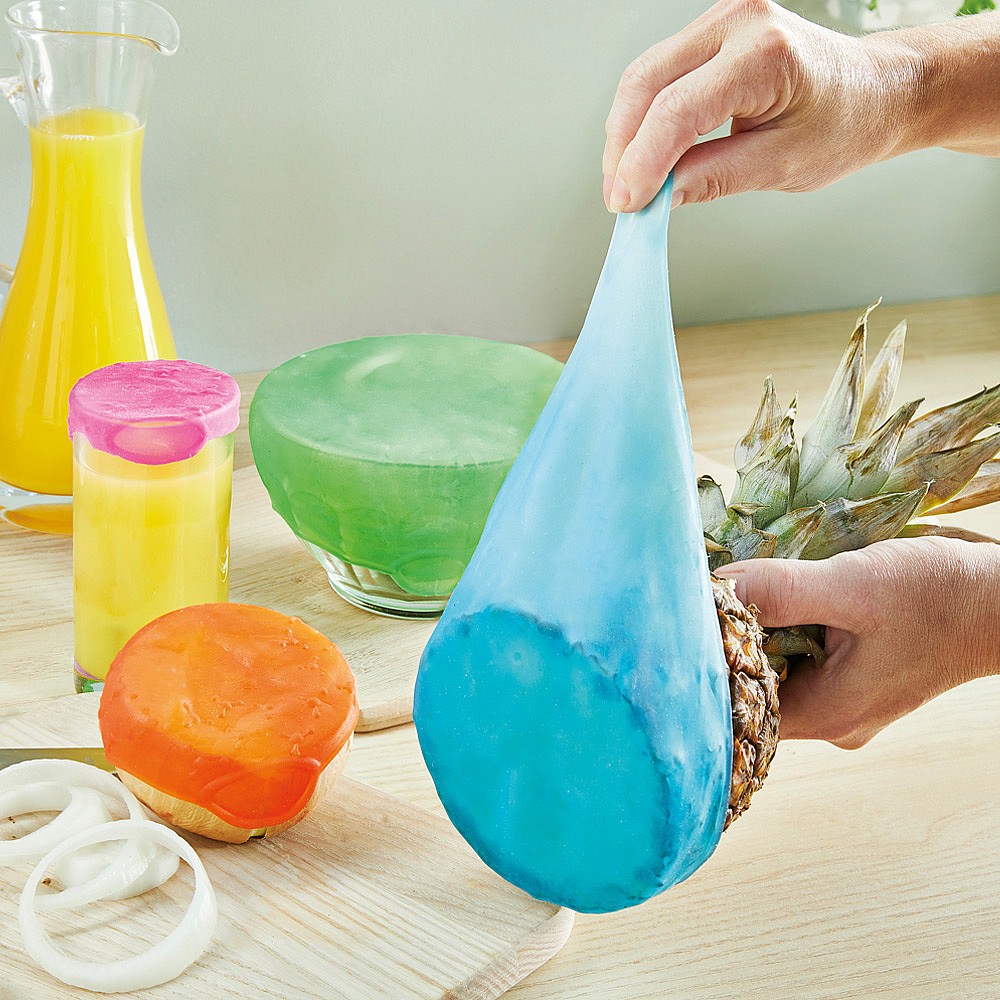 Healthy eating can transform the way we feel about ourselves, both inside and out. Make your new year a healthy one.